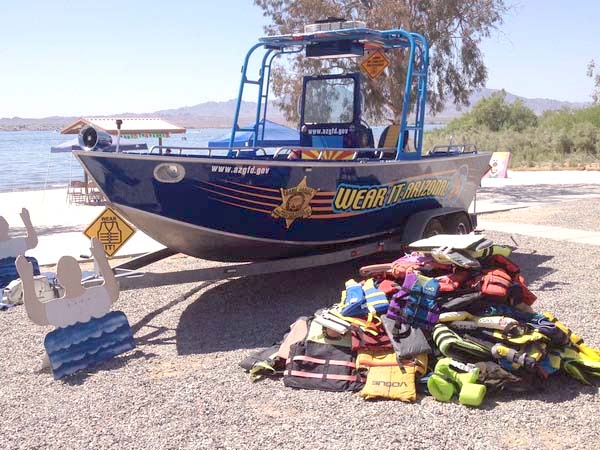 PHOENIX — Nearly 850 life jackets have been exchanged so far this year, but that number will ramp up after the Arizona Game and Fish Department (AZGFD) holds five more events in August. 2018 is the 10-year anniversary of the life jacket exchange program, and AZGFD is aiming to exchange a record-setting 1,700 life jackets this year.
Anyone who has an old, worn-out or improperly fitting life jacket is welcome to exchange it for a new one in the appropriate size during the events. Type I and Type II life jackets will not be accepted.
The public is invited to join AZGFD and its partner organizations at the following life jacket exchange events:
Lake Havasu at Site Six on Aug. 25 from 10 a.m. to noon

Yuma at Martinez Lake on Aug. 25 from 8:00 a.m. to 10:00 a.m.
"In addition to exchanging more life jackets than ever before, this year we have been excited to hold the events in new locations throughout Arizona," said Josh Hoffman, boating safety education coordinator for AZGFD. "This will be our first life jacket exchange in Yuma, and it's a great opportunity to allow as many Arizonans as possible to ensure they have a new life jacket that fits properly."
State law requires all passengers 12 years old and younger to wear a life jacket while on board and each passenger must have a properly fitting, U.S. Coast Guard-approved life jacket available.