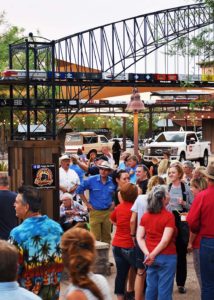 With threatening skies, thunder rumbling and lightning flashing in the distance, the ribbon was cut for the opening of the Stagecoach Village Railway. The railway used to fill the backyard of George Hacker's home – complete with a replica of New York's Hell's Gate Bridge spanning the swimming pool. That bridge now spans the west entrance to Stagecoach Village.
With Hacker's recent passing, the train and tracks needed a new home in order for his house to be sold. Hacker's children donated it all "in loving memory – for the citizens of Cave Creek and Carefree to enjoy."
The train rides on rails 10 feet above the ground on a layout that allows two trains to run at the same time. This is no child's choo-choo set. The locomotives pull railcars over 1800 feet of track. The boxcars are 16 inches long and carry the logos of many local businesses who sponsor the boxcars to help cover the cost of setting up and running the railway. Currently the Railway runs 10am – 1pm and 4:30pm to 6:30pm Tuesday through Saturday. Hours will be extended in the cooler weather.
Johnny Ringo regaled the audience with stories to start the festivities. One of George Hacker's sons, Mark Hacker, thanked the crowd for attending and said his father would have been happy to see the train running at its new home. Eric Watson, of Watson's Hat Shop, has been the guiding force behind this project and thanked all the other "people who helped to make this a reality."