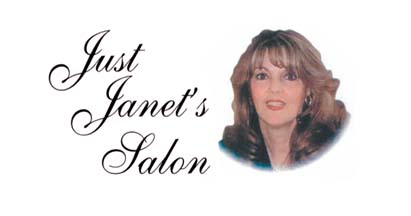 CAVE CREEK – "Not everyone can cut fine hair," explained stylist Janet Finch of Just Janet's Salon. "I have a lot of clients who come to me with bad cuts as a result. It can take three to four cuts to fix it!" So if you have fine hair and want an expert who can get it right the first time, call Finch, who specializes in fine hair. Finch will cut ANY type hair, but keep in mind the majority of folks DO have fine hair so you could have it and not even realize it! Her other specialty is color, always with Paul Mitchell, as Finch is a Paul Mitchell Master Designer.
Though Finch has enjoyed longtime tenure in the hair industry, she's not one to become complacent. "I always take continuing ed and further my education. To be good at anything you have to change with the times. I've been through every style. Styles may come back with a new name and maybe a new twist but I've seen and done them all," she assured.
It isn't just a job to Just Janet. She loves what she does and even influenced her daughter, Linda, into becoming a hair stylist. "She calls me her mentor," Janet shared. Linda and her husband, Scott, travel the world on behalf of their Paul Mitchell school.
Finch has a faithful following, so if you'd like her to work magic on your tresses, call either 623-582-2242 (res) or 602-471-1022 (cell) as appointments go swiftly. She works out of Just Janet's Salon in Stagecoach Village (7100 E. Cave Creek Rd.) where you can have your hair done, shop, eat, invest, even go to the dentist! "It's a beautiful complex, and it's almost full again." So phone
Just Janet and make it a day just about you!