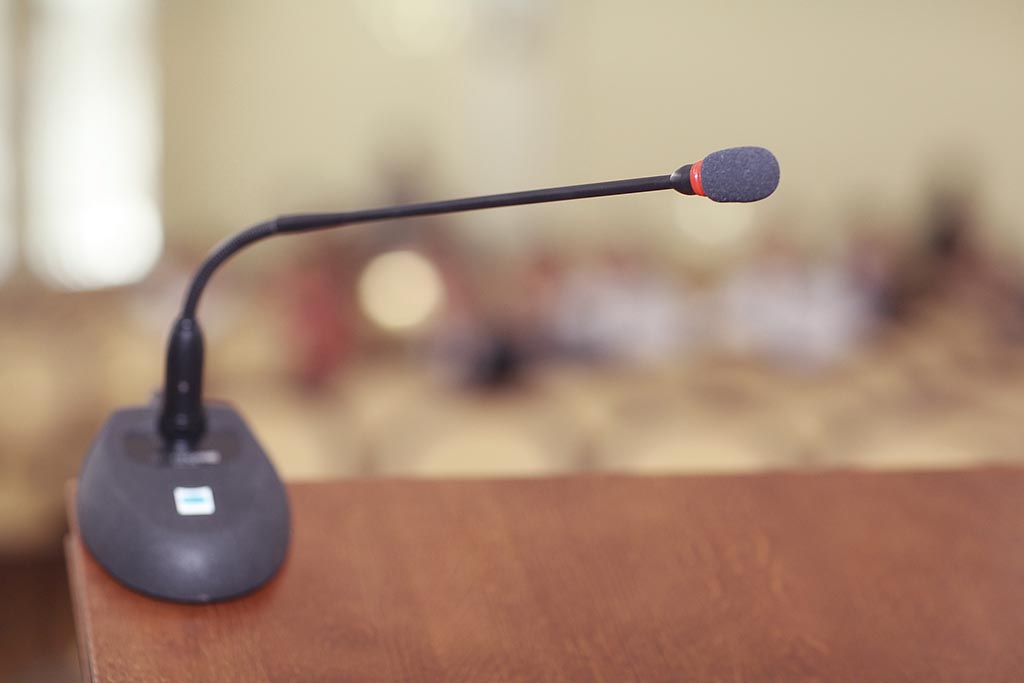 On July 10 Cave Creek voters got another chance to meet their candidates. Three more debates are scheduled, July 24 at 6pm at Cave Creek Town Hall, August 2 at Desert Foothills Library, and August 15 at Cave Creek Town Hall.
With the crowd overflowing the Desert Foothills Library's remodeled lecture hall, Cave Creek mayoral and council candidates faced a series of questions from moderator Ken Strobeck, Executive Director of the League of AZ Cities & Towns. Event coordinator Bruce Arlen served as time keeper. Following is a summary of the candidates' remarks and responses.
First up were the mayoral Candidates, current Mayor Ernie Bunch and current councilwoman Eileen Wright who were asked eight questions. The candidates took turns going first and the first speaker for each question was given a short rebuttal after the second candidate spoke. But first, each candidate was given an opportunity to make an opening statement.
Ernie Bunch started by grabbing his guitar to sing his opening statement. Part way through he admitted to forgetting the tune. The gist of the lyrics were that people see Cave Creek as open space and Sonoran Desert and known for its restaurants, music, western heritage, and horses and he is a businessman that's used to handling challenges.
Eileen Wright in her opening remarks said living in Cave Creek is a privilege and with it comes a responsibility to preserve what we have. She said the Town hasn't had the right leadership and described herself as a tough no-nonsense person who takes things very seriously and would commit to being a fulltime mayor.
Based on a looming likelihood of large costs to repair and upgrade the town's water infrastructure, what financing tools do you think make the most sense for Cave Creek residents?
Bunch: A rate study that's still in progress may result in a slight increase. This year's budget has about a $2.5 million increase to rehab the four filter systems in the water treatment plant and to replace all the main pumps that bring water to the Town from the CAP canal. The Town's finally fixing things that needed to be fixed a long time ago.
Wright: It's a big issue and we need to do some smart financing. One option might be to sell the Desert Hills Water Company. The Cave Creek Water Company should not be sold so that the town has control of its own water. There's development in the Desert Hills area that's outside of the Town boundaries and not controlled by the town. Water will be needed for those and may cut into Cave Creek's CAP allocation.
Bunch: It's easy to say let's sell the water company but it's not something you can put on Craigslist. Discussions have taken place with some folks but you can't divulge details when you're trying to negotiate
Do you think do you think Cave Creek quote complaint-driven and quote law enforcement policy is working and why or why not?
Wright: She doesn't think it's working because there's no such thing as complaint-driven system. If the law is on the books, and it's not a good law, then it serves no pur pose and it needs to be gotten rid of. But if it is good, the law and needs to be enforced equally across the board not have selective enforcement which turns into cronyism.
Bunch: The Town has had the complaint system forever and it is the way to go. He likened the town to a large HOA with lots of rules and said it's likely not one person in town didn't have some kind of violation of one of the Town ordinances. Cost of the type of enforcement that Wright mentioned could be quite expensive. They would have to be a full-time compliance officer driving around peeking over everyone's fence.
Wright: Bottom line is if you have a law, enforce it. Just general enforcement across the board for health, safety, and welfare. Also the Town has the Sheriff's Department for enforcement.
How can Cave Creek balance stated emphasis on quote low-density rural residential and quote environment versus the reality of continuing growth?
Bunch: One of the things that has happened while Bunch was mayor was the creation of a water policy which requires developers to bring water. He couldn't recall any up zoning outside of the commercial areas. He considers Cahava Springs as a victory. Originally they had 900 houses zoned one per acre and now they've got it down around 435.
Wright: The most important thing in the town is low density, large parcel zoning. Her decisions would be based on leaving the land better than it was, the consideration of water, and make decisions that save the low-density way of life. When weighing Economic Development three criteria need to met. Is the economic development going to bring sales tax to the town? Does the project benefit and safeguard the surrounding neighborhood?
Does it preserve the desert culture? The town does need to lower its debt she added.
What principle should guide the growth of Cave Creek historic town Core entertainment and tourist District?
Wright: First of all it is the major source of sales tax revenue. Sound and sign ordinances need to be abided by as they have gotten a little out of control. People shouldn't have to leave Town because of the noise of Bike Week. The core also needs revitalization including bringing back the medians and the plants.
Bunch: The Town core is the heart and soul of the community. It's the Town's identity. People come into town spend money and go home. That generates money so there doesn't need to be a property tax, 31 percent of the Town revenues come from sales tax. Bike Week looks like chaos, but it is controlled. What happens if it gets cancelled but people show up anyway?
Wright: Bike week has gotten out of control. It needs to have discipline to it.
In Arizona's council-manager form of government, the Mayor and the Council set policy and exercise power by passing ordinances and resolutions with a majority vote. Describe your ability to facilitate discussion and reach consensus among council members.
Wright: She's a big fan of bringing important agenda items before the Council, discussing them and hopefully moving forward with them.
Bunch: He think's during his term as Mayor there has been a good job of passing stuff that counts. The consensus comes from having good ideas. In this type of government it's imperative that Council members don't try to micromanage staff.
What would you say is Cave Creek's single biggest asset?
Bunch: The single biggest financial asset has got to be the water company. If you take the short view, $40 million in debt. But in 8 -10 years when it's paid off it will provide revenue for parks, trails, and other projects.
Wright: The most important asset is water. Without that the water company means nothing. The CAP water allocation needs to be protected.
Bunch: We do need to protect the water and be smart with that resource.
Do you support or oppose the proposed 2018 General Plan and why or why not?
Wright: One of the problems with the 2018 document is it used the 2015 Plan, which was voted down by voters, as its basis, bring forward some of the same problems. It's not written as a vision statement, it's written more like a mandate. She would reject it.
Bunch: After apologizing to everyone involved in creating it, he said he doesn't really care for it either. There's some things in there that Councilwoman Wright lobbied for that he believes don't belong in the Plan. It's got way to much detail. It should be more like a guide.
What is the greatest challenge to the success of Cave Creek over the next 5 -10 years?
Bunch: Changing demographics, people moving into town and bringing their ideas about how the government should be run and what services should be provided.
Wright: We want to keep our rural lifestyle. We don't want curbs or sidewalks, have as little asphalt as possible. We do not want to urbanize our town.
Bunch: I believe it is the changing demographics that will effect what Councilwoman Wright mentioned.
Any topic we missed that you would like to address?
Wright: The Town needs elected officials that have a past that shows who they are and what they've accomplished. She cited her BS degree from the University of New Mexico, her experience as a business owner, being named an All-American Triathlete and competing as part of Team USA as her resume.
Bunch: In the past he has supported Councilwoman Wright a couple of times and voted against her once when the Town Council removed her from the Planning Commission because she tried to deny due process to a developer. There have been times in the past when the Town's insurance was in danger of being cancelled because there were too many lawsuits against the Town for messing with people's property rights. That's the past that he sees in his opponent.
Wright: She asked Bunch what his past is, what is it that he brings to the community, what is his experience, and what makes him somebody that can do a good job and serve the Town.
Bunch: He said he has 40 years of experience in a manufacturing business that ships products globally. He's designed equipment and handled huge sales and managed a staff of almost 100.
Candidate closing statements:
Bunch: He joked that he'll leave his guitar in its case. He said it was a pleasure and a lot of fun representing the people of Cave Creek. Citing the CAP line improvements and filter improvements at the water plant, he said things are moving forward. He said there are things that are in negotiation that can't be talked about in public and with the nature of government, things aren't moving as fast as you'd like. It's not necessarily a bad thing, as it gives you time to make sure things are done right. He praised the Town staff, especially Town Manager Carrie Dyrek, for their work. He said a two year term is not enough to right a ship and he wants two more years to finish the job.
Wright: She pointed out that Bunch had been on Council for 13 years which should have been plenty of time to make some good progress. She said the main issue in the election is the survival of the Town. She asked if the voters wanted a few businesses to determine the future of Cave Creek or the residents to determine the future saying she will fight for the residents and verbally painted a picture of the Town two years down the road with her as Mayor. The picture included safeguarding the CAP water and a water recharge system is nearly up and running. The Town's budget has been decreased and staff is back to working a five day work week. Bike week is under control and sign and noise ordinances are being enforced.
The Town Council Candidates, Susan Clancy, Tom Augherton, Reg Monachino, Ron Sova, Bob Morris, Kathy Royer, David Smith, and Paul Diefenderfer were next to face the voters with questions from moderator Ken Strobeck, (Thomas McGuire was unable to attend.)
In Arizona water is one of the biggest challenges. What do you think Cave Creek's biggest challenge is?
Clancy: Water, without it we have no town. Rural areas throughout the state should get together and not allow cities like Phoenix to build high-rises and house a lot of people in a small area and take all the CAP water. Water is important and it needs to be shared.
Augherton: Growth is the number one challenge. Growth defines our present and dictates our future. The Town is at an infill phase. How the Town grows and the style of growth is the biggest challenge.
Monachino: Growth and economic development have a distant timeline but water is an issue today and will be tomorrow. He said he suggested selling the water company three years ago. Getting rid of the debt frees up money for other things like roads and parks.
Sova: Water is the biggest problem. In order to solve the problem you have to understand it. In order to understand it you have to know what the facts are. The fact is all the Town's water comes from CAP last year the Town had over 550 acre feet of water in its allocation that did not get used.
Morris: Cave Creek is a very small town with a very big water company that has massive problems. There is no strategic plan for it. The sewer line being constructed from Carefree to Scottsdale should have gone to Cave Creek.
Royer: She just retired from CAP as Director of Communications so she knows water. The Town has wasted water by not banking the water. If the Town doesn't use its water, farmers will come after it.
Smith: Water is the lifeblood of the Town. He said he has accomplishments to show when it comes to water. Eight years ago while on the Water Advisory Committee he lobbied the Town Council at that time to put $200,000 to replace water lines and that $200,000 is still in the budget each year. He suggested moving over $700,000 dollars from Desert Hills Water to Cave Creek Water to get the work done on the pumps on the pipeline that brings the CAP water to Cave Creek.
Diefenderfer: The Town needs to manage change. Change is inevitable, how you manage it is important.
Important and controversial topics like future bridges over main washes, continuing new trail construction, weak lighting and noise ordinances have all been discussed but not resolved.
What are your thoughts?
Sova: There are many ordinances already on the books for some of these issues and some issues are addressed in the General Plan. The Town needs to do a better job of addressing them in a way that doesn't cost the taxpayers money.
Morris: If a rule doesn't follow what's actually out there then the rule needs to change and we need to enforce them, especially the sign ordinance.
Royer: There are always going to be issues that we need to be aware of and address as adults. The current Council has too much dissention and not enough collaboration. Voters need to choose the best team of people that can work together and make decisions based on facts, not rumors or personal agendas.
Smith: These issues have been around for a long time. The simple solution is do what the people want. Ordinances need to be easy to implement.
Diefenderfer: Not big into rules, but if you have rules, you have to enforce them. Need to work with businesses in town to come up with sign ordinances that they can live with. If you have no signs, no one knows anything, if you have 100 signs everyone quits looking.
Clancy: Nobody wants to see big bridges over washes but health, safety, and welfare need to be factored in and getting across flooded washes in an emergency. Many culverts already exist in the Town and they may be the answer.
Aughterton: He cited his experience on the Town Council in the 1990's and what was accomplished during that time, listing 1 acre and 5 acre lots, the new Town hall, and Spur Cross as some of those accomplishments. Currently no one knows what's going on in the community, people need to look at the documents on the Town website and learned what is being discussed and why. Open government is also essential.
Monachino: He was against the wording regarding bridges and washes in the proposed General Plan, but was out voted. Trails are important to Cave Creek and he proposed that all new trails need Council approval and lost that vote.
Do you think do you think Cave Creek quote complaint-driven and quote law enforcement policy is working and why or why not?
Smith: To a degree it works. There is a big backlog of issues in Cave Creek. If it was decided to do exactly what the law says, half the people would be upset because they would be out of compliance. Complaint driven is the only choice unless the Town hires a lot of staff.
Diefenderfer: Residents need to be better educated on what the ordinances are. They should be easy for people to follow and they do need to be enforced.
Clancy: It's easy to complain about your neighbor. But if you have a problem with your neighbor, knock on their door and see if you can settle it in a kind way.
Augherton: The Town has ordinances that were crafted by staff and previous Councils. They are laws, not suggestions. One problem with a complaint driven system is reprisals may be directed at the person that made the complaint. It is not a perfect system.
Monachino: Generally against complaint driven system. Neighbors should be able to work out issues between neighbors.
Sova: I'm all for ordinances but you should be able to work things out between neighbors. It was his understanding that if it can't be worked out you can make an anonymous complaint over the phone to the Town Hall.
Morris: The dark skies and sign ordinances really help define the Town. He suggested using community groups and increased public awareness.
Royer: She agreed with Tom Augherton. She said she doesn't feel safe knocking on neighbors' doors, especially if she has a complaint. She feels safer being able to call Town Hall.
How do we have natural growth in the "town core" and our "rural residential" areas so as not to undermine Cave Creek's emphasis on rural open space?
Augherton: Zoning defines what can be done. Open space is not just preserved areas it's also having five acre parcels per house. He also suggested infill open space preservation, not just preserving a large tract of land but preserving smaller scenic land in the residential and commercial corridors.
Monachino: Zoning is the key. You can drive somewhere to open space. But it's better to open your door onto open space.
Sova: Not sure what natural growth is. He's never seen a house sprout out of the ground. It's really controlled growth and zoning is what controls it.
Morris: Zoning will keep us where we need to be regarding open space. He will be very resistant to any up zoning.
Royer: Doing well with what we have. But with no property tax, businesses do need to be brought in but have to make sure the zoning is applied.
Smith: If we don't have sound zoning ordinances, we will have problems in town. He praised the planning commission for their work.
Diefenderfer: One of the unique things about the Town core is it's hard to describe because it has a little bit of everything. Allowing different businesses into Cave Creek is part of what makes up the Town. Council always needs to say no to residential upzoning.
Clancy: She also praised the Planning and Zoning and Water Advisory Committees and trusts their judgement
What would you change, if anything, about the proposed 2018 General Plan?
Morris: Will vote for it because it's better than current plan. Any plan is only as good as the Council that enforces it.
Royer: It's too long, there's too much to it. It's not a specific plan, it's a general plan. It should be a guideline.
Smith: He agrees that it is too long. It should only be about 12 pages.
Diefenderfer: It's not perfect and never will be. The one thing he'd like to see in there is proposed trails. The general plan is a vision, a wish list.
Clancy: She described part of the General Plan process she observed, she listened to people talk passionately about the Town and debate for an hour and a half what the word western meant. It was good to see that much passion in the committee. She didn't think it was too long because it would need to stand up for 10 years for a Council that changes every two years.
Augherton: Described the plan as a poodle, crossed with a pit bull that has one eye and is at the rescue shelter looking for a home. You should give it a home. A lot of volunteer and professional staff time and attorney reviews have gone into it.
Monachino: He did not support as a Planning Commissioner. The General Plan should be a vision for the Town, there's too much detail. The water section is ordinances and don't believe it is a vision.
Sova: The General plan is not law, it's not an ordinance, it's not a policy, it's a vision. The Town has had the same General Plan for 13 years. He supports the Plan, it's never going to be perfect.
Any topic we missed that you would like to address?
Diefenderfer: The most import part of being on the Council is having a connection with the people. Saying the Council needs to work together, he said he plays well with others and would be a strong team player on the Council.
Clancy: The Council has an obligation to each person, to serve each person.
Augherton: The Town should have relations with other organizations and communities. The Council used to meet with Carefree Council twice a year.
Monachino: Are tax dollars being spent wisely? Council has a fiduciary responsibility. He will propose a citizens budget committee be created.
Sova: Construct another water storage facility in case of emergency. Desert Hills Water company should be sold to preserve Cave Creek's water for Cave Creek.
Morris: The Town should not be subsidizing Desert Hills Water Company. Strengthen Town staff, hire the right people, and properly manage the human resources side of things.
Royer: The Council is a policy making board. The board does not need to micromanage staff. Staff should be treated like the professionals they are. Carefree will get a good fight from Cave Creek over water issues.
Smith: The County makes decisions on most of the land in the Desert Hills Water company area. The amount of water going to Desert Hills is growing and taking water away from Cave Creek, calling it a parasite. Desert Hills Water needs to be sold. The water is with Carefree needs to be resolved so Cave Creek doesn't lose more CAP water.
Bruce Arlen read a statement from Tom Mcguire.
McGuire: Water service must be secure and pay for itself. He supports the proposed General Plan as it protects Cave Creek's desert rural lifestyle. He will side with citizens over business and will be independent with his vote.
Candidate closing statements:
Monachino: He has voted against high density subdivisions and will continue to do so. On the fire options committee he was the only one that voted against a property tax, nearly two thirds of the voters agreed with him. He has served on the Water Advisory Committee and is on the Planning Commission. When previously on Town Council voted for consolidating Cave Creek and Carefree courts to save money for the Town for a 19 year extension on the rodeo arena.
Sova: Said he thought he knew a lot until he got elected. It takes time to understand what goes on and how things are done in a small town. He wants to build on the relationships he's forged with the staff and other Council members and continue the progress that has started since he was elected.
Morris: His family came to Arizona in Territorial days. He's an engineer, supervised thousands of people, and been on Fortune 10 company mergers. He's a unique candidate with Western history, great work experience, and his service as chair of the Water Advisory Committee.
Royer: With 20 years of experience with CAP and is fluent in the business of water in the desert and has developed great contacts in the water arena. She will find the best way for Cave Creek to start recharging it's aquifer to stop wasting water allocated to the Town. She's been a resident for 20 years and found her second husband at Harold's.
Smith: Laws that you make need to be practical and he's a very practical person. His accomplishments include finding money for a SCADA system to better monitor the water system, and transferring money to take care of the pumps on the pipeline from the CAP.
Diefenderfer: He likes to take unique approaches and think outside the box, and take it one step further and also do something with the box. He started and still owns the largest climbing gym in Arizona. He will keep it Creeker.
Clancy: The Town needs to provide essential services to protect the health, safety, and welfare. Practice fiscal responsibility and provide servant leadership. Have the Town be open five days a week.
Augherton: Using sports terms he said the Town should go on offense and see what can be done to the Tamarisk grove and see what can be done to augment the town core. On defense, need to protect the zoning and development in the Town.