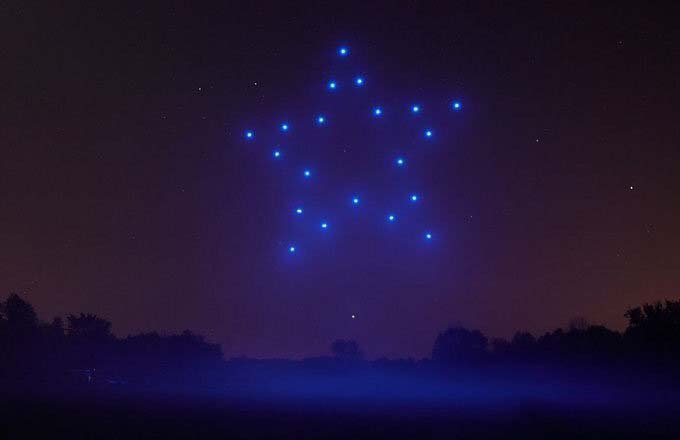 When fire hazards became the cause to cancel this year's scheduled fireworks display for the Fourth of July, Firefly, a Detroit-based company, traveled to the area to put on a drone light show at CIVANA Carefree Resort.
Rianna Riego, chief brand and wellness officer at CIVANA Carefree, said the light show is more sustainable and safe for the environment, children and pets. "There were no actual fireworks here at all," Riego said. "What better way to celebrate – not with traditional fireworks, but through the next generation of fireworks, which are drones."
The regular fireworks show, normally held at Harold's, as it has been for 20 years, was canceled due to safety and fire concerns. Les Peterson, the mayor of Carefree, said they had to think of something to replace it. "They're doing things with drones that I wouldn't have believed could be done," Peterson said.
Peterson said the drone light show was 2.5 times more expensive than having a fireworks show, but added it was an investment in safety and new technology. He said that he's concerned about fires or fatalities while fireworks are used in the desert around Carefree because there's no body of water for the embers to fall into, but added it's still important to show something on the Fourth of July. "When the town of Carefree does fireworks on Christmas, there are embers that fall, and me and the fire department shudder," Peterson said. "The people love it though so you want to do something."
Ryan Sigmon, one of the operators of the Firefly crew, said his team was inspired by the drone show featured in the 2015 Super Bowl created by Intel. He added it took 9 to 10 months to process their approval through the Federal Aviation Administration, but eventually everything was approved and deemed safe. The drones are specifically designed to do light shows and pre-programmed and synchronized prior to the show to create different images in the sky.
Sigmon added that the show ran smoothly except for two drones that malfunctioned during the first half of the show. The pilot was receiving potential hazard notifications and had to send them back to the ground. "It is our protocol and responsibility to remediate any potential hazards before they become critical," Sigmon said. "It wasn't ideal, but safety is our number one priority before showmanship."
Peterson added he's not certain whether or not they will continue this drone light show for next year's Fourth of July, but Riego said she would like to host the drone show again in the future.