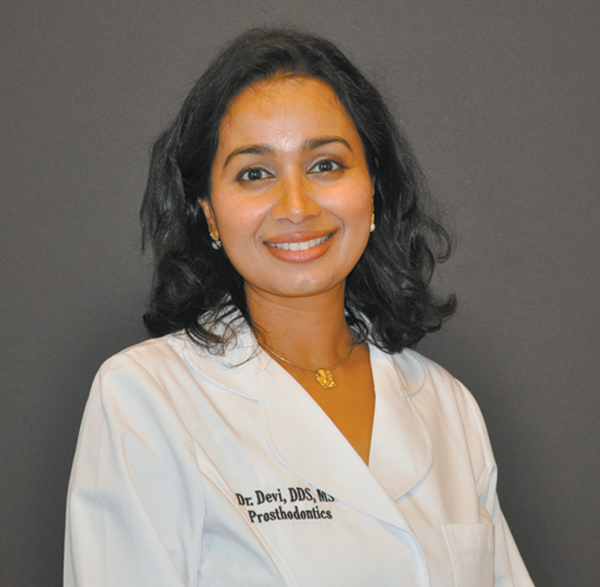 SCOTTSDALE – Dr. Devi, who specializes in prosthodontics and dental implant, said, "Implant based dental treatments can be a life changing experience for my patients." Patients who present with terminal dentition commonly suffer from discomfort, poor dental function and low self-esteem as a result of the condition. "Some patients with terminal dentition often feel disappointed and embarrassed because they can neither chew nor smile in public. Some of them genuinely postponed their dental treatments because of their fear of dentists. But when they meet me and I explain that there are solutions for their problems, I can see hope in their eyes." Once treatment is finished, a patient often changes into a new person and their self-esteem skyrockets. "No matter if you are missing one tooth or several, I can help you with solutions you can afford. As a prosthodontist, I have gone through another three years of full-time residency training, which really gives me multiple tools in my toolbox to fix diverse dental problems. I understand dental treatment is not pleasant and patients can be fearful about surgery, but I offer sedation that calms down patients and lets them undergo procedures with ease. 'Teeth in a day' concepts virtually change patients, and after I finish the implant placement patients can walk out with a new smile from a full set of teeth that get installed same day. I reserve this treatment modality for patients with terminal dentition that render them not able smile or chew efficiently."
Praise from patients after dental implants:
Mike Lyle – Surgery was painless. I expected a lot of pain. I was slightly sore the day of surgery but was thrilled by the fact I walked out with a full set of teeth. I am proud of my smile.
Lyn Lyle – My husband and I went through the same treatment. I'm a slow healer. Dr. Devi followed me closely to make sure I healed fine. I love my smile!
Rosie Strange – At my age it was stressful for me to go through surgery, but to my surprise, I didn't have any pain, felt sore the same day of surgery, which was totally managed by medication. I didn't have any swelling and did not feel any pain during surgery. I have a full set of teeth that were installed the same day of implant placement.
David Miller – Dr. Devi extracted five teeth and placed five implants. She made sure I was totally numb when she did surgery. Sedation really helped me to calm down. She followed up closely. I'm glad I decided to take care of my teeth. The result was excellent and nothing like I thought.
Visit drdevi.com for before/after photos of patients and read reviews in Google. "I am thankful for my patients who are the life of my practice and I'm blessed with all the good ones who appreciate me and my staff," she concluded. Smile Design Specialists is located 34597 N 60th St. Phone 480-488-9655 for hours and appointments.