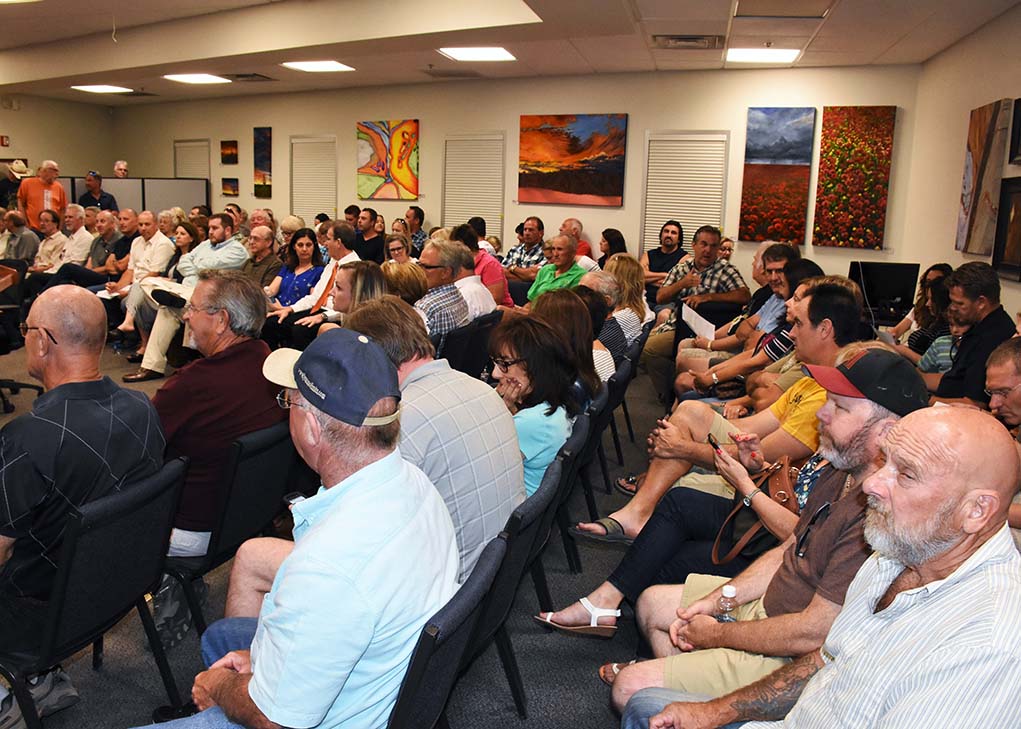 It was standing room only at The Cave Creek Town Council chambers for the Planning and Zoning hearing on May 17th. A proposal for a residential sober treatment center to be housed in an existing home on Cloud Road went before the Planning and Zoning Commission for a Special Use Permit (SUP).
By far there were a greater number of those against the proposal than supporting it. Although those that were against it were only against having the facility in that location. All spoke in favor of having places for treatment for addiction to alcohol and opioids.
According to the proposal, the center would be like a high-end boutique hotel experience for those receiving care. It is being designed as a place where someone who needs to go through a residential treatment program for their abuse, but wants anonymity, can go. The town planning department is recommending approval of the SUP. In part because of concerns that denying the special use permit could be violation of fair housing laws as they pertain to those recovering from addictions.
There were many vocal objections to the proposal including that is being designed to be a hotel not a treatment center, concerns about property values and being able to sell their property when a nearby land owner wants to take that step, with a revolving door of clients they won't be neighbors, and one nearby resident said they bought the property in January and if the center existed at that time they would have not purchased at that location.
Supporters, including a psychologist with an office in Carefree, said there's nothing of this sort available locally that provides a place of anonymity for people in certain professions who wish to keep the situation more private. She said she has to refer people to California currently. Another supporter explained it would be a residential behavioral facility, and therefore needs to be in a neighborhood.
One opponent David Cantelman, who is an attorney, said the proposal has more services provided then described in a group home and asked if the committee had gotten an opinion from town attorney Sims.
Chairman Bob Voris said there was no opinion from Sims specifically on if it meets the definition of a group home to be covered under the Fair Housing Act. However, Voris said that Sims had reviewed the paperwork including the recommendation for approval.
Cantelman remained adamant that it did not meet the legal description of a group home and so was not covered under the Fair Housing Act. Chairman Voorhees said the issue does need to be fully vetted. The committee voted to continue the hearing until June 7th so the town attorney could be present and advise them. With vice-chairman Dick Frye unavailable to attend due to some medical issues, the committee voted 5 to 1 to continue until June 7. Voting against the continuance was Reg Monachino.