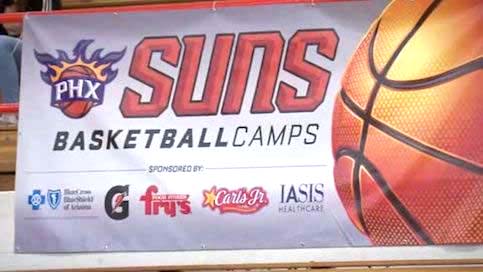 A number of basketball camps hosted by the Phoenix Suns, will be taking place this summer, in several Arizona locations. Those with big dreams of playing basketball professionally, and others who simply wish for a fun summer activity, are encouraged to participate in camp.
An Opportunity To Hone A Wide Dimension Of Basketball Skills
The Phoenix Suns Summer Basketball Camps are a great way for young players to elevate their game, as they learn to become a dominant factor on and off the court. The camp is available to players of all skill levels, ages 6-17. Both boys and girls may participate.
Each camp provides kids with individual attention, giving them the opportunity to excel. Many of the skills taught at these basketball camps, are applicable to life off the court as well. The practical importance of teamwork, and being a good sport, are two skills camp leaders seek to instill.
Alongside the valuable skills they pick up, campers will receive some Phoenix Suns souvenirs as well. Items such as a Jersey, a Phoenix Suns hat, backpack and more will be taken home by each camper. They will also be given tickets to a Phoenix Suns (preseason) and Mercury home game for the 2018-2019 season.
Each Camp To Feature Several Notable Appearances
Several members from the Suns and Mercury basketball organizations will be making appearances throughout each camp. These appearances, however, are ultimately designed to better each camper's skills, rather than to showcase a professional's local star power.
There are a total of three camps taking place this summer, all of which begin during the month of June. The Pine Summit Camp, which will take place in Prescott Arizona, is the only overnight camp of the three. Limited space is available, and applications are currently being submitted. Campers who attend the overnight camp with a friend, have the chance to submit a roommate request, before the official camp start date.