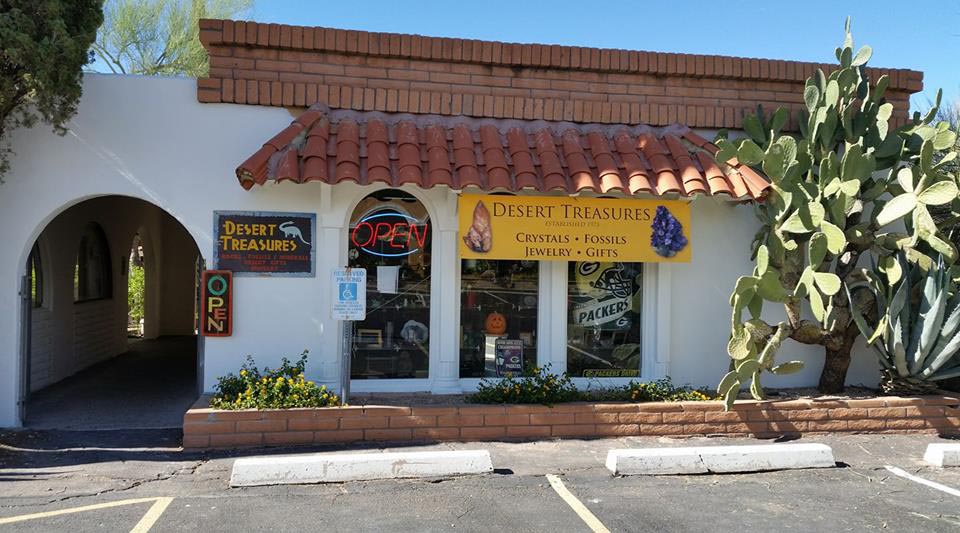 Desert Treasures may be the oldest store in Carefree. Robert and Dorothy Vander Leest first opened their shop in Spanish Village on October 6, 1973. The year before he had been hired to manage Spanish Village, but his passion for rocks and minerals led him to open his own store and the original inventory was Robert's own personal collection. Dorothy then added jewelry and desert oriented gifts to create the foundation of today's store. They have since passed away, but their daughter, Barbara Vander Leest is now the proprietor.
Barbara originally opened her own store in Spanish Village in 1984. In 1995 she became partners with her mother in Desert Treasures and took over the business after her mother passed away in 2007. Barbara said when her parents first opened the store, there were no shops between Carefree and Fifth Avenue in Scottsdale.
The shop has a wonderful selection of crystals, fossils, and minerals for the novice or the experienced collector as well as stands to display the natural beauty of the pieces in the 'rock room'. The 'Southwest room' features jewelry in a variety of gemstones and semi-precious stones set in sterling silver. A wide selection of Southwest gifts and souvenirs are also found at Desert Treasures.
Barbara said there have been ups and downs along the way. During one of the economic downturns Desert Treasures was the only store open in the courtyard at Spanish Village. But the perseverance has paid off with now a third generation of families returning to the store. Parents and grandparents often bring their children and grandchildren and share memories of when they first visited the store.
Desert Treasures is closed only on Thanksgiving and Christmas. Locals know the store is there and open every day from 10 -5 year round, and it will still be around for a while. When we visited the store Barbara told us she was negotiating a new lease for Desert Treasures to remain where they are for a few more years.