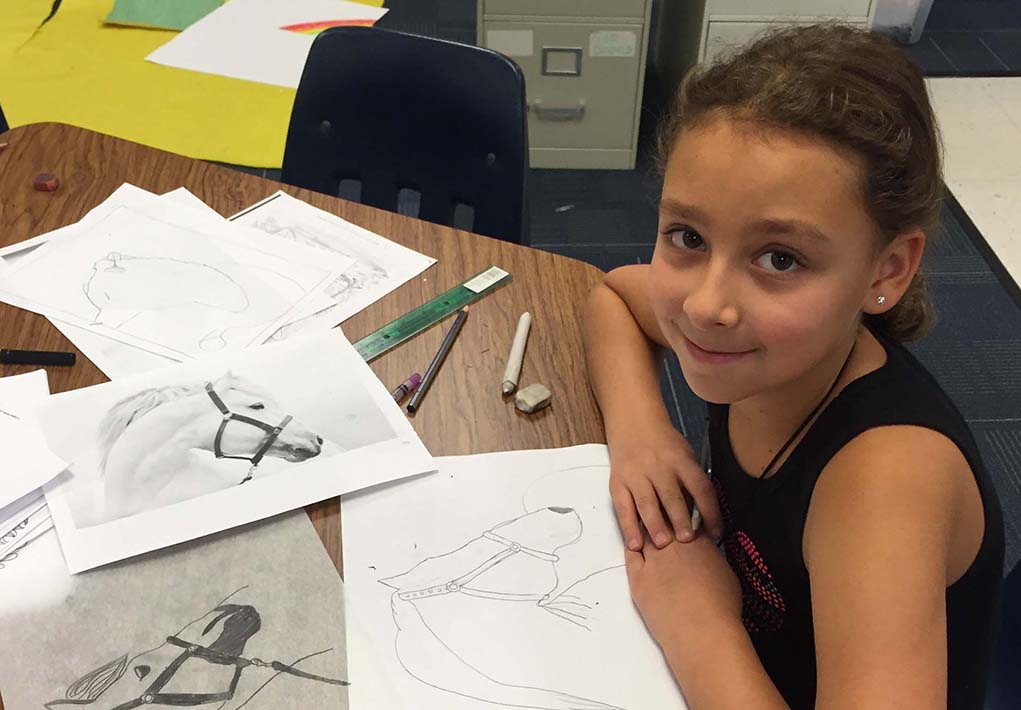 North Scottsdale, North Phoenix, Cave Creek, Carefree, Anthem, AZ – It's time to cook up summer fun through outstanding local educational, sports, and performing and visual arts opportunities for adults and students! Cave Creek Unified School District Education & Community Services has decades of experience (since 1974) in inspiring, creative, engaging and educational workshops and classes in a wide variety of programs for all ages. The 24-page summer catalogue is available online at www.ecsforall.org or in print at the front offices of Cave Creek Schools and the Cactus Shadows Fine Arts Center.
In the performing arts, there are theater and dance choices for elementary students (90-minute block classes in June and an 3-hour block in July) at Desert Willow: "Taking the Stage" and "Theatrical Adventures" with Lisa Barzano; Desert Foothills Theater (DFT) Creative Kid's Camp "Monsters are Friends Too!"; "Camp Broadway" with Kevin Glenn, a new singing and acting workshop focusing on Broadway songs; and the Hip Hop, Happy Feet Camp in July.
Performing arts choices at the Cactus Shadows Fine Arts Center include DFT's Musical Theater Camp "Once Upon a Crime," and an intensive High School Performing Arts Workshop, incorporating dance and theater with Andrew Cupo and Haley Vago.
Visual Arts at the Elementary level include 3D Art "Imaginative Places and Fantasy Creatures," Imagination Station "Famous Artists' Studios," and "Stitch It Up!" plus Drawing, Painting, Mixed Media classes, Young Rembrandts, and "Mindfulness & Art."
The ECS Kids Club is in full swing with the summer theme, "A Trip Around the World" featuring hands-on learning segments reflective of other cultures: Italy, Australia, Jamaica, Egypt, United States, France, China and Russia! Activities include science, active games, art, clubhouse, music, cooking, special events, movies and field trips.
Child's Play Preschool (established in 1988) offers STEM curriculum, Cause and Effect Science, and Frog Street Sing and Read. A Kindergarten readiness class, Kinder Prep, is offered to those students entering Kindergarten in the Fall of 2018.
There are sports galore, like Sports Rock Camp, Karate, Arizona Athletics Basketball, Yoga, Tennis, Martial Arts, Wrestling, and more.
And there are popular summer options like Robotics Camp, Bonanza Lego®, "Escape the Room" Math Camp, Rosetta Stone, Ramp Up Reading, Reading Rangers Book Club – Adventures in Survival and Book Club – Choosing Kind, Study Skills, Supplemental Math (a course which earns .5 high school credit), and more.
ECS Teen and Adult Workshops from the Foothills Arts Academy of the Sonoran Arts League include painting "What the Hue?!" and watercolor "Beyond the Hue" workshops by Robin Ray, and Digital Photography with Bob Grebe.
If you are looking for creative inspiration in other pursuits, there are culinary classes for teens and adults, like "Chocolate Making" and Unified Culinary Arts. Elementary students would enjoy "The Spanish Kitchen" with Hayden Ballestursos, Nancy Gervasio's "Street Food Factory" and "Around the World in One Kitchen."
To cook up a memorable and enjoyable summer, visit www.ecsforall.org for information and registration.