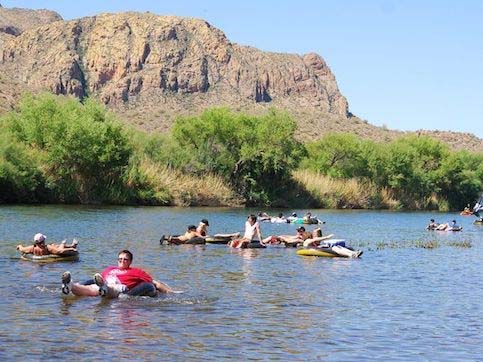 As the summer temperatures increase, many look for fun ways to cool off and one great recreational way tubing down the Salt River.
Salt River Tubing just kicked off its annual season of tubing, marking 37 years as Arizona's floating picnic.
It is a party on the river allowing tubers access seven days a week. It's open from 9 a.m. to 6:30 p.m. The very last tube rentals is 1:00 p.m. daily.
The cost to partake is just $17 with additional taxes and includes the tube rental, shuttle bus service and parking.
Salt River Tubing rules state that children must be at least eight years old and older and four feet tall to tube. In addition, they also recommend always appointing a designated driver before tubing fun begins. Life vests are also encouraged, due to the white-water rapids that occurs sometimes in certain areas.
For more information, vist,  http://www.saltrivertubing.com