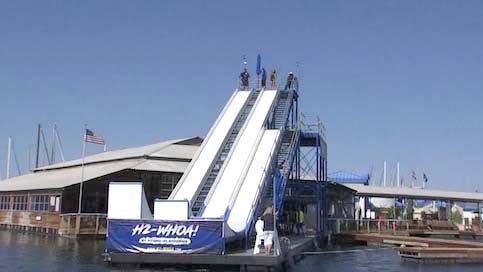 It's not every day that a world record gets set at your local park, but this spring Lake Pleasant Regional Park slid right into the Guinness World Records with the world's tallest floating water slide.
This 34-foot marvel, aptly named H2-WHOA, can be found anchored in the marina in Peoria, Arizona, and had its grand opening on April 27th, 2018. Gary Schmit, owner of H2-WHOA, expects thrill-seekers from all around to be drawn to this unusual high-intensity attraction. Despite its extreme reputation, this slide was designed with all riders in mind. Three separate slide levels were installed into H2-WHOA to produce three distinctive experiences. "We call them mild, hot, and spicy," said Gary. The tallest slide launches the rider nearly two stories into the air, successfully creating a freefall sensation. Gary's goal with H2-WHOA was to mimic a freefall with his design, as the idea for this slide occurred to him while working on a different project a year and a half ago. "I had an indoor skydiving project I was building in Scottsdale that went awry. I have a skydiving background. I like extreme stuff. I saw this type of slide online, but it was on land," he said. To create H2-WHOA, Gary combined this concept with that of a freestyle ski jump, and the results were an instant hit for both families and adrenaline-junkies alike.
As with any extreme sport, safety was a primary concern in the construction of this slide. The landing zone was carefully selected, and its depth is measured at a hundred feet. Participants are only allowed to take the slide head first, and five lifeguards will be present on the slide's platform at all times. If you're up to the challenge, head on down to Lake Pleasant this summer to enjoy what can only be described as a definite "bucket list" activity. Wristband prices will start at $25 for one hour, which includes unlimited rides and lifelong memories!
Check out the H2-WHOA website for more information.