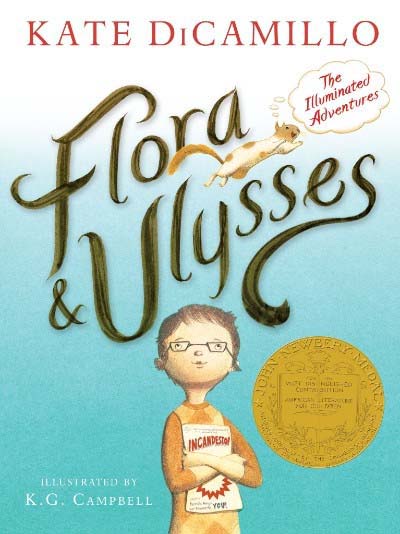 TEMPE – It's a bird! It's a plane! It's… a squirrel?! An unlikely superhero is coming to town as Childsplay Theatre brings Kate DiCamillo's Newberry Award-winning book to life on the Tempe Center for the Arts stage, weekends April 22 through May 20.
After getting sucked up by a vacuum cleaner, a (now hairless) squirrel is rescued by Flora Belle Buckman, at 10-year old self-proclaimed cynic. She names her new friend Ulysses and discovers he has been reborn with super powers of strength, flight and misspelled poetry. Flora & Ulysses' adventure comes to life on stage as the two embark on a hilarious adventure, full of quirky characters and bursting with heart.
Tickets start at $12 and are on sale now at www.childsplayaz.org or at the Tempe Center for the Arts Box Office (480) 350-2822 (ext. 2). The play is recommended for ages 6 and up. Tempe Center for the Arts is located at 700 W. Rio Salado Parkway, Tempe, Ariz. 85281.
"Audiences are going to laugh. A lot," said the show's director, Dwayne Hartford. "And they are going to love this little girl, who is brave, and creative."
Kate DiCamillo has written many renowned children's books including The Tale of Despereaux, Because of Winn Dixie and The Miraculous Journey of Edward Tulane, which Childsplay adapted into a play that premiered in 2013.
"Kate DiCamillo is such a gifted writer. And John Glore's adaptation captures the world she created," Hartford said. "It's wacky and larger than life, yet at its core, it's a story about love and family."
The 4 p.m. performance on Sunday, April 22 at is a special $12 Storybook Preview performance, sponsored by The Steele Foundation. Each family that attends this General Admission preview performance will receive a free book. The American Sign Language (ASL) performance is Saturday, May 12 at 1 p.m.
Flora & Ulysses features Savannah Alfred as Tootie/Rita, Louis Farber as George Buckman/Alfred P. Slipper, Ricco Machado-Torres as William Spiver, Katie McFadzen as Phyllis Buckman, Kaleena Newman as Flora Buckman, Debra K. Stevens as Meescham/Donald/Ernie and Tommy Strawser as Ulysses. The show is directed by Childsplay Artistic Director Dwayne Hartford.
Scenic Design:  Jeff Thomson
Costume, Wig, & Puppet Design:  D. Daniel Hollingshead
Lighting Design:  William Kirkham
Projection Design:  Anthony Runfola
Sound Design:  Christopher Neumeyer
Stage Manager:  Sarah G. Chanis
Flora & Ulysses was written by John Glore, adapted from the book by Kate DiCamillo. This production is sponsored by SRP.
For interviews or media appearances, please contact Samantha Johnstone at (480) 921-5703 or sjohnstone@childsplayaz.org. High resolution images are available for download from Childsplay's website at www.childsplayaz.org/press.
About Childsplay:
Childsplay, Inc. is a nonprofit theatre company of professional, adult artists who perform for and teach young audiences and their families. The mission of Childsplay is "to create theatre so strikingly original in form, content or both, that it instills in young people an enduring awe, love and respect for the medium, thus preserving imagination and wonder, the hallmarks of childhood which are keys to the future." For more information, visit www.childsplayaz.org.