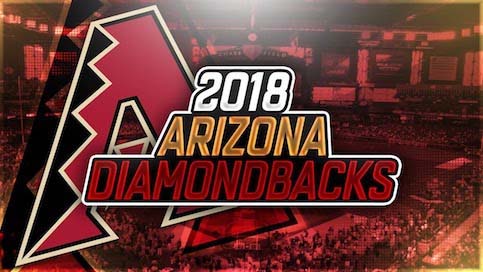 Opening Day of the Arizona Diamondbacks' regular-season is March 29, when the Colorado Rockies visit Chase Field and will feature award presentations, a flyover and a ceremonial first pitch that will feature Diamondback players from past and present.
The full list of scheduled festivities, ceremonies and giveaways before their opening game include:
Opening Day Street Festival
Begins at 4 p.m. in front of the Gila River Casinos Plaza along Fourth Street and Jackson Street. Food trucks, D-backs inflatables and live music will be a part of the festival.
Rally Towels & 2018 D-backs Schedule Magnet
To be handed out to the first 40,000 fans.
Presentations
National League Manager of the Year award to Diamondbacks manager Torey Lovullo.
Silver Slugger Award to Diamondbacks first baseman Paul Goldschmidt.
Gold Glove Awards to Goldschmidt and pitcher Zack Greinke.
National Anthem
Sung by Roger Clyne, who sings the "D-backs Swing" song heard at the end of every D-backs home win.
Flyover by Four F-35s
From the 309th Fighter Squadron at Luke Air Force base at the end of the national anthem.
Ceremonial First Pitch
Members of all six D-backs teams to advance to the postseason: Erubiel Durazo (1999), Luis Gonzalez (2001), Mark Grace (2002), Brandon Webb (2007), J.J. Putz (2011) and Archie Bradley (2017).
Cabanas & Virtual Reality
The D-backs have added cabanas and other amenities at Chase Field. For $75 per person, fans can purchase seats in the 10-person cabanas in the Coors Light center-field area. While in the cabana, fans can watch the game on a flat screen, and enjoy friendly food service without having to wait in line.
While at Chase Field, fans can now participate in virtual experiences, like the home-run derby. Several MLB teams have been adding virtual reality games to give fans Big League experiences.
The Food
Going the ballpark isn't just about watching baseball. It's also about the food and the D-backs are filling their concessions with exciting new offerings. On Opening Day, the new food options will be in full swing.
Fans visiting Chase Field will be able to pick from options that represent a variety of flavors and ethnic styles. Sol La Terraza Restaurante Mexicano will feature Mexican dishes and face painting for the younger fans. The restaurant will only be open during weekend games and special events.
Another new option is Gonzo's Grill, which is lovingly named for Luis Gonzalez, the popular D-backs outfielder. Gonzo's Grill will specialize in chicken dishes including popular options like chicken tenders and chicken and waffles from Tyson Foods. While at Chase Field, you might just catch a glimpse of Gonzalez, who is a welcome addition to the front office staff in Phoenix.
Baseball hot dogs are getting an upgrade at Chase Field. Portillo's (an iconic Chicago hot dog restaurant) will feature Chicago-style hot dogs and a soon-to-be-legendary carne asada dog that measures 18 inches.
When you need a caffeine fix, Dutch Bros Coffee will help keep you wide awake. The coffee chain is from Oregon and will quickly become a favorite. Both Dutch Bros Coffee and Portillos will be served at food stands around the park.
Another new addition to Chase Field is La Carreta de Lily which serves Mexican desserts and other delicacies. Fans can find this favorite local Phoenix spot in the right-field area of the park. Chevrolet proudly sponsors the terrace area near La Carreta de Lily.
The D-backs aren't the only team upgrading their concessions choices and open seating areas. The New York Yankees and other teams have open areas in Yankee Stadium where fans can congregate to enjoy beer and unique park specialities while watching the game. The Detroit Tigers have several bar areas where fans can chat, drink local beers, and watch the game on massive screens.