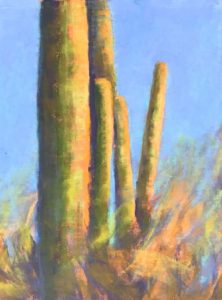 – Celebrating local artistic talent and incredible conserved lands!
It's Art for Land's Sake is an annual juried art exhibit and sale intended to increase awareness of the important work of Desert Foothills Land Trust and to inspire land and wildlife conservation by connecting people to nature through art. The exhibit, to be held at the Sonoran Arts Leagues Center for the Arts, is free and open to the public March 16 – 22 during regular business hours. All pieces will be available for purchase with a portion of sales benefitting Desert Foothills Land Trust and the Sonoran Arts League.
The 2018 show was juried by Tim Rees, a renowned artist and instructor at the Scottsdale Artist's School and his academy Rees Atelier. There were 30 local artists and 49 pieces selected for the exhibit. Artworks are required to represent a specific Desert Foothills Land Trust preserve and were judged on the quality of craftsmanship, the compositional design, as well as the creativity. The Juror results are as follows: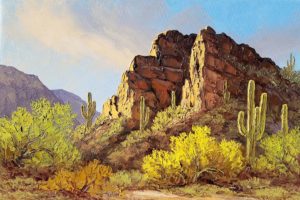 1st Place – Genise McGregor
2nd Place – Peggy Orbon
3rd Place – Susanne Nyberg
Honorable Mentions:
• Michele Schuck
• Susanne Nyberg
• Barbara Quale
• Joye DeGoede
• Laura Thurbon
• Jo Watts
Other artists selected for the exhibit:
• Lin Boucher
• Judy Bruce
• Jan Downey
• Margaret Finley
• Linda Garrett
• Aileen Garvey
• Judi Hendricks
• Linda Howell
• Sandra Jessop
• Marilyn Mee
• Charlotte Moore
• Dick Mueller
• Rich Orbon
• Arlyne Pasco
• Judy Quimby
• Tracy Rollins
• Nancy Romanovsky
• Katie Stearns
• Heike Tramposch
• Ronnie Wainwright
• Karen Walker
• Patty Wellens
It's Art for Land's Sake exhibit hours and details:
Dates:
March 16, 9 am – 4 pm
March 17, 10 am – 4 pm
March 19 – 22, 9 am – 4 pm
Location: Sonoran Arts League Center for the Arts in Stagecoach Village,
7100 East Cave Creek Rd., Suite 144, Cave Creek
Cost: FREE
More information is available at www.dflt.org
About Desert Foothills Land Trust:
Desert Foothills Land Trust works with landowners, communities and partners to protect the most special and important natural areas in the Arizona communities of Carefree, Cave Creek, North Scottsdale, North Phoenix, Anthem, Desert Hills and New River. The Land Trust has permanently protected nearly 750 acres on 25 preserves, many of which are open to the public for exploration and passive recreation. The Land Trust is accredited by the national Land Trust Accreditation Commission – a mark of distinction in the land trust community. More information is available at www.dflt.org or 480-488-6131.