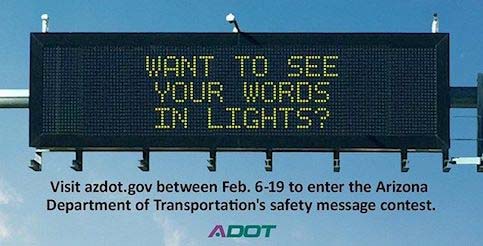 You've seen the signs, you've laughed at the messages and posted about them on Facebook. Now, it's your turn!
The Arizona Department of Transportation is holding another contest to create messages for the freeway signs. Past signs have included references to new movies, current events and holidays.
Once submissions close, ADOT will select 15 finalists for the public to vote on in March. There will be two winning entries.
How to enter:
Submissions are due on February 26th and you can submit online.
Your short message must fit into three lines of 18 characters each (including spaces) and have something to do with traffic or road safety. No hashtags, phone numbers, websites or emojis.
So get creative and put together your best freeway sign message for a chance to be featured on freeways around the state!