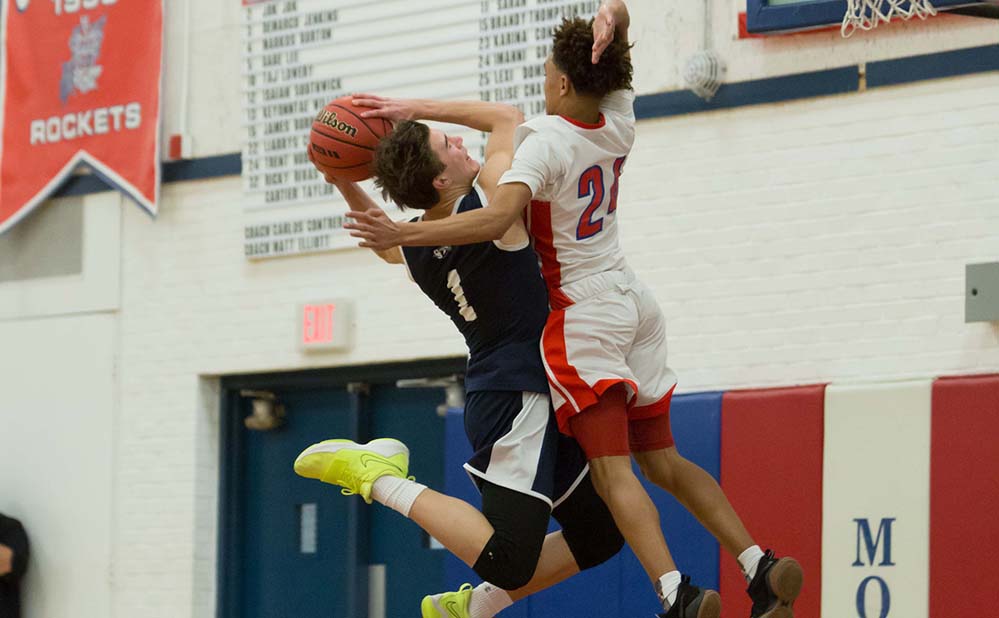 With a 20 win regular season, and a playoff bye and victory under their belt, the CSHS Boys hoops team were 1 of 8 teams standing in the 4A Conference State Playoffs. With less than 10 seconds to go in their Elite 8 road matchup versus #4 seed Moon Valley, the Falcons were clinging to a 1 point lead, and on the verge of a final 4 game for the 1st time in Cactus Shadows history. After a wild scramble for a loose rebound, and both team's crowd screaming at the top of their lungs, Moon Valley's Trent Hudgens found himself with the ball at the top of the key, and what happened next defined the season for both teams. Hudgens knocked down a 3 pointer wi
th 5.2 seconds left in the contest, and ultimately pushed the Rockets into the semifinals with a 62-60 win, ending the season for the Falcons.
In a great game by both teams, the Falcons battled back from a 10 point 1st half deficit with gritty play, and timely shots, to grab a 9 point lead, 46-37 with 3:10 to play in the 3rd quarter. The Rockets battled back with a 9-2 run, but as the period ended Junior Sam Goulet nailed a 3 pointer at the buzzer, and was fouled, for a rare 4 point play, giving the Falcons a 52-46 lead entering the 4th quarter.
Moon Valley started the 4th with a 5-0 run, and eventually took the lead by 3, with the Falcons tying the game at 59 with 2:01 left in the game. Both teams exchanged empty possessions down the stretch, but a free throw by Senior Julian Johnson gave the Falcons a 60-59 lead that stood up until the Rockets final possession of the game, setting up the 3 by Hudgens. The Falcons had
one final attempt with 5.2 seconds to go, but a 3 point attempt by Junior CJ Nnorom was well defended and deflected, with the Falcons follow up desperation shot missing as the buzzer sounded. "I love my team. So proud of this group. Great game, great season…fell 1 bucket / stop short from our goal" said Head Coach Zach Washut. "Thank you to all of the fans, supporters, and students that made this season a huge success. Falcons future is bright."
Finals stats were not available, but Cactus Shadows was lead by Benci (17 points), and Goulet (15 points), with strong contributions in the game from Senior Julian Johnson and Juniors Duncan Hearn, CJ Nnorom, and Knox Riddle.