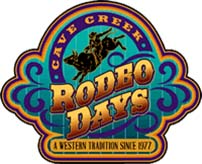 March 17 – March 25
PRCA Rodeo events, David Lee Murphy Concert, Parade, Queen & Teen Crowning, Rodeo Dances, Golf Tournament, Mutton Bustin and much more taking place in the historic Town of Cave Creek
Cave Creek – Mark your calendar to attend one of the Valley's largest events, Cave Creek Rodeo Days, March 17 through March 25 in Cave Creek. Cave Creek Rodeo Days is celebrating 41 years to preserve our western heritage and promote the sport of professional rodeo..
Cave Creek Rodeo Days is comprised of an all-volunteer committee that is sponsored by Sanderson Ford on Bell Road.
We are pleased to announce that Cervi Championship Rodeo, world – renowned, will be supplying championship stock for the Cave Creek Rodeo. The Cervi family oversees and participates in every aspect of the rodeo production.
"We cherish our Western lifestyle. Our entire community is coming together for Cave Creek Rodeo Days. This event celebrates everything we love about our Town", said Mayor Ernie Bunch.
Cave Creek Rodeo was voted 1st place of the 2017 Justin Boot Best Footing Award in the Turquoise Circuit. This is to ensure that the rodeo had the safest, most consistent ground conditions throughout the entire rodeo. It provides a safe and level playing field for the barrel racing contestants and their horses.
The three performances of the Cave Creek Rodeo will take place at the Cave Creek Memorial Arena, 37201 N 28th St., Cave Creek, AZ 85331
If you would like to enjoy the 41st Cave Creek Rodeo Days VIP style, then you need to be in the Stockman's Club, March 23-25. The Stockman's Club is a private area that offers catered food, complimentary beverages, preferred parking, and "up close to the action" seating for every PRCA performance. Friday night's banquet will be served by Peaks & Valley Restaurant, Saturday night is Indigo Crow, and Sunday is Q-to-U-BBQ. Please purchase your online tickets at www.cavecreekrodeo.com
Please visit our website; www.cavecreekrodeo for the full calendar of events, tickets, registration forms and applications.
Schedule of events
SATURDAY, March 10
Cave Creek Queen Competition & Coronation
Cave Creek Rodeo Days Royalty symbolized the young women of the State of Arizona who desire to promote the sport of rodeo and the western way of life. Royalty must portray good sportsmanship, high moral and ethical character and reflect careful and humane treatment of animals.
Queen contestants have obtained the age of 18 years and shall not have obtained the age of 24 before December 31st of her competition year.
Teen contestants have obtained the age of 13 years and shall not have obtained the age of 18 before December 31st of her competition year. An adult chaperon will accompany the Teen.
Competition will consist of horsemanship pattern and interviews at Outlaws in Cave Creek.
There will be a dinner/coronation to showcase speech, modeling and extemporaneous questions.
Contact: Carol Grencevicz @ 623-326-9440 or queens@cavecreekrodeo.com
SATURDAY, March 17
Parade, Mutton Bustin, Rodeo Kick-off Dance
Early Saturday morning bystanders start lining the Town's main street to catch the beginning of the Historic Western Parade that starts at 9 am. Several businesses will be serving breakfast along the way.
Contact: Kristen Lewis 480-406-8455
Immediately after the parade the Buffalo Chip Saloon & Steakhouse, 6823 E Cave Creek Road, will be hosting the mutton bustin where children, ages four to seven and weighing less than 75 pounds ride a sheep across the arena for 6 seconds to win prizes. The cost is $10 per contestant and signup begins at 11:30 am with the event starting at 12:30 pm.
Saturday evening the official kick off dance of the Cave Creek Rodeo Days is hosted by the Buffalo Chip Saloon & Steakhouse. Dancing starts at 8 pm and continues well into the night.
MONDAY, March 19
Cave Creek Rodeo Golf Tournament
Tatum Ranch Golf Course, an award – winning Robert Cupp designed golf course will host the Cave Creek Golf Tournament.
Sign is at 10:30 am with tee off at 12:30 pm. $150 per person or $600 for a foursome. Included green fees, cart, range balls, hole in one, closest to pin and longest drive contests. A prime rib/chicken banquet& awards dinner will begin at 6 pm with a silent auction from 5 pm to 8 pm
FRIDAY, MARCH 23
Cave Creek Rodeo performance beginning at 7:30 pm
Friday night is the Wrangler National Patriot performance. The Wrangler National Patriot program, created to provide funding and support for America's wounded and fallen soldiers and their families. More than $800,000 has been donated to date.
10 pm -David Lee Murphy will be live in concert at Harold's Corral after the rodeo. Entry to the concert will be free with your Rodeo ticket.. Tickets will also be available at the door at $22 (same as the rodeo ticket price). David Lee Murphy is presented by Sanderson Ford with appearance by 102.5 KNIX, Tim & Ben.
SATURDAY, MARCH 24
Cave Creek Rodeo performance beginning at 7:30 pm
Cave Creek Rodeo has recently teamed up with the Man Up Crusade to bring "Purple Night" on Saturday, March 24. The Man Up Crusade is a non-profit organization dedicated to creating public awareness on the issue of domestic violence.
SUNDAY, MARCH 25
Cave Creek Rodeo performance beginning at 2 pm
Sunday is the Wrangler "Tough Enough to Wear Pink" performance
Tickets for Cave Creek Rodeo Days may be purchased online at www.cavecreekrodeo.com for $22.00 or at the gate for $25.00.
Your attendance helps us to continue the tradition of professional rodeo right here in Cave Creek and also helps us support local charities.