Once again, the Cave Creek Museum will have four extraordinary homes open for you to tour and enjoy. The Cave Creek Museum "Homes Through Time" Tour will be held Sunday, March 11, from 10:00 am to 4:00 pm. This year's self-guided tour will include the Wind Horse Ranch B&B and Equestrian Resort, the Coffee-O'Malley Home and Art Studio, the Monachino Home and the Davidson Home.
Wind Horse Ranch B&B and Equestrian Resort
This newly opened Bed and Breakfast on Continental Drive has been a dream of owner Louise Hoffacker for many years. She has created a peaceful retreat where guests can stay, practice yoga, bring their horses or rent horses to ride the local trails.
The property, formerly the De-Railed Ranch B&B, was purchased a little over a year ago by Hoffacker and restoration was begun. The classic territorial main house is decorated with beautiful art and furniture collected from all over the world. "I chose the name Wind Horse Ranch in reference to the Tibetan symbol for strength, prosperity, and providence," said Hoffacker.
Also on the property is an underground bunker built of buried railroad cars. This space is currently being remodeled as a recreation, meeting and game room.
Coffee-O'Malley Home & Art Studio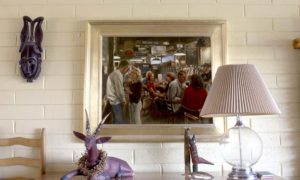 The Coffee-O'Malley Home, Interior Photo courtesy of the Cave Creek Museum Home Tour 2018[/caption]
One of the early homes built on the west side of Black Mountain, the Coffee-O'Malley home includes many of the home's original features, magnificent views, and many of artist Elaine Coffee's original paintings. "I paint what I observe, mostly people and the passing scene," noted Elaine Coffee describing her subject matter. This includes a whimsical collection of oil paintings featuring Santa Clause in many adventures.
A separate artist studio, designed in keeping with the architecture of the home, was constructed to bridge a wash that meanders through the property. The studio has magnificent views and more of Elaine Coffee's art.
While the house is single story and easy to access once you reach the driveway, it has very little parking and the dirt road can be rough for walking. Therefore, shuttles will be provided from the parking lot on the corner of Surrey Drive and Cave Creek Road to take you to and from the property.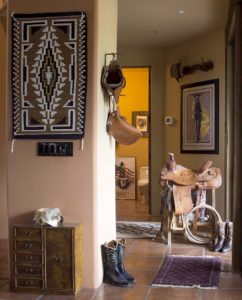 Monachino Home
This beautiful territorial home sits on a secluded lot overlooking a huge wash. The interior has classic southwestern finishes combined with a gorgeous kitchen and baths. Traditionally decorated, the home features many unique pieces, authentic prints and paintings, blended to give a feeling of comfort and peace.
The home includes four individual, uniquely named courtyards. One of these delightful courtyards will house this year's Kitchen and Garden Boutique, which is always a favorite Home Tour event.
Davidson Home
This home is what we like to describe as a contemporary territorial. The former owner renovated and expanded a small territorial into a larger, architecturally unique home. Patio additions with contemporary rooflines give the traditional Santa Fe style home a unique, almost Frank Lloyd Wright, feel.
The addition of a huge open family room and kitchen area with raised ceilings creates a more contemporary look. The sunken living room is authentic to the origins of the house yet blends beautifully with the newer additions. A master suite was also added at the other side of the house, which incorporates high ceilings with some traditional features.
Throughout the home you will see a great deal of fine art, authentic early movie posters, theater related collectables, such as a mirror purchased by Debbie Reynolds at an MGM prop auction, as well as many other collectable and film related memorabilia.
Jody Davidson trains dogs, so the back yard is set up with that purpose in mind. This is a unique and interesting property, definitely not to be missed.
Cave Creek Museum Home Tour & Garden Boutique
Tickets are available online at www.cavecreekmuseum.org, by phone (480) 488-2764 with a credit card or at the Cave Creek Museum. The ticket price is $40 if purchased through March 6, and $45 March 7 – 11, or until sold out. The Cave Creek Museum is located at 6140 E. Skyline Drive, Cave Creek AZ 85327. Tickets will not be available at the Tour Homes.
No pets, food or beverages, or photography will be allowed within the homes, and no children under the age of 12 will be admitted. Please note that some of the homes are on uneven terrain and may not be handicap accessible. For additional information, please call (480) 488-2764.