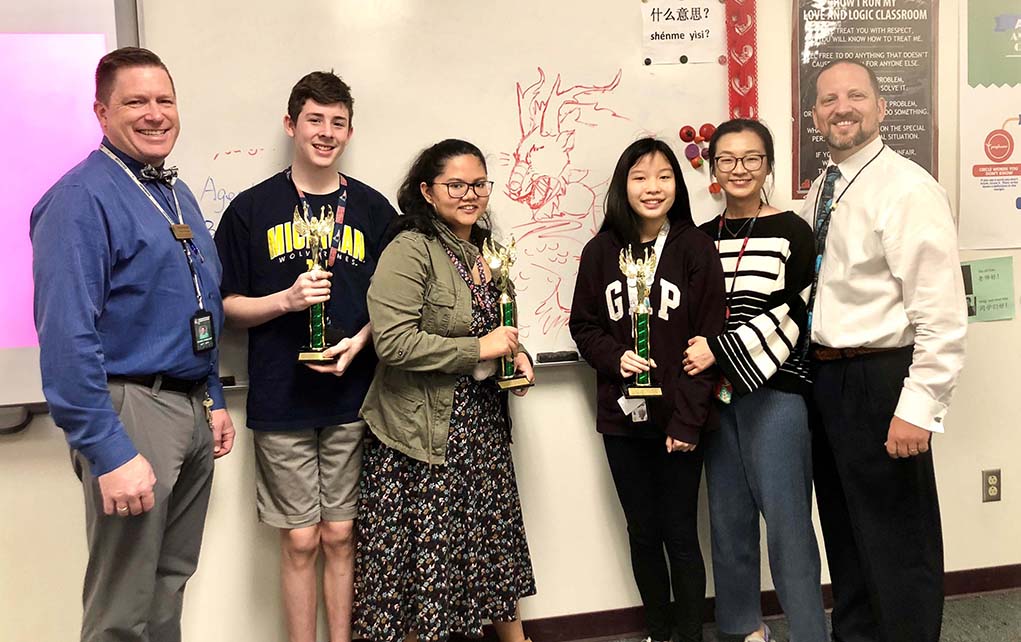 Sonoran Trails Middle School (STMS) and Cactus Shadows High School (CSHS), located within the Cave Creek Unified School District, would like to congratulate their students for receiving awards from the ASU Confucius Institute Video Competition.
Bill Dolezal, principal of STMS said, "We are honored to receive these awards, but the true reward is watching our students gain confidence and proficiency in speaking a second language – a skill that will serve them for a lifetime!"
Sophia Barnedo, Matthew Herbert and Emily Young from STMS received "Outstanding" recognition for their video "五十个"是".  This 8th grade video is about an arrogant boy who disrespects his teacher, and gets assigned extra homework. Being rebellious, he decides to ignore it for the rest of the day but is haunted by his bad decisions.
Cactus Shadows Students Abigail Nosan, Holly Beck and Sienna Kloss received "Outstanding" recognition for their video "Our Chinese Academics & Extra Curriculum".  Students created avatars to represent themselves and have an "animated" discussion about their likes and dislikes at school.
The six students were chosen from over 80 entries in the 7-12 grade competition for being Novice Learners of Mandarin.
Dr. Steve Bebee, principal of CSHS said, "Our students continue to amaze me with their abilities and talents when it comes to language acquisition.  We congratulate our students and their accomplishments and for winning his award."
The ASU Confucius Institute hosts the Student Video Competition to encourage students to use Chinese to express their Chinese-learning journeys and love for learning Chinese through producing a video in Chinese.  Students in grade 7-12 enrolled in a Chinese language class in Arizona schools were encouraged to participate in this contest.
ASU's Video Academy Award Ceremony was held on February 3, 2018.
Cave Creek Unified School District is the number 1 school district for student achievement in Maricopa County and number 6 in the state for combined English Language Art (ELA) and Math AzMERIT Scores.
For more information regarding the World Language Program, PreK-12 at CCUSD, please contact Cristina Ladas, World Language & Immersion Programs at cladas@ccusd93.org or by calling 480-575-2019.