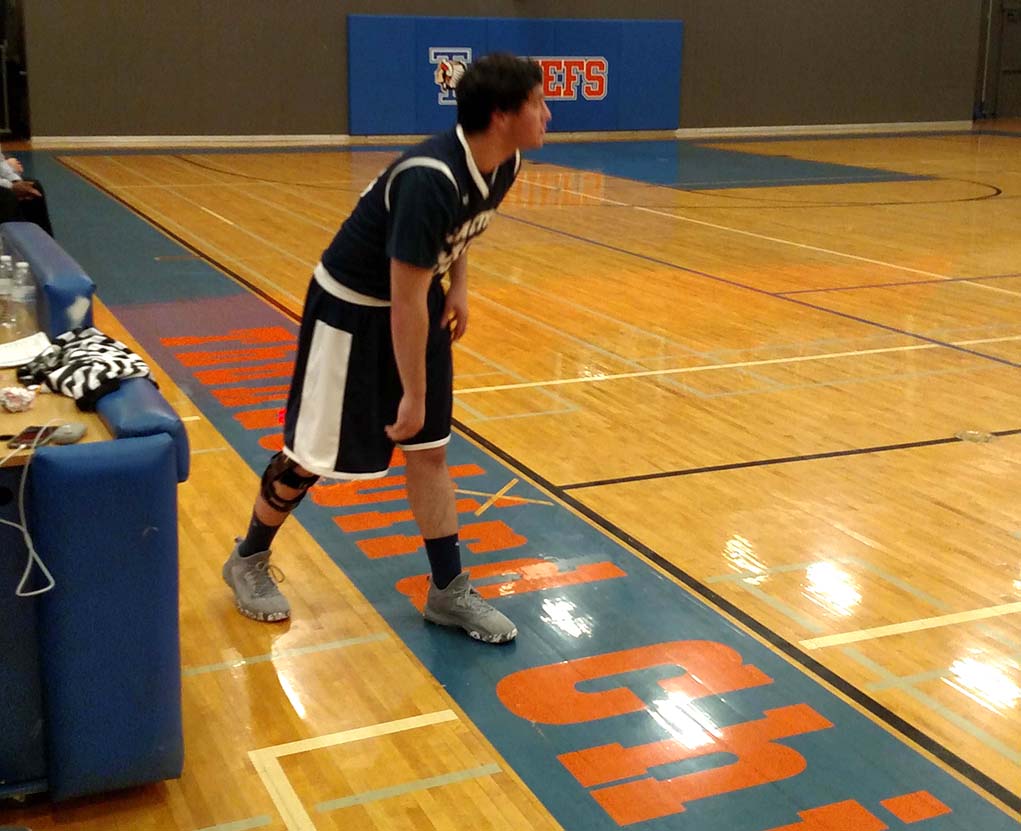 It was June 15th 2017, in the heat of summer, and Nate Berman and teammates were playing in a typical basketball tournament at Central High School, as part of what is affectionately called "June Ball" where high school programs are eligible to use the month of June to prepare for the next season. Nate was an incoming senior, coming off a successful varsity season under former Head Coach Jamaal Scott, and was eager for the chance to impress new incoming Head Coach Zach Washut. By all accounts he was well on his way to doing just that.
During the game that night, in a seemingly routine play, Nate was dealt a twist of fate that all players (and their supporting parents) hope they never have to face – an injury that didn't feel like all of the hundreds that have been felt before…this one was different. A few days and an MRI later, Nate was diagnosed with a torn anterior cruciate ligament (ACL), and torn, twisted meniscus. Surgery was scheduled for 2 weeks later, and a minimum of 9 months of rehabilitation to follow. Needless to say, this was the ultimate game changer, and Nate was going to have find another way to impress his new Coach.
What happened next, didn't surprise anyone. Nate had a reputation as the hardest working, and most well liked teammate on the floor, with a knack of turning routine practices into his own person "tryout" and competing as hard as he could…at all times. Nate took that reputation to a new level, and put the work in everyday to outpace the rehab schedule, and show up at every team event, practice, game, and meeting – with a smile. What he couldn't do on the court, he did off the court, in supporting a team the doctors told him he would never play with. Meanwhile as the season started, his parents and little brother showed up at every game and cheered on the Falcons as if Nate was going to toss the street clothes off and check in to a game.
Now the good part. Less than 6 months after surgery, Nate was beginning to show up on the court again, slowly but surely. Then on January 30th, less than 7 months after surgery, and at least 2 months ahead of schedule, Nate was about to do what he told everyone he was planning to do…play with teammates again in his Senior year. Late in the 3rd quarter of a road game at Thunderbird High School, Coach Washut made the call for Nate to get the warmups off, and check in to the game. Hefty knee brace and all, Nate looked like a sprinter in the starting blocks, as he was about to enter the ball game. The Falcons team ended up winning the game, but it was clear no one was really focused on the score anymore, but sharing their happiness for Nate, and impressed by what he accomplished.
And for the record, he did end up impressing his new Coach, "Nate Berman is simply a fantastic young man. His work ethic, perseverance, and dedication to this program have been unmatched. It's amazing that he returned to the court so quickly after that kind of knee injury" said coach Washut. Welcome back Nate.
Picture: 12_20180130_200149900.jpg
Picture cutline: After a long rehabilitation period to an injured knee, Cactus Shadows Senior Nate Berman can't wait to get back on the court against Thunderbird on 1/30/18.