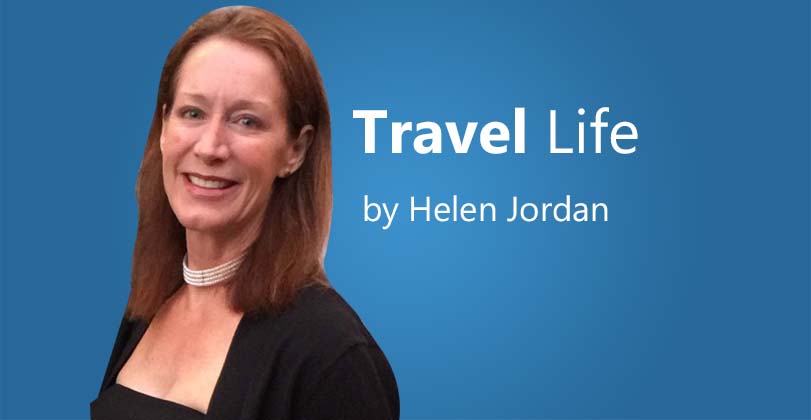 Do you ever feel left out of the conversation when your colleagues and friends share their fabulous travel stories and you have nothing to contribute?
Like happiness, positivity and a good friend, travel is something we want in our lives, so much so that we talk about it all the time, and some of us will even post our travel bucket-list destinations on Facebook. You know who you are. Travel is the "new" luxury and it's time you start adding more to your life.
I'm Helen Jordan, a regular person who is deeply, passionately, head-over-heels in love with travel. OK, that sounds trite, but it's true! I live for travel. I'm obsessed with travel. Travel to me is a part of my daily life – just like brushing my teeth or taking a shower. Just so you know, I am a travel advisor, or as many people refer to the profession, a travel agent. I have been traveling internationally since I was 3 months old, and I am excited to have the opportunity to share travel related articles in my new feature here in Sonoran News.
Full disclosure. I have not always worked in the travel industry, although that was my first desire. Living in Europe offered my family many opportunities to travel throughout continental Europe and the UK. For many years, I worked in Human Resources in the corporate world, which gave me a wonderful opportunity to travel domestically for business and allowed me to hone my consulting skills, critical to my relationships in the travel world. At one point in my life, I took a break from the business environment to be a flight attendant. Throughout my life, I made the time and saved money so that I could take regular vacations to destinations all over the world.
Why should you read my column? What makes me an expert? First of all, my personal travels throughout the USA, Europe, the Caribbean, Mexico, the Middle East and Southeast Asia have provided me insight and familiarization with other countries and cultures. I haven't been everywhere, but it's on my list.
You know what I've learned? People are more interested in really cool experiences than material things. We are willing to make the time and spend our hard-earned money to have experiences that we find valuable and life-changing. Yes. Life-changing.
Remember my opening question about being left out of the conversation? Uh-huh. Your colleagues and friends were sharing stories about memorable experiences that made a true impact on their lives. Don't continue to be left out of the conversation. Follow my feature column and you will learn about trending travel topics, hot destinations, and travel tips and pointers.
Local, regional, national and international destinations will be included in my features, and I will post opportunities for you to save money (some promotions are time sensitive) and value-added amenities that certain hotels, resorts, destination management companies and tour operators provide.
Participate in the next water cooler or dinner party conversation by weaving some of the information you learned from my column into the conversation. Better yet, if you actually use the information to take your family on a trip, slap a big ol' "S" on your chest because they're going to think you're a true superhero for enriching their lives with the gift of travel.
I'm excited to begin this feature article and look forward to connecting with you. Your feedback, comments, and suggestions for topics are appreciated. Let's get out there and travel!
Helen Jordan is the owner of Jordan Luxury Travel, an independent affiliate of Brownell Travel, a member of Virtuoso. She can be reached at helen@jordanluxurytravel.com.