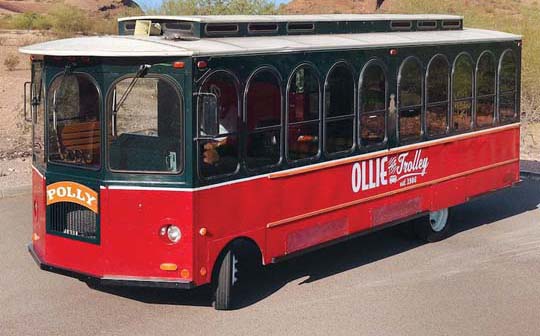 Expansion of the Cave Creek / Carefree business districts trolley service to include Fridays during the months of January through April highlighted the "action taken" during the regular Cave Creek Town Council on Jan. 2.
Following a presentation by Mike Farrar regarding the expense of the expansion and the surplus of funds available, considerable support and enthusiasm for the trolley service was exhibited by members of the council and a vote to extend the contract "not to exceed $5,695.00" was passed, 6-1.
In other business:
Vincent Francia gave a presentation and responded to questions and discussion on the results of the habitat study on open space, state land and actions. Primarily, the discussion revolved around "mitigation banking," "easement banking" and usage regarding 4,000 acres that would be compared to the Spur Cross area. Discussion only, no action was taken.
A presentation by Laurie Ricci, president of the New River Incorporation Committee for consideration of it's position regarding incorporation received a luke warm response, drawing comments of it will be a "huge ordeal" and a "real challenge." No action was taken.
Water policy was the focus of Kerry Smith's presentation, centering on "high priority" activities associated with Cave Creek. Infastructure, reciprocal agreements, capital improvements, budgets and analysis were the key components of discussion. No action was taken.
There was a motion to instruct the Town Manager to draft a Code of Conduct for all town officials. It was agreed to use the current model for Carefree, giving each councilperson 2 weeks to edit and submit for workup.