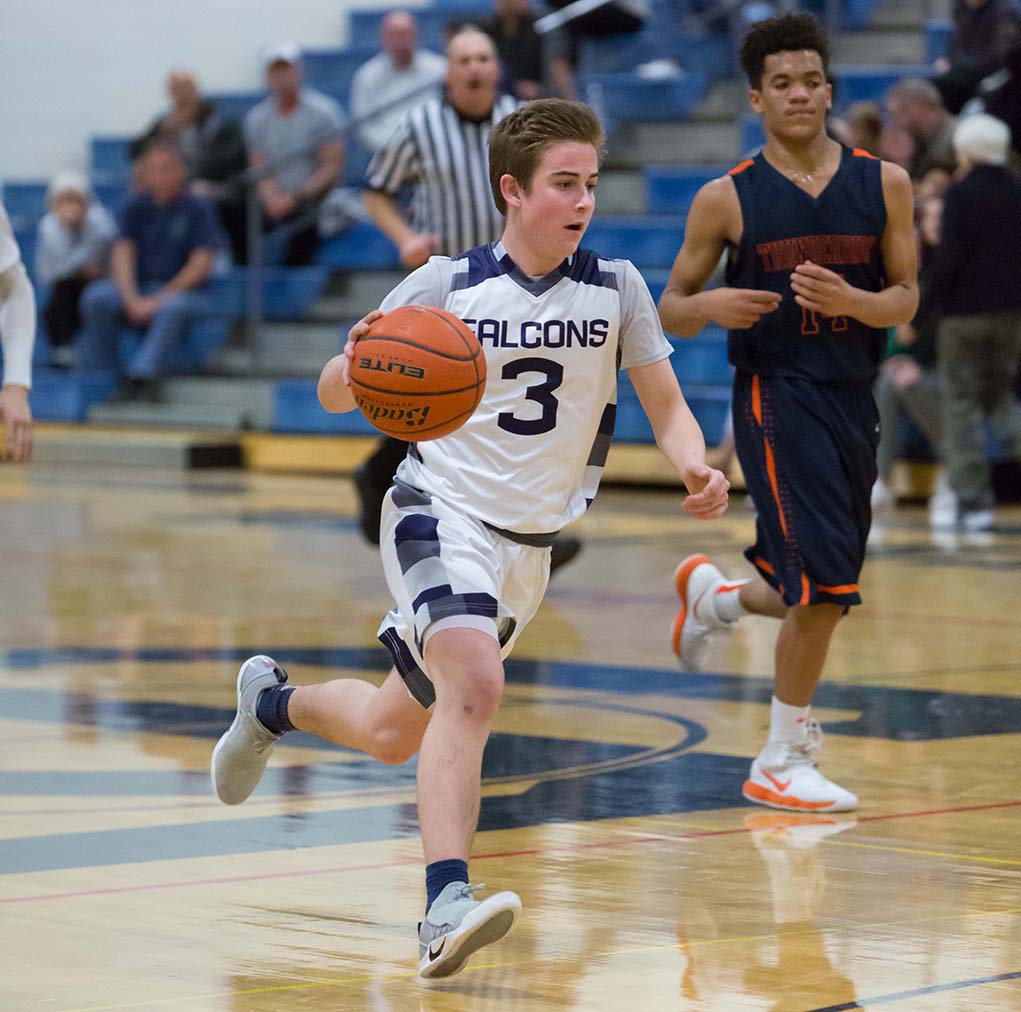 1/9/18, St. Mary's Knights 73, Falcons 67 (at St. Mary's – Phoenix)
This was a very tight ball game throughout, with St. Mary's getting some timely hot shooting from behind the arc (9-20, 45% for the game), and winning the rebound battle down the stretch to get the upset against the Falcons. CSHS had their chances to pull out a win, taking a 1 point lead with just under 3 minutes to play, and tied at the 1:38 mark, but had empty possessions in crunch time, and St. Mary's made key free throws to seal the win. Junior CJ Nnorom, in his first game with the Falcons after sitting out due to AIA school transfer rules (coming from Pinnacle HS), lead all scorers with 22 points in the game. Junior Jake Benci put up 15 points for the Falcons as well.
1/11/18, Falcons 81, Thunderbird Chiefs 39 (at CSHS)
The Falcons jumped out to a 10-0 lead to start the game with excellent ball movement and shooting, and had a nice lead after the 1st quarter, 33-6. At that point the rout was on, and Head Coach Zach Washut was able to spread out playing time for his deep roster. In the end, 30 of the Falcons 81 points came off of turnovers by Thunderbird. CSHS was lead by Junior Jake Benci (17 points) and Junior Sam Goulet (11 points, 5 rebounds).
1/13/18, Falcons 58, Lee Williams Volunteers 43 (at Lee Williams – Kingman)
In the longest road trip of the season, Cactus Shadows started hot from the 3-point line, putting pressure on the tough and talented Volunteers right out of the gate with a 23-5 lead to begin the game. Lee Williams fought back with a 7-0 run of their own, cutting the Falcons lead to 23-12 at the end of the 1st quarter. CSHS continued to build on their lead in the 2nd quarter with strong shooting and ball pressure, and took a 41-23 lead into halftime. The 2nd half was fairly even, as the Falcons coasted to a nice win on the road against a good team, moving their record to 14-3 for the season. Junior Sam Goulet lead the Falcons with 17 points.
FALCON'S RECORD: Overall: 14–3, Section: 1–2. Ranked #8, Division 4A
WHATS NEXT: Tuesday, 1/16/18, 7pm at Saguaro Sabercats, 6250 N. 82nd Street, Scottsdale. Next home game, Friday, 1/19/18, 7pm, vs. #3 ranked Seton Catholic Sentinels, CSHS Blue Gym, 5802 E. Dove Valley Rd., Cave Creek. $5 admission.
–