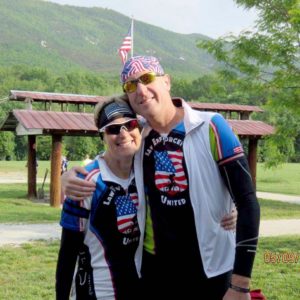 My name is Sherry Graham-Potter, and I am the surviving spouse of Deputy Tim Graham of the Pima County Sheriff's Department, who lost his life in the line of duty in 2005. I am also the wife of Tucson Police Pilot Chris Potter. For fifteen years my life has been enmeshed with law enforcement. I've seen the deep commitment to the job, I've seen the determination not to allow the current climate to sway their dedication, but mostly I've seen men and women who deeply care about their communities and the people in them.  That is why I am asking our communities to join me Tuesday, Jan. 9 in thanking our officers on Law Enforcement Appreciation Day (L.E.A.D.).  L.E.A.D. was conceived by Concerns of Police Survivors (C.O.P.S.) in order to set aside a national day in which we can recognize and support officers of the law across the country.  There is a need to show law enforcement officers that our citizens recognize the difficult and sometimes impossible career they have chosen, in public service to us all. Police work is not a career choice that garners high accolades and swooning praise. It is a thankless job of lofty expectation and very little appreciation. In my humble opinion, we, as the general public owe it to these fine men and women acknowledgement of their sacrifice, the risks they face on a daily basis, the respect and loyalty they possess for the letter of the law and their willingness to face, solve and deal with the unspeakable horrors that this broken world has to offer.
As a board member of C.O.P.S., I have the privilege of attending National Police Week most every year, and without exception, each year, my breath is taken away while witnessing officers from all walks of life, from every corner of our nation and beyond stand shoulder to shoulder in honor of their fallen brethren. Etched on these officers' faces I witness their strength, their sacrifice and the unmistakable love and respect they have for their fellow brothers and sisters in blue.
How can you show your appreciation on Tuesday, Jan. 9? Here are some ideas:
* Change your profile picture on social media to the jpg image provided at www.facebook.com/COPSArizona
* Wear blue clothing in support of law enforcement
* Send a card of support to your local police department or state agency
* Share a story about a positive law enforcement experience on social media
* Ask children in your community to write letters in support of law enforcement
* Participate in Project Blue Light – Proudly display your blue light in support of law enforcement
* Organize an event or a rally in support of your law enforcement officers
* Advertise your support through local media outlets/billboards
* Post the public service announcement supplied by C.O.P.S. to your organization's webpage or social media pages
Most importantly, if you see a police officer, thank a police officer.
Sherry Graham-Potter
Tucson