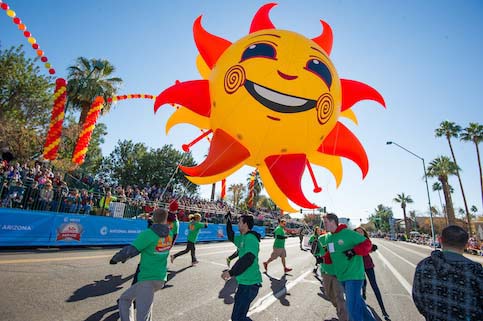 The National Bank of Arizona's 46th annual Fiesta Bowl Parade will march through central Phoenix on Saturday, December 30th at 9:00 a.m. The parade will feature amazing floats, giant helium balloons, equestrian units, marching bands, local celebrities and several charitable and specialty groups.
This year's parade theme is Champions of the Community and will be a big one. There will be nearly 100 entries. And let's not forget this year's grand marshal. The Arizona Coyotes legend, Shane Doan will be leading the parade. Doan is the longest-term professional athlete in Arizona history, spending 20 years in the Valley with the Coyotes, truly a remarkable accomplishment.
"I've had a chance to work with him for 11 years at the Coyotes and so I knew him as a player, but also I knew him as a person. When it came time that he was retiring I thought it is a great way to honor him for all the great things that he had done for the community," said Mike Nealy, executive director of the Fiesta Bowl.
The entire parade route is 2 miles long and will start on Central Avenue just north of Montebello Avenue and makes its way south to Camelback Road. It will take a left turn, and head east to Seventh Street and then south again. The parade will finish just past Minnezona Avenue.
Those traveling in the area so be aware of the many road closures and parking will be tricky. It is recommended that attendees arrive early.
The parade is free to watch and more than 100,000 spectators are expected to come out for the event.  Some people arrive as early as 6 a.m., a full five hours before the parade starts, to ensure good seats.
If you cannot attend the parade, there will be live coverage on 3TV.