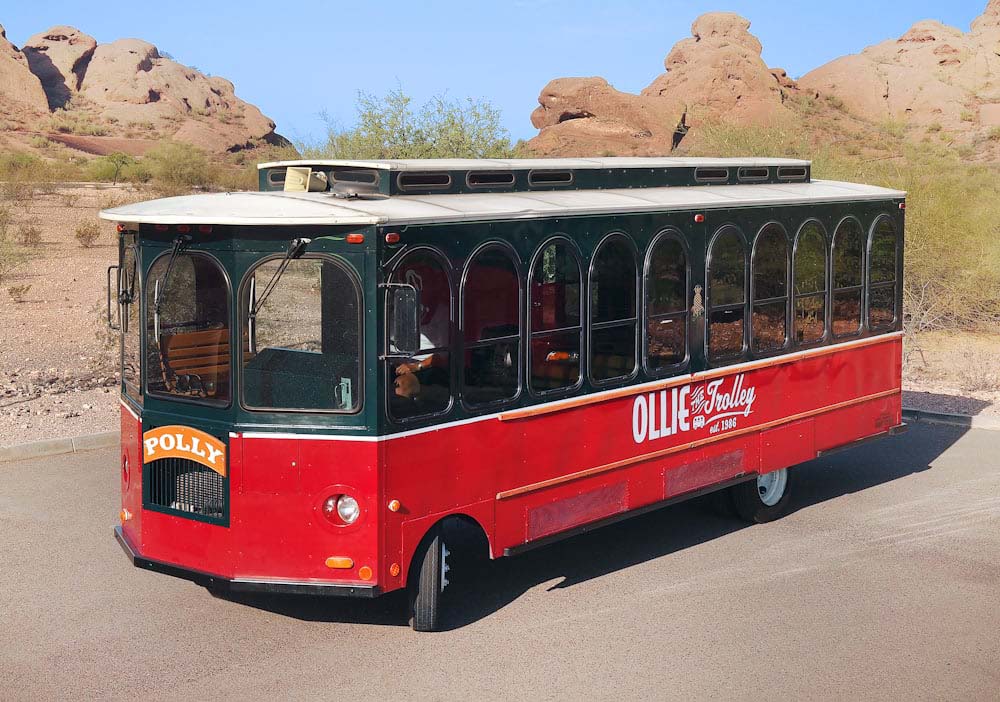 CAVE CREEK – The concept of bringing Dunn Transportation's Ollie the Trolley to the towns of Cave Creek and Carefree for free weekend service during the high season was introduced by Carefree Councilman Mike Farrar.
The partnership agreement was passed by both town councils with the proviso that there were enough merchants interested in paying for the other third of the cost.
As it turns out, there was no shortage of interest among businesses in Cave Creek to sponsor stops and currently includes Big Earl's Greasy Eats, Buffalo Chip Saloon, Frontier Town, Grotto/Red Truck, The Horny Toad, Local Jonny's, Mountain View Pub, Stagecoach Village and the town of Cave Creek Parking Lot.
Carefree trolley stop sponsors are Spanish Village and the town of Carefree – Sundial.
The trolley will run a 30 minute loop from 11 a.m. to 9 p.m. on weekends beginning Dec. 2. through April.
When Farrar initially introduced the idea he said the free open air trolley would not only accommodate tourists and locals, reduce car and motorcycle traffic on busy weekends, it would become a tourist attraction and event itself.
Although the two towns don't regularly see eye to eye on a number of things, Farrar said his goal was "to provide a free public transit system in a fun, social and entertaining way to bond our two communities together into one amazing place and offer a unique attraction for weekend travelers to experience our wonderful restaurants, businesses and fantastic mountain vistas."
With both towns looking forward to the start of Foothills Trolley service, which has proven to be quite effective in Scottsdale, Farrar stated, "I could not be more proud to see our two towns working together to benefit our entire community as friends and neighbors," as he thanked everyone involved for making this concept become a reality.
The cost of the service, which includes a uniformed driver, $5 million liability insurance and a mechanic, is $6,600 per month to be split three ways between Cave Creek, Carefree and local businesses.
The trolley service is expected to provide greater exposure to both towns' restaurants and retail shops.