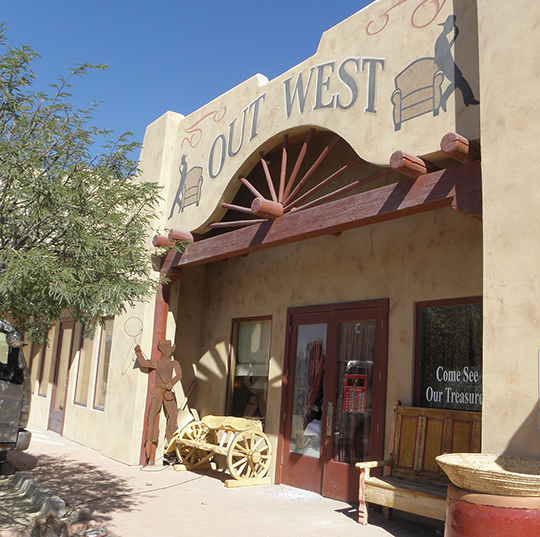 CAVE CREEK – Out West Interiors has doubled in size, so look for the grand opening of its expanded showroom. "We have 20 new artisans," Beverly Sexton, who owns and operates the store with husband Robert and son Zack, said. "And we have lots of new artwork," she added of the impressive (and oversized) paintings.
The Sextons have always strived to offer American-made furniture and accessories by local craftsmen. Shoppers will see more mesquite and other exotic wood pieces, many adorned with inlaid turquoise. The mesquite pieces are hand carved and can have a more natural "live" edge or a "finished" carved edge. As always, Out West offers pieces with unique and organic materials like saguaro ribs and desert sticks that render each one truly a one-of-a-kind.
Because so much of the furniture is available to be customized and made-to-order, Beverly said customers are having dining room tables fashioned for the holidays. If you need a bigger (or smaller) table for guests this season, be sure to come in early for the best chance to have it delivered in time. "We have all styles – Spanish, Old World, Western, Southwestern, Traditional, even Contemporary, so come see what we have since we can display much more with the expanded space."
At Out West Interiors, shoppers can outfit an entire room. It's not only furniture, which includes their specialty leather sofas, buffets, dining tables/chairs, head/foot boards, coffee tables, benches, end tables, but also accessories galore. Hand carved wooden Indians are much sought after in this area. The Sextons also found an artist who crafts mirrors with old cowboy boots! There are lamps, window coverings, even leather handbags.
Out West continues to cater to its loyal following as well as cultivate relationships with new clientele. For the convenience of all, Out West is open seven days a week! So stop in at 38252 W Jaqueline Dr., keeping in mind that because they are off the proverbial beaten path (and NOT in Scottsdale!), pricing is competitive. See more at outwestinteriors.com or phone 480-575-8000 with questions.