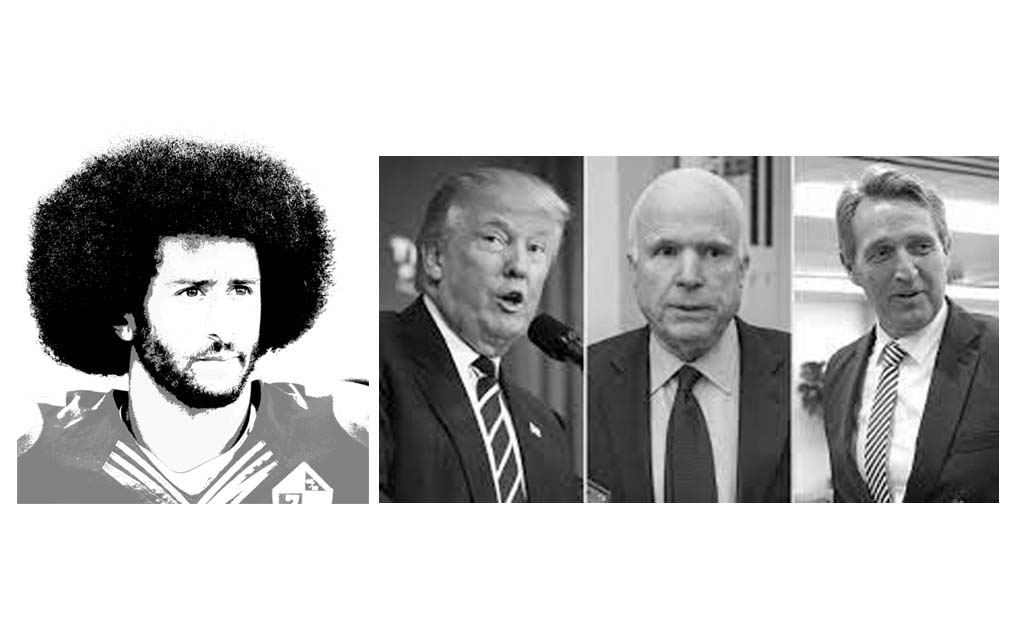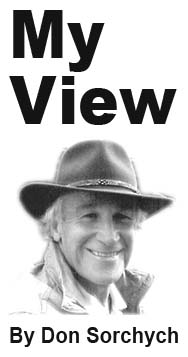 Expectations were high that the NFL and team owners would come up with a solution for AnthemGate. AnthemGate was the stupid brainchild of Colin Kaepernick, the San Franciso 49ers quarterback in 2016. Kaepernick left the team in shambles; they are zero in the win column so far this season.
Now Kaepernick is suing the NFL, claiming because he led the refusal to stand up when the national anthem is played he is unemployable.
Would you hire that jerk after his antics and especially now since he is suing about a problem he caused all by his fevered self? The NFL has more than enough resources to put him in his place and they should for all the thankless who followed his lead.
I have redirected my Sundays to useful activities like reading, talking with family on the phone and studies of various things.
Wonderful news just came online!
"Republican Sen. Jeff Flake of Arizona announced on Tuesday he will not seek re-election to the U.S. Senate."
From AOL:
"The embattled lawmaker, who has served in his Senate seat since 2013, was set to be one of the more vulnerable Republican candidates up for re-election. Flake reportedly told an Arizona publication before the announcement that he is convinced "there may not be a place for a Republican like me in the current Republican climate or the current Republic climate or current Republican Party."
Thank you, Lord! Flake was never a Republican. At best he is Libertarian and for sure he was vested in immigration; his family made a business of it.
Arizona is a funny red state with both Flake and John McCain leaning left while also aisle crossers. They both put on a conservative facade to get elected but both earned the title of RINO, Republican In Name Only.
McCain is suffering with brain cancer and should at least temporarily be retired. He is a critical vote but recently voted to keep Obamacare alive. That shows he is more interested in himself and his "maverick legend" than our country.
The Democrat competition for Flake's Senate seat includes Democrat Congresswoman Kyrsten Sinema. Sinema is proud of being a lesbian which may hurt her in Arizona.
The principal Republican is Dr. Kelli Ward and Sonoran News endorses her as a highly competent conservative candidate. Now that Flake is out of the primary, it's certain the field of candidates will grow. We know the slime bucket socialist Democrat George Soros put substantial money against Ward when she ran against McCain. Anyway, lots of time until the election, you will hear from us.
Today, Oct. 25 is an exciting political day. On the way to work I listened to Mike Broomhead on KFYI disclose that the claims against Trump about Russia and being considered by the FBI were phony and developed by the Democrat party. Then Rush Limbaugh added more proof to the claim. Rush explained how the investigation of Trump happened but I still wonder why Trump, as President, can't stop it and fire the Democrats that are pursuing him as part of the investigative body.
One thing is becoming clear, both Democrats and Republicans cooperate as part of the "Deep State" or "Establishment."
The reports speak of a "dossier" which initially was being paid for by a Republican until Trump won the primary. The Republican dropped his paid investigation which was purchased by Democrats and turned over to a British spy named Christopher Steele who finished the document as in an effort to destroy Trump. The document is totally false.
In spite of myriad broken laws, Limbaugh, for one, doesn't believe Hillary will be jailed. "Why not?" the public asks.