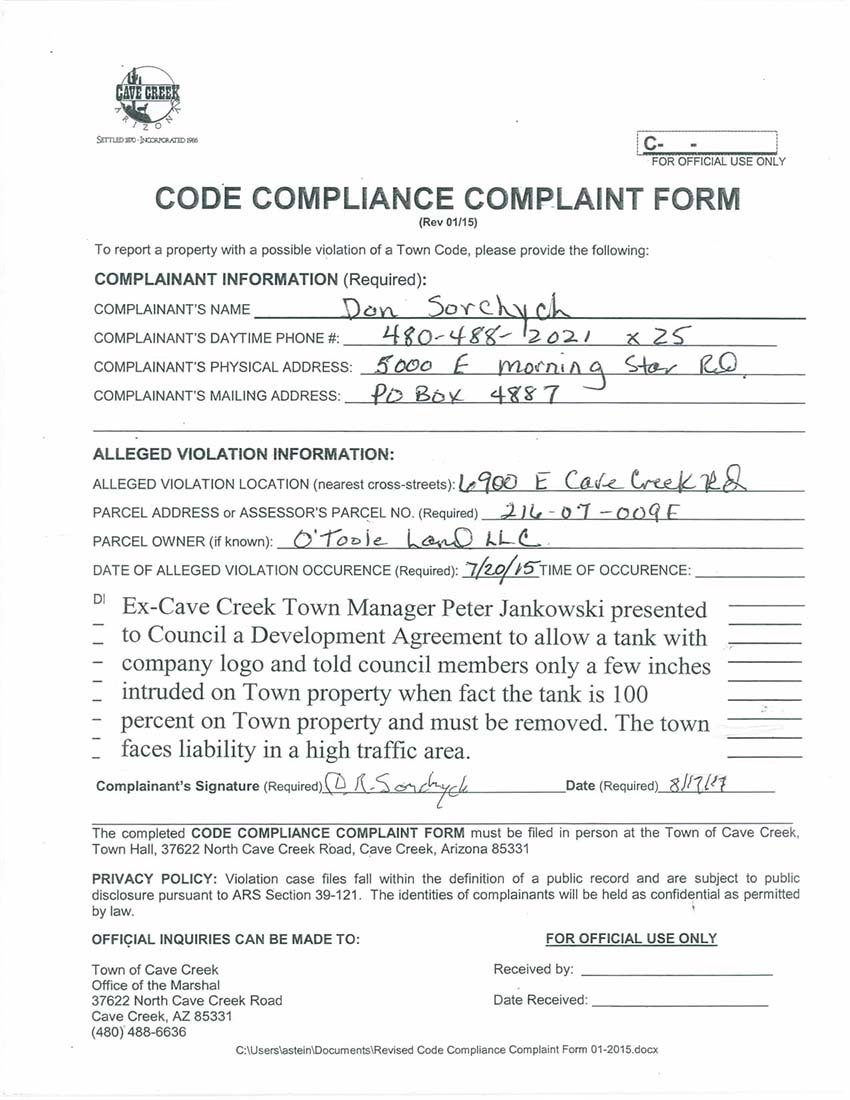 You may remember that the Roadhouse had a water tank with their logo on it on town property that was authorized by a development agreement when it was nearing finish. Apparently, Roadhouse owners were negotiating a replacement of the same water tank with a light apparatus in the same place, which was 100 percent on town property. Somehow town council believed the intrusion on Cave Creek property was only inches based on information provid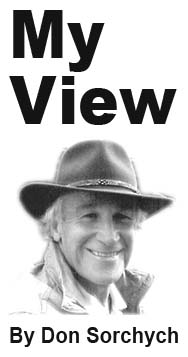 ed by former Town Manager Peter Jankowski.
While the resolution to authorize the new development agreement was being considered, someone at the Roadhouse had the bright idea to tack a porch on to town property on the south side of the building without getting a permit.
Roadhouse owners probably figured asking for forgiveness was better than asking permission and asked council to approve the porch. Council voted against it with only Mayor Vincent Francia and Councilman Ernie Bunch voting in favor of them keeping the porch. So the Roadhouse tore down their handiwork.
For their votes I labeled them "crony capitalists." However, during that interval the council approved the development agreement via Resolution No. R-2015-25, which, although it is hidden in the language, allowed the Roadhouse to keep its water tank on town property. If there is an accident the town is liable.
The reasons given in the resolution make little sense so it seems to be a back door way to get free access to town property:
"Whereas, Mark Bradshaw and James O'Toole, owners of Cave Creek Tap Haus Restaurant ("Owners") desires to permit an existing business monument sign (water tank) and increase the maximum height of the parking area light fixtures, located at 6900 E. Cave Creek Road.
"Whereas, The Town of Cave Creek ("Town") desires to encourage continued development of the Property which will result which will result in significant economic and other public purpose benefits to the town and its residents by construction of improvements, development of the Property in a manner consistent with increase in sales tax revenues to the town, creation of new jobs and enhancing the economic welfare of the welfare; and
"Whereas, the Town desires to create a plan of development for the Property."
I wonder who wrote this crap and if council read it. The only thing that is different is the giveaway of town property which isn't even mentioned.
Cave Creek requires written complaints on a town form so below is the complaint I filed on Aug. 17, two months ago, with no action by Cave Creek Town Marshal Adam Stein.
Code Compliance Complaint:
"The Roadhouse hired Attorney Noel Hebets to try again to get town approval for their 'porch.' This time council voted 6-1 to deny approval. This time Mayor Vincent Francia dropped his Crony Capitalist role and left it to Ernie Bunch, now the new mayor. Is that why complaints are ignored?"