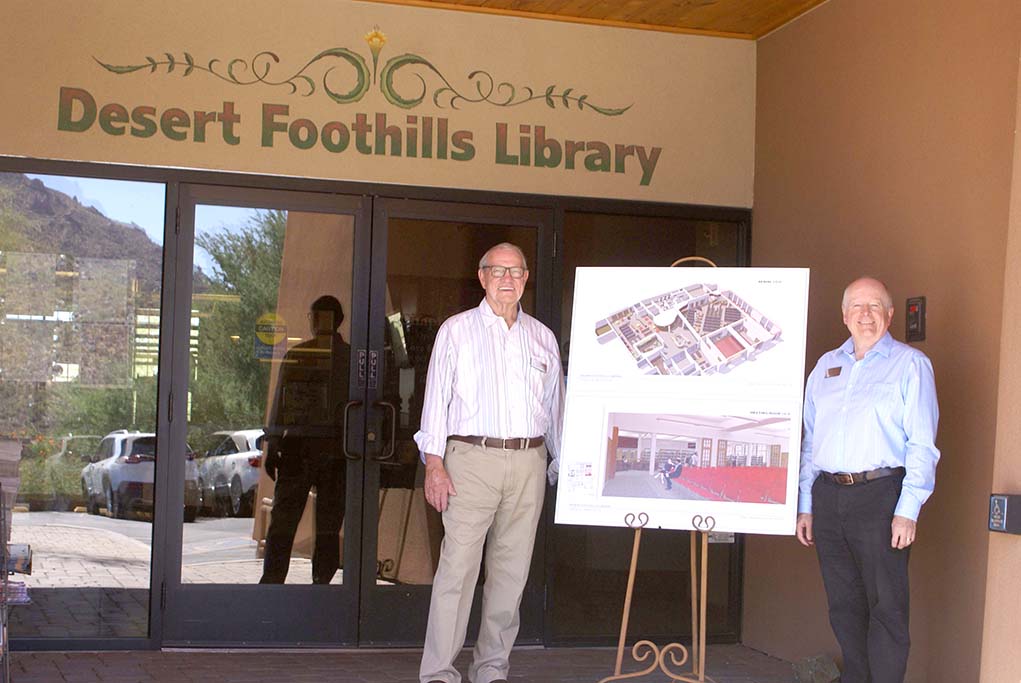 CAVE CREEK – Desert Foothills Library, a 501(c)3 non-profit community-funded library, announces the completion of the first phase of expansion and progress of the Library's investment in the culture and community of Desert Foothills.
Library visitors can now enjoy easier parking with the completion of a new parking garage. This first phase of expansion was prompted by the success of the Library including programming for all age groups. Now, the Library has 52 more parking spaces, double the amount of handicap spaces and family parking spaces for patrons with young children.
Also factoring energy conservation and cost savings into the expansion strategy, the street lighting now has LED bulbs illuminating the parking lot. According to energy.gov, the Library will use at least 75 percent less energy and the LED bulbs will last about 25 times longer than incandescent lighting.
This expansion is part of a five-year strategy put into motion by the Library's board of directors and staff along with volunteer and donor support. On top of the ability to accommodate current space and parking needs, the expansion will position the Library for expected growth in the future. The next stage of construction will begin soon.
Phase two of the expansion plan will include exciting renovations and some new additions when the building increases to nearly 2,000 square feet. There will be a new teen room, a redesigned children's section and a dedicated room for children's programming. The Library's collection will be showcased in a completely redesigned layout making it easier to find a book or resource with flexibility built in for future collection increases. The addition of a new flexible meeting space will accommodate events up to 120 people or two smaller events with 60 people each giving the possibility of expanded evening programs.
 "Our new parking garage is a welcome addition to better serve the 73 percent increase of people coming to the Library over the last five years," said David Court, Desert Foothills Library Executive Director. "I am grateful for the community's ongoing financial support allowing us to continue expanding and adding more educational and cultural programs and special events."
"It is exciting to see completion of the first phase of the plan the board has worked diligently on to improve and increase the offerings at the Library," said Patrick Jones, Desert Foothills Library board member and owner/designated broker of Better Homes & Gardens Real Estate Sonoran Desert Lifestyles.
"I look forward to the new parking garage and upcoming building expansion adding to what makes the Desert Foothills Library such a special place that fosters culture, education and community for people of all ages." said Jo Gemmill, Desert Foothills Library board member and owner of English Rose Tea Room.
The community is invited help with the Library's expansion by contributing to the current capital campaign. All Maricopa County residents, visitors and lovers of libraries everywhere are encouraged to get involved with a tax-deductible contribution on the Desert Foothills Library website, dfla.org, in person at 38443 N. Schoolhouse Road or by mail at P.O. Box 4070, Cave Creek, AZ 85327.
The Desert Foothills Library is open seven days a week and serves the entire Desert Foothills community with culturally enriching programs, educational events and quality services. For more information or to make a tax-deductible donation, visit dfla.org or call 480-488-2286.