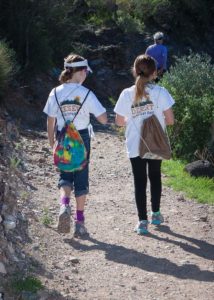 Join Desert Foothills Land Trust for a day of free family fun at Jewel of the Creek Preserve!
As the cooler weather finds its way back into the Valley of the Sun many of us gravitate to the great outdoors in search of adventure. Desert Foothills Land Trust is a local nonprofit organization founded in 1991 that has protected nearly 700 acres on 24 preserves in the North Valley. Many of the Land Trust preserves are open to the public providing residents and visitors the opportunity to explore these special places in our beautiful Sonoran Desert.
The Land Trust connects people to nature through land acquisition and long-term stewardship, as well as events and activities that allow the community to use and enjoy the lands that have been protected. Future generations will benefit from this incredible legacy of conserved land!
One of the Land Trust's most important community events will be held on November 4, 2017 at the Jewel of the Creek Preserve in Cave Creek. The sixth annual Desert Discovery Day will include a "scavenger hunt" of activity stations along the Harry Dalton Trail. Children will receive a passport stamp at each station, and be given a goody bag for collecting the stamps. There will be live animals, crafts, educational information, and free refreshments!
Other participating community organizations include the Arizona Archaeological Society, Cave Creek Museum, Desert Awareness Committee, Desert Foothills Family YMCA, Rural/Metro Fire Department, Southwest Wildlife Conservation Center, Spur Cross Ranch Conservation Area and Wild At Heart.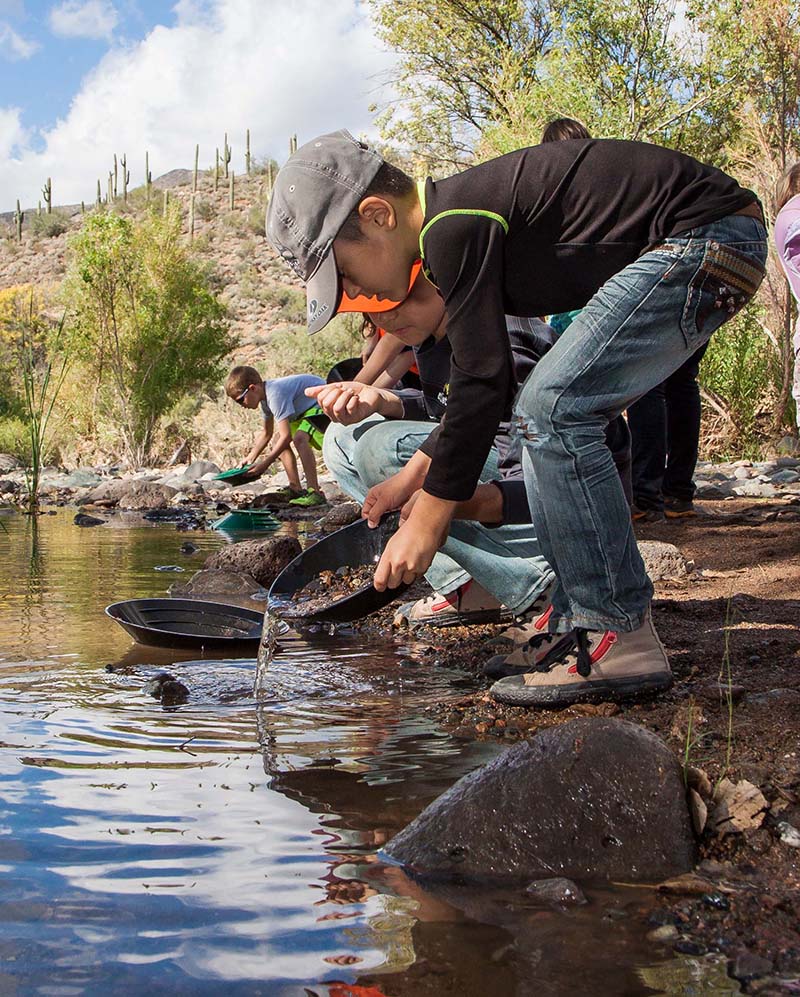 " This event offers a unique outdoor experience for kids, families and people of all ages to learn about the unique Sonoran Desert we call home," stated Land Trust executive director Vicki Preston. "We love to see the sheer excitement on the faces of the lucky gold panners who find a "nugget", or the wide eyes of those seeing a great horned owl up close for the first
time. Whether seasoned nature seekers or first time explorers, this really is an event that everyone can enjoy."
Join Desert Foothills Land Trust and other nonprofit partners for this incredible day of free learning and exploration. As many as 400 people typically attend the event, so you won't want to miss the fun! Wear your hiking shoes and come prepared for fun, hands-on desert adventures. Details about the Land Trust and Desert Discovery Day are available at www.dflt.org.
Desert Discovery Day Event Details:
Date: Saturday, November 4, 2017
Time: 10 am – 2 pm
Location: Jewel of the Creek Preserve, Cave Creek, AZ
Cost: FREE!
Directions: The Jewel is located on Spur Cross Road, 4 miles north of Cave Creek Road. Parking is available at Spur Cross Ranch Conservation Area
Registration: None required, but groups of 10+ should contact DFLT for the best arrival time
More information is available at www.dflt.org.
About Desert Foothills Land Trust:
Desert Foothills Land Trust works with landowners, communities and partners to protect the most special and important natural areas in the Arizona communities of Carefree, Cave Creek, North Scottsdale, North Phoenix, Anthem, Desert Hills and New River. The Land Trust has permanently protected more than 680 acres on 23 preserves, many of which are open to the public for exploration and passive recreation. In 2010, the Land Trust was awarded accredited status by the national Land Trust Accreditation Commission – a mark of distinction in the land trust community. More information is available at www.dflt.org or 480‐488‐6131.