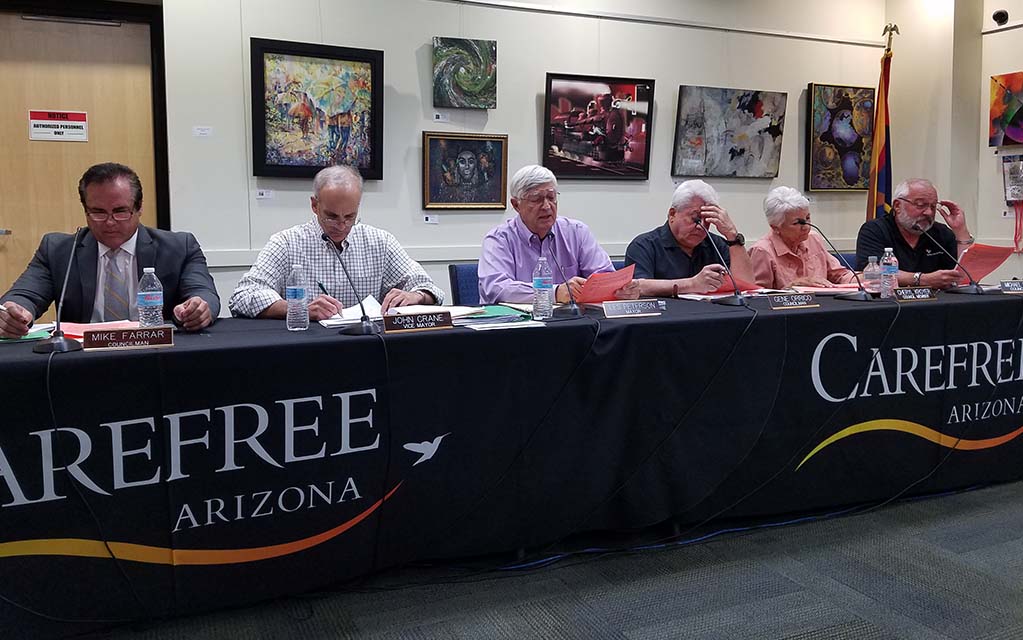 CAREFREE – At the beginning of Tuesday night's council meeting Mayor Les Peterson stated the last month has been tumultuous for this country and asked to have a moment of silence for those who keep us safe and God for doing so.
Peterson announced Town Clerk Kandace French just became engaged.
During Current Events, Peterson said he was wearing purple to acknowledge Domestic Violence Awareness Month.
Town Accountant Jim Keen said the 25 percent uptick in sales tax revenue for July and August over the same time last year can be attributed to construction and retail up with part-time residents returning.
Councilwoman Cheryl Kroyer said things were happening in town, noting Carefree Resort is undergoing a complete transformation.
She said Eastwood sold three homes in the last few weeks and expect to sell out by the end of the year.
Kroyer said the research the developer has done indicating there is a market for smaller homes for people wishing to downsize but remain in Carefree is proving to be correct.
Spanish Village, which Kroyer said is under new management, is now 85 percent filled with a restaurant opening soon.
Kroyer said the pumpkin festival is coming up and is still in great need of volunteers for the beer gates and corn maze, while the Veteran's Day and expanded Christmas in Carefree events are in the works.
Kroyer turned it over to Marketing Director Gina Kaegi to elaborate on the pumpkin festival.
Kaegi said the festival is in its third successful year and, although it is an immense amount of work, it's a labor of love.
She described some of the new events this year, including Trunk or Treat and a corn maze.
World renowned artist and pumpkin carver Ray Villafane will be back and has found a 500 pound pumpkin in California that will be delivered soon.
With an expanded schedule to 10 days, Kaegi said the Enchanted Pumpkin Garden is a big event and they still need volunteers even if they can only help for a couple hours.
She said the event is the only event in Arizona mentioned in the October issue of Food Network Magazine.
In highlighting this year's sponsors: APS, Bashas', Eastwood, Kendrick Wealth Management, Carefree Resort and Russ Lyon Sotheby's, Kaegi said they are what help keep the event free.
Councilman Mike Farrar said the next Italian-American Club meeting will be a costume party on Oct. 19. He said you do not have to be Italian to partake, may come in a traditional Italian costume and enjoy authentic Italian cuisine at Corrado's Cucina Italiana.
Farrar recently went on a ride along with a Maricopa County Sheriff's deputy and said it was quite the eye opener.
Peterson commended staff for everything they do and noted there has been over $90 million in new investments in Carefree.
Farrar presented a proposal to enter into an agreement with Ollie the Trolley and Dunn Transportation about bringing a western looking trolley to town on weekends during December through April or possibly November through March.
The proposed route would run from Rancho Mañana to the Carefree Resort with stops along the way.
Farrar said this would really connect the two towns in more ways than one.
The cost of the service, which would include a uniformed driver, $5 million liability insurance and a mechanic, is $6,600 per month and would be a public-private partnership.
He said the partnership would be split three ways between Carefree, Cave Creek and merchants at $2,200 per month, with merchants paying $500 to be a preferred stop along the route with other advertising opportunities via signage on the outside of the trolley and brochure racks inside.
Farrar, who believes the trolley itself would be a tourist attraction, said it will be free to the public, he was encouraged by the prospect and would love to see it happen.
He said he's had conversations with members of Cave Creek Town Council and merchants in Cave Creek who seem excited about it.
Peterson said authorization would have to be contingent upon Cave Creek and merchants agreeing to be involved.
Vice Mayor John Crane asked Town Administrator Gary Neiss where the $11,000 would come from.
Neiss said it would come from contingency funds.
Farrar said discussions were going on in Cave Creek and the proposal might be on the next agenda.
Farrar said the trolley is a success in Scottsdale and he believes that success will translate up here.
Farrar moved to authorize the agreement contingent on a possible date change, Cave Creek's approval and enough businesses interested in participating.
Councilman Michael Krahe asked Kaegi what she thought of the idea.
Kaegi said she liked it but noted Carefree doesn't have a lot of night life. She suggested considering Beta testing it.
The current proposal has the trolley running Saturdays and Sundays from 11 a.m. to 9 p.m., which would be late for most businesses in Carefree and quite a bit too early to end for the bar crowd in Cave Creek.
Farrar said merchants may decide to stay open later if the traffic is there.
Council passed the motion unanimously, with Councilman Jim Van Allen absent.
Peterson thanked Farrar for bringing the item forward.