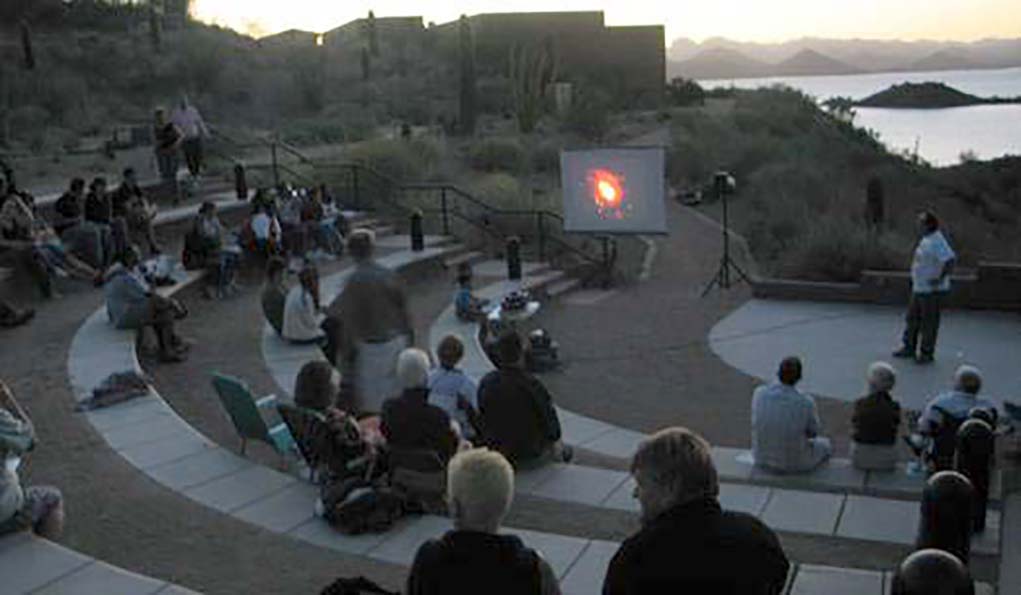 PEORIA – Join local astronomy experts, Tony and Carole La Conte, from Stargazing for Everyone, on Saturday, September 23 from 6:30 to 9:30 p.m. at the Desert Outdoor Center at Lake Pleasant as they bring the universe and planets to you!
Learn about the planets, star clusters and nebulas as you peer through large telescopes and binoculars while enjoying stories about the night sky. The two-hour stargazing event is a great way to learn about the autumnal equinox night sky, nebula, and distant galaxies. This year, you will also have an opportunity to enjoy a guided hike through a scale model of the solar system beginning at 6:45 pm.
After the presentation, guests are invited to meander over to the telescopes where they can view the moon and stars close-up. In addition to the stargazing program, this family-friendly event will feature kid's crafts, and the Center's desert animal exhibits.
For guests who don't have time to grab a bite to eat before the event, the Friends of the Desert Outdoor Center will be grilling up, and selling hamburgers, hot dogs and chilled beverages so everyone can focus on the festivities rather than loud belly growls.
"With temperatures dipping into the 70's in the evening, this family-friendly event is geared towards allowing kids of all ages to have fun while learning about stargazing. They'll learn how the stars are aligned, constellation formation, and how the nighttime darkness is not something to be feared, but to be explored," said R.J. Cardin, Maricopa County Parks and Recreation Department director.
Attendees are encouraged to bring digital cameras and cellphones to take photos of the moon through the telescopes. Additional items guests may want to bring include binoculars, lawn chairs and blankets for comfort. The park entrance opens at 6:30 p.m. and the presentation will begin at 7:30 p.m. There is a $6 per vehicle park entry fee for the event and reservations are not required. Please bring cash for entrance fees and refreshments.
The Desert Outdoor Center at Lake Pleasant is located at 41402 N. 87th Avenue in Peoria (just east of Lake Pleasant Regional Park). For more information on this event and additional stargazing opportunities, visit www.maricopacountyparks.net.