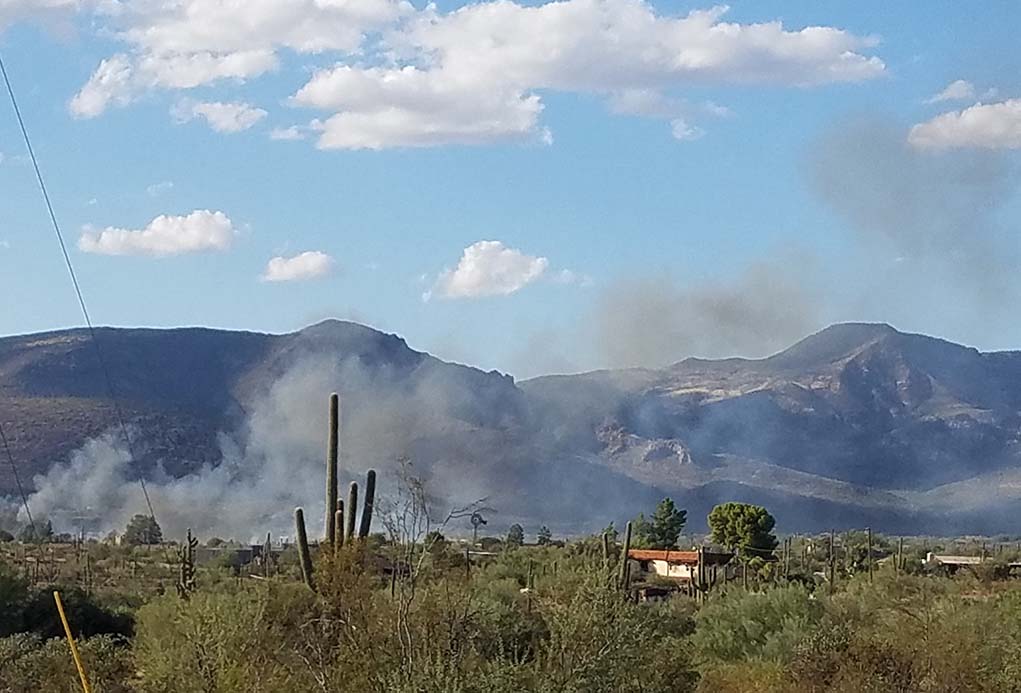 CAVE CREEK – A fire broke out in a barn structure at around 4:30 p.m. on Thursday, Sept. 14 on a property located in the vicinity of Spur Cross and Yucca roads.
In addition to the barn that was destroyed in the fire a motor home was also completely consumed and the incident may have involved some sort of hoarding situation.
Rural/Metro Fire called for mutual aid from Scottsdale and Phoenix and the response included at least six engines, two tankers, two brush trucks, one ladder truck and a number of battalion chiefs from various agencies.
Despite the high winds, firefighters were able to contain the fire to roughly five acres and no other structures were harmed.
The next morning, Tony Apodaca said he lives in the casita on the property and was thankful it and the main house were spared from the fire.
He said the property is owned by Marcia and Fernando Villalobos, who have lived in Cave Creek for about 30 years.
Everyone was safely evacuated from the property including six dogs and there were no reports of injury, except possibly one firefighter.
Apodaca said the Villaloboses, who both suffer from debilitating medical conditions, didn't carry insurance and, according to Rural/Metro Fire Chief John Kraetz, they were also not Rural/Metro Fire subscribers, which means they will most likely be receiving an invoice for the cost of response.
The cause of the fire is currently under investigation by the Maricopa County Sheriff's Office Arson Unit.