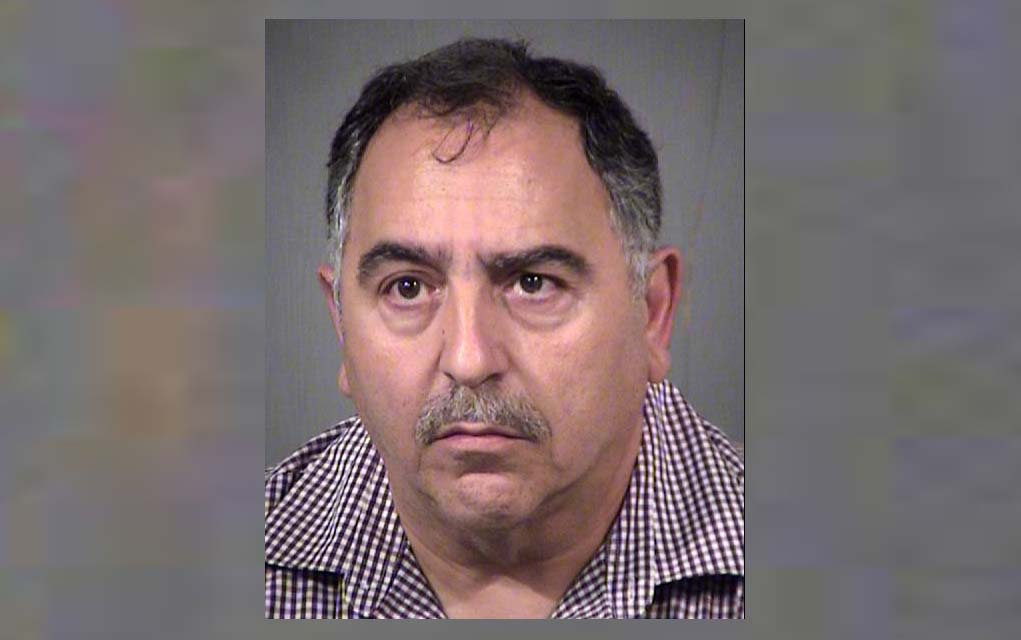 CAVE CREEK – No sooner did Maricopa County Sheriff Paul Penzone direct his SPEAR (Sheriff Penzone Executive Advisory Review) committee to perform an in-depth review of the Maricopa County Sheriff's Posse, Desert Foothills Sheriff's Posse (DFSP) Commander David Isho, 58, was arrested on Friday, Sept. 8 and charged with aggravated assault, kidnapping and impersonating an officer.
Although details of the incident are vague, it appears Isho held multiple people at gunpoint during a neighborhood argument about street racing and trespassing.
Isho allegedly told the victims he was "with the sheriff's office." However, Isho is not a law enforcement officer and only volunteers as commander of the DFSP, an all-volunteer nonprofit organization that provides support services to the sheriff's office.
Isho has since had his posse credentials revoked and has been removed from the posse.
SPEAR met only a week earlier to review the posse program, after which former Arizona Attorney General Grant Woods, who chairs the advisory group, raised concerns about the lack of training some of the approximately 800 posse members possessed.
Woods indicated the program should be abandoned if it is not run correctly and/or doesn't serve the county's public safety interests.
According to another DFSP member, the main subject of their last meeting had to do with not "self activating" and making sure they never claim to be law enforcement officers. He said that is a frequent topic of discussion and was surprised to learn Isho supposedly did exactly what he cautioned others not to do.
Meanwhile, Penzone sent out a memo to employees to address issues of morale, pay increases, clarity and communication regarding internal investigations and uniforms.
According to MCSO deputies, who agreed to speak under condition of anonymity, morale is at an all-time low within the organization with around 60 percent of staff under internal investigation.
Addressing morale, Penzone stated, "The challenges and factors we face are not new, nor are they unfair. They are the result of decisions and actions of the past which will no longer be tolerated …
"This does not mean I fail to recognize that your job is very difficult and dangerous. However, in challenging times we must all make a decision. Use the circumstances as an excuse, or make the most and move forward."
According to Penzone, morale is 25 percent environment and 75 percent choice.
As far as pay increases are concerned, Penzone stated, "To those who willingly supported waiving your increase for the benefit of those who make less, I thank and commend you."
Penzone, recognizing the "incredibly high volume of internal investigations," said it is "extremely difficult to determine when, how, and how often to notify individuals under investigation of their status. We weigh this against the unintended consequences of increasing anxiety unnecessarily."
He encouraged deputies to re-review and understand the second supplemental injunction from the Melendres lawsuit and MCSO policies.
Deputy Chief Kip Rustenburg, our former District IV commander, is heading up the uniform committee to incorporate staff feedback on product options, brands, cost-saving opportunities and more.
Last, Penzone expressed his personal concerns, and met with captains to discuss the rumor mill, outside attacks and organizational trends.
He stated, "There is exceptional work being done in all areas of this office from patrol to investigations, detention to intelligence, and in the administrative sections of our organization. Unfortunately, there has also been a small undercurrent of avoiding responsibility and finding justification to do so. Allow me to be direct and clear: this will not be tolerated. MCSO policy prohibits the use of quotas of any kind, for any reason. We are committed to quality and not quantity. However, our community has the expectation that we will serve in their best interests. If you are embracing the responsibilities of your position I applaud your integrity. Exceptions undermine the efforts of your peers to restore a reputation of excellence and are not acceptable."
Penzone seems to be on a path to upend most of the most popular policies implemented by former Sheriff Joe Arpaio.
Isho's arrest on Friday only stands to punctuate Woods' inclination to possibly recommend ending the posse program.