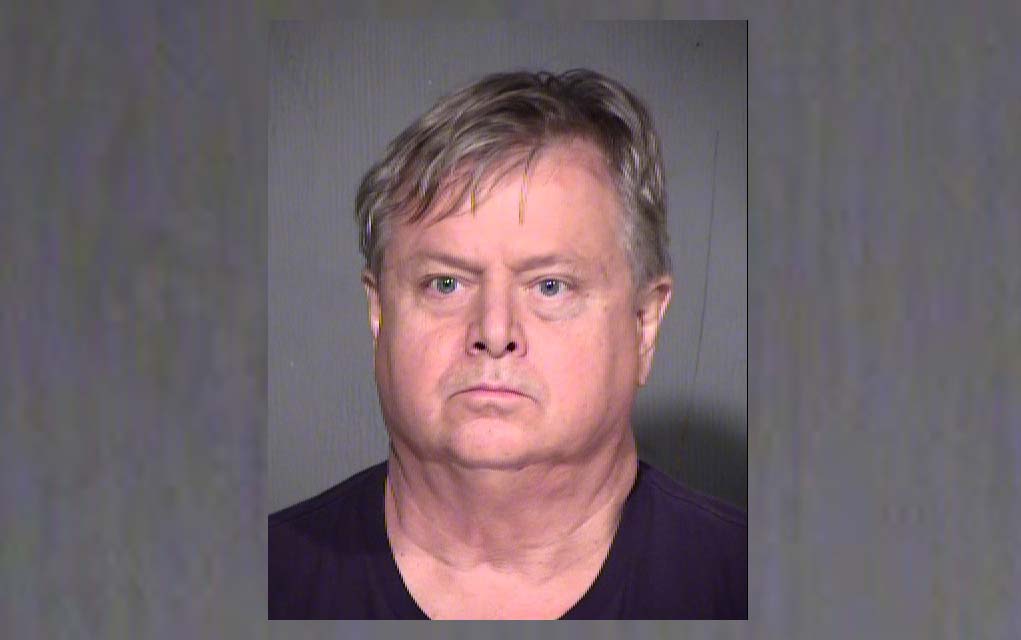 PHOENIX – Former Cave Creek Attorney Noel Hebets, 66, was arrested on Aug. 3 and charged with five counts of sexual exploitation of a minor under the age of 15, a class 2 felony dangerous crime against children.
Acting on a tip provided by the National Center for Missing and Exploited Children (NCMEC), detectives from the Arizona Internet Crimes Against Children Task Force of the Phoenix Police Department served a search warrant at the home of Attorney Noel Hebets on north 48th Street in Phoenix.
The search warrant was part of an ongoing investigation that led to Hebets' residence based on the IP address of his internet account.
Numerous images were reported to NCMEC and forwarded to Phoenix police detectives depicting children being sexually abused and exploited being uploaded from Hebets' IP address.
According to the probable cause statement, several of the images depicted young, prepubescent female children either posing in the nude in an exploitative position or being sexually abused and/or assaulted by adult males.
The Internet service provider was served with a subpoena for the subscriber's information, which revealed Hebets' residence on 48th Street.
Numerous computers were located during the early morning raid and a forensic preview was conducted on the computers at the scene.
The forensic preview located several image files depicting the sexual exploitation of prepubescent females.
One of the photos described in the probable cause statement was a full-color image of an adult male engaging in anal intercourse with a prepubescent female child, with no breast development or pubic hair, who appeared to be in significant distress.
Numerous other images were located during the forensic preview.
Additional forensic analysis will be completed to locate all images and videos on all the various media sources and computers.
During the search of the residence, numerous documents were located with the same email address and user names initially reported.
The same software programs that were reported as being utilized to send images of children being sexually exploited were located on Hebets' computer and images depicting the sexual exploitation of minors were located in folders associated with the software programs.
Multiple bondage items were found during a search of the residence along with small dolls and children's clothing.
When Hebets was interviewed, he admitted to using a variety of programs found on his computer during the preview.
The probable cause statement called Hebets, whom it said has access to children living in the area and images depicting young children being sexually assaulted, a danger to the community and requested bond be set at no less than $100,000.
However, the court ordered Hebets released with an appearance bond of $5,000 but with the caveat he must have an electronic monitoring device installed before he could be released.
The court also determined Hebets is not indigent and is financially able to pay for a lawyer. So far there has not been a notice of appearance by any defense counsel.
Hebets' financial information provided to Pretrial Services Agency reveales he owes delinquent back taxes to the IRS.
Recorded documents reveal he owes over $120,000 in back taxes to the IRS.
Hebets last appeared before Cave Creek Town Council in January 2016 representing Jim O'Toole and the Roadhouse, in an attempt to resurrect the patio the Roadhouse constructed in the town's right-of-way without permits or permission and was forced to remove.
Hebets annoyed members of council when he repeatedly referred to the illegal construction as a "trial period" and said they just wanted permission to put it back exactly the way it was during the "trial period."
Irritated, Councilman Dick Esser finally said, "What happened here was not a 'trial period.'"
Hebets responded, "I think 'trial period' was a name I gave it."
Sexual exploitation of a minor carries a prison term of 10 to 24 years.