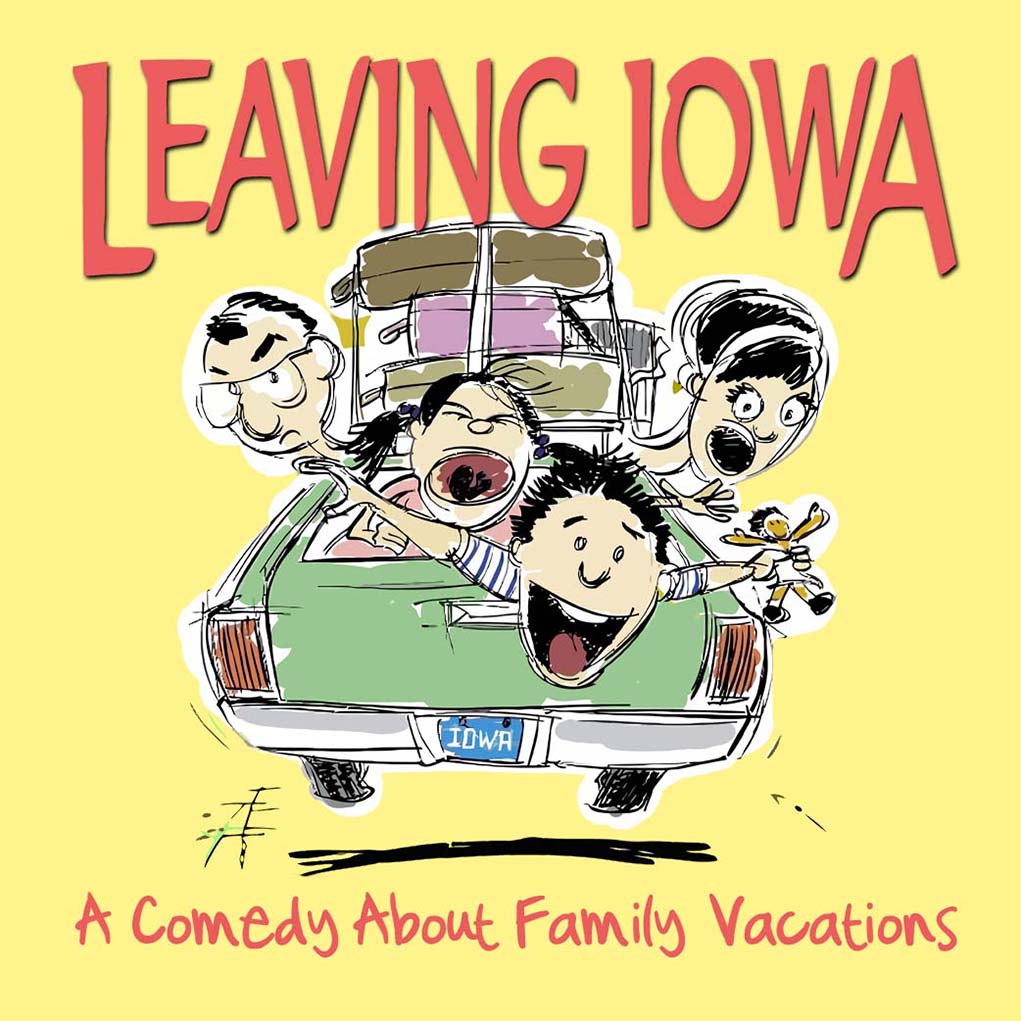 Leaving Iowa is a comedy perfect for anyone who has ever taken the family road trip. The story focuses on Don Browning, a writer who attempts to take his father's ashes back to his childhood home only to discover the house is gone and a grocery store stands in its place. Without a Plan B for his father's final resting place, Don begins driving aimlessly through childhood roads, while revisiting memories of the annual, torturous Browning family road trips. Don's memories will come alive on stage to a mix of laughter and reflection on the importance of family. Leaving Iowa will bring a smile to your face as Don finds the right route, and his own self along the way.
The production has some very mild, PG-level language, but is a great story for all types of families and all ages. Leaving Iowa is written by Tim Clue and Spike Manton, New York-based playwrights, both with backgrounds in standup and improv comedy.
The Browning family encounters so many quirky people on the American road, and has so many detours on their perfect route, that this comedy will take everyone back to their own family trips. It's a fun, relatable story because most of us have had similar experiences firsthand. It's a quintessential American experience to plan the perfect family trip, but something happens along the way and you end up having an even better trip than you planned, albeit insane at times. All ages will enjoy it
Leaving Iowa is produced by Ann Kelleher and directed by Ben Tyler.  It stars Katie Barnett, Chad Campbell, Candace Hughes, Harold LeBoyer, Karl Perry and Emily Spets.
Leaving Iowa will play Aug 11 -27, 2017.  Performances are Thursdays, Fridays and Saturdays at 7:30PM and Sundays at 2PM.  Individual tickets are $30.00 for Adults and $23.00 for Youth 17 and under. Seniors receive a $5.00 discount on all Thursday and Saturday performances. Group rates and student rush discounts are available. Veteran and Active Duty discounts.  All performances are at Fountain Hills Theater on its Mainstage Too at 11445 N. Saguaro Blvd. (The Corner of Saguaro and Rand). Tickets are available through the Theater Box Office at (480) 837-9661 x3 or by visiting fhtaz.org.  Box Office Hours are 12:00PM-5:00 PM Tuesday through Friday and 10:00am-5:00pm on Saturdays. For additional information not contained in this press release, please call Fountain Hills Theater Artistic Director, Peter J. Hill at (480) 837-9661 EXT. 7.