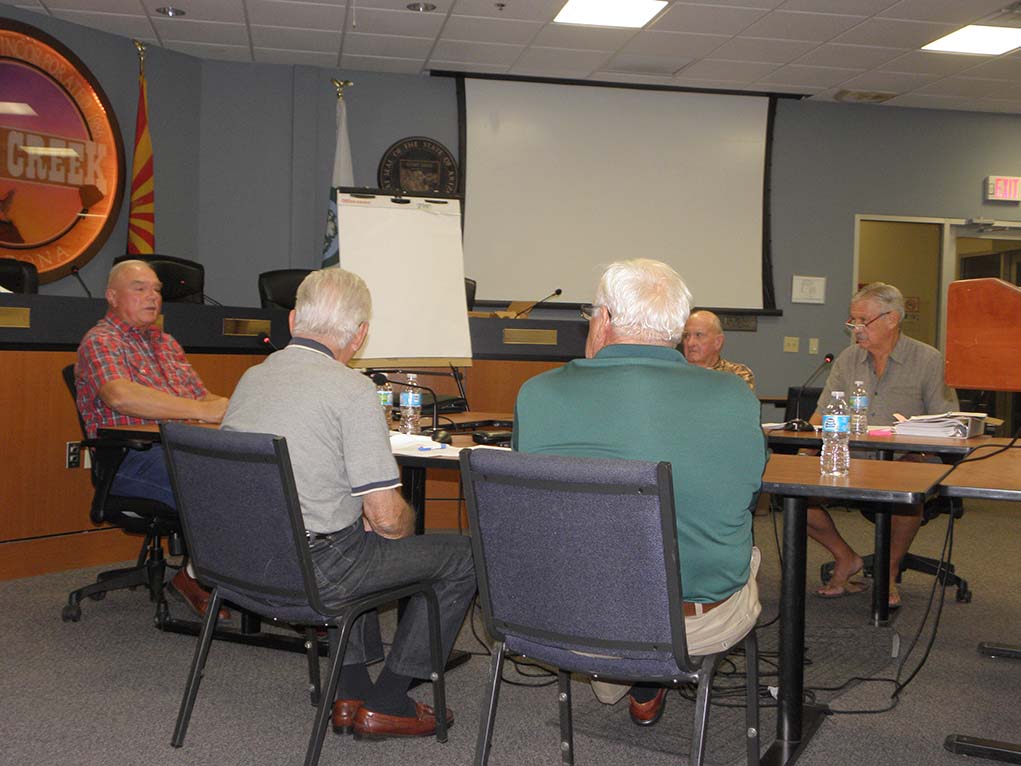 CAVE CREEK – Planning Director Ian Cordwell facilitated the July 20 general plan public input session, noting the public's comments on poster paper.
Thursday's input session, which drew approximately four times the number of attendees than the previous meeting, which drew only three people, was scheduled to gather input on four sections of the general plan: Our Vision, Introduction, Public Involvement and Context, in that order.
While more people attended this input session, only a handful participated.
Bob Morris was first to speak regarding the town's vision. He said the biggest problem the town has is subsidizing the sewer plant. Morris suggested the town not approve any new subdivisions unless they hook up to the sewer plant and require existing subdivisions to hook up to the system.
Kerry Smith said he would like to see more specific language in the town's vision component. He said, "The way it reads is as if any community development is just as good as any other community development."
Smith also noted there wasn't a single mention of water as a limited resource.
He said the town should make reasonable efforts to involve the public and should be announcing meetings way in advance.
Bruce Arlen said Cave Creek is a "dark sky" town but stated there is unshielded lighting and no enforcement. He said he wants the laws currently on the books enforced.
Peter Bobrowitz said the town's vision is lacking direction on infrastructure management and read from parts of the Carefree General Plan regarding fiscal security.
C.W. Jensen said the town had a little "tete-a-tete" with Scottsdale in 2013 and as a result Cave Creek was going to brand itself with the slogan: "Where the Wild West Lives" to guide it in what it does.
Eve Ross said she echoed Arlen's comment about dark skies but would like "quiet" in there as well.
She stated there is mention of "town character" but it isn't defined anywhere and said, "I don't know what that means."
Ross said there was no mention of water, which she suggested should be in a sustainability statement in this high desert environment.
When Cordwell moved on to the Introduction and Public Involvement sections, no one had any comments with both Smith and Ross stating they had already provided their comments.
Cordwell moved on to Context, which he described as "where we're at and where we've been."
Smith stated it was a wonderful summary of the town's history but there was no discussion of the threats that arise because developers have a different vision.
As an example, Smith pointed out the commercial building on Carefree Highway next to Starbucks that "sits empty."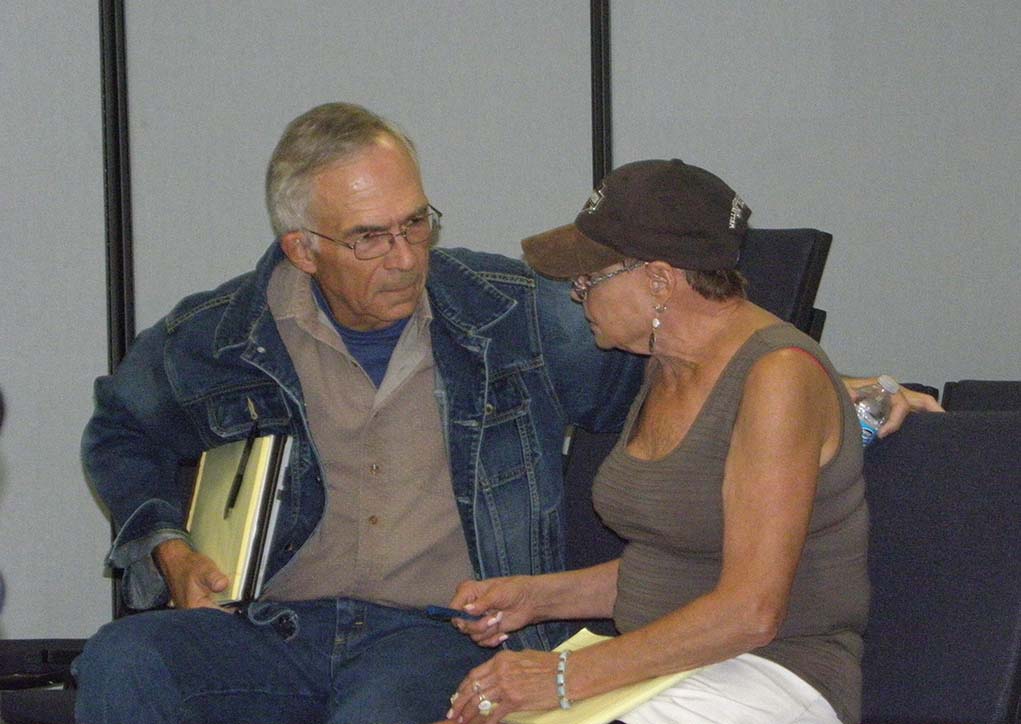 Katya Kincel said she agreed with Smith that it talks about the past but not the future.
She said dark skies, conservation, Western heritage were all important and protection of Desert Rural was paramount.
Kincel also said she would like to see the land use map match the zoning map.
Commissioner Dick Frye asked Kincel what she would like to see as far as conservation goes.
Kincel didn't recall mentioning conservation.
Chairman Bob Voris said if people have an idea of what they'd like to see changed they should feel free to submit the wording.
Voris said it is "difficult to describe everything we do here as Western," which has made it difficult to come up with a uniform definition for the town's character.
Arlen suggested it could be done visually with pictures.
Voris asked Arlen to provide examples.
Smith said the things Ross talked about should be moved from the Context section to the Vision section.
Kincel told the commission to look at the seal of the town of Cave Creek and said everything in town enjoys the background of Black Mountain, Tonto National Forest and other natural landmarks.
Voris asked if she could put it in writing and submit it.
Kincel said she would try to come up with something.
With commissioners Susan Demmitt and Peter Omundson absent, the commission adjourned the public input session and began the workshop.
Vice Chair Ted Bryda said, in light of the comments received, he wasn't prepared to make revisions that night.
Frye referenced the topic of character and style and said when people ask what Cave Creek is like he is a little surprised that eclectic doesn't pop up.
Commissioner Paul Eelkema suggested not only including pictures but places as well. He said, "This isn't downtown Phoenix" and people come to Cave Creek for music, motorcycle venues, etc.
Voris said that has more to do with marketing Cave Creek and stated, "So, there is no one character of Cave Creek."
Reg Monachino questioned how they planned to amalgamate the input they received with what they've done.
Frye said he didn't think it would hurt to work on it a little bit at a time.
Cordwell let the commission know Aug. 10 was set aside in the event they needed more time to digest what was presented that evening.
Frye said, "Every time a project comes before us that's not a house seems to be a threat."
Bryda said, "I don't see it that way."
Eelkema said it isn't so much a threat as it is "fair warning."
Monachino suggested a paragraph on page four be moved to the front to "say why we're doing this."
All agreed.
Monachino said the sentence stating: "Future zoning changes must conform with the general plan," is false.
Bryda asked why.
Monachino stated, "Zoning changes conflict with that statement."
Bryda suggested they add "or the general plan must be changed."
Using the Meritage Homes project as an example, Monachino said, "For me, approving a subdivision doesn't conform with the general plan."
Eelkema asked, "What does this mean – 'sustainability' – Do we want things to stay the same?"
Voris stated, "We need to tweek this section," adding, "I'm for striking it."
Monachino suggested getting rid of "Heritage" and said if people want to know the history of the town they can "go to the museum."
However, no one else agreed.
The planning commission's next regular meeting is scheduled for 7 p.m. on Aug. 3 to review a couple of zoning cases but the commission scheduled another workshop at 9:30 a.m. on Tuesday, Aug. 8 to work on the general plan.
The Aug. 8 workshop is not a public input session but is open to the public.
The next public input session is scheduled for Aug. 27 with the final input session scheduled for Sept. 21.