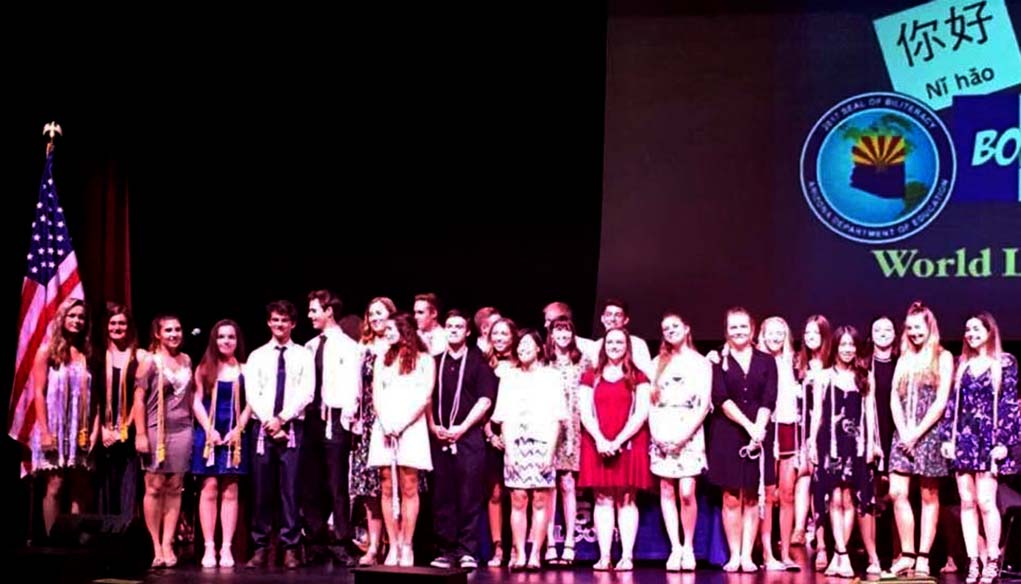 Cactus Shadows High School, located in the Cave Creek Unified School District, is proud to announce that 34 graduates received the Arizona Seal of Biliteracy for Spanish and 6 graduates received the Arizona Seal of Biliteracy for French.  Of those students, 23 (Spanish) and 3 (French) went on to reach CCUSD's Seal of Biliteracy, which has more rigor than the state's requirements. 
Cristina Ladas, CCUSD's World Language Coordinator, has worked with the Arizona Department of Education to recognize students achieving high levels of proficiency in English and a World Language.  She noted that the CCUSD Seal of Biliteracy goes above and beyond what the State of Arizona requires. "CCUSD has been articulating PreK-12 grade world language and immersion programs for 15 years.  As a result, students that easily met the state seal requirements needed a higher proficiency target.", said Ladas.
Congratulations to the following graduates who received the Arizona Seal of Biliteracy:
Spanish:  Ashland Campbell; Ariana Heiner; Alex Inchausti; Gregory Isho; Korie Kerr; Peter Magitbay; Shavonne Morin; Cassidy Nguyen; Dominic Rafie; Shannon Smith; and Madison Swaney.
French:  Michael Marcin; Rebecca Meils; and Audrey Woods.
Cactus Shadows High School would also like to congratulate the following graduates who received both the Arizona and CCUSD Seal of Biliteracy:
Spanish:  Helena Benedetto; Dylan Dorough, Gage Duncan; Rachel Dutcher; Griffin Gabler; Jordyn Hill; Riann Johnston; Black Lee; Ella Marencic; Taylor Martos; Kameron Moore; Natalie Nabaty; Kourtney O'Connor; Gabrielle Payne; Bridget Powers; Cody Radigan; Chantal Savoie; Abigail Steward; Nolan Stirling; Josee Teegardin; Levi Ulmer; Daniel Witkop and Jordan Wittman. 
French:  Regan Anderson; Laila Elias; and Olivia Nicholls. 
Dr. Steve Bebee, principal of Cactus Shadows High School said, "As the Cave Creek Unified School District and Cactus Shadows High School continue to lead the way for World Languages and their benefits for students, our students continue to excel.  Graduating from high school and being multilingual gives Cactus Shadows graduates a huge advantage over other high school graduates in college and the world beyond.  As the bar continues to be raised for the levels of proficiency a high school student can achieve, I continue to be amazed by the outstanding students that we have here at Cactus Shadows."
CCUSD offers its students World Languages, PreK-12, with Chinese, French and Spanish Immersion schools.  To learn more and for contact information, please visit our website at www.ccusd93.org  or call 480-575-2000.