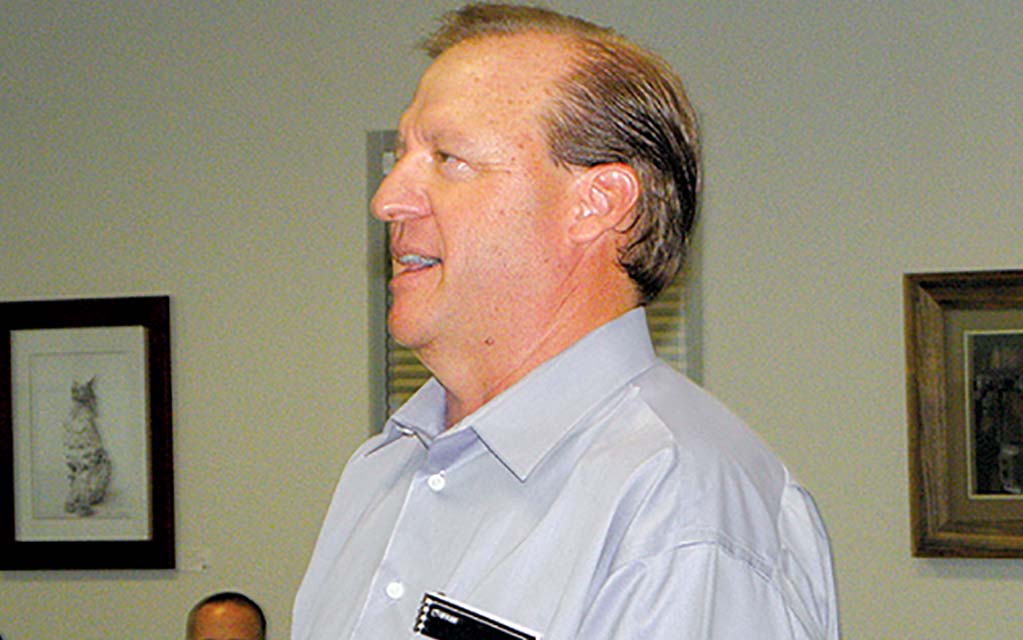 CAVE CREEK – During the Public Announcements segment of Monday night's council meeting, Councilman Thomas McGuire held up a framed display of the two playing cards, six of hearts and king of hearts, that decided the 2009 tied council election between himself and Adam Trenk. With the last council seat still tied after a recount, statute calls for an "election by lot" to decide the results. Former Town Magistrate George Preston presided over a card draw, which Trenk won by drawing the king.
McGuire said the framed card display is headed to the Cave Creek Museum.
Mayor Ernie Bunch expressed his thoughts and prayers to the family members of the victims who perished in the flash flood over the weekend.
During Call to the Public, Sam Puskar and Bruce McNeil, whose families reside on Carriage Drive, complained to council about the noxious fumes emanating from Elwood Motor Sports and Collision.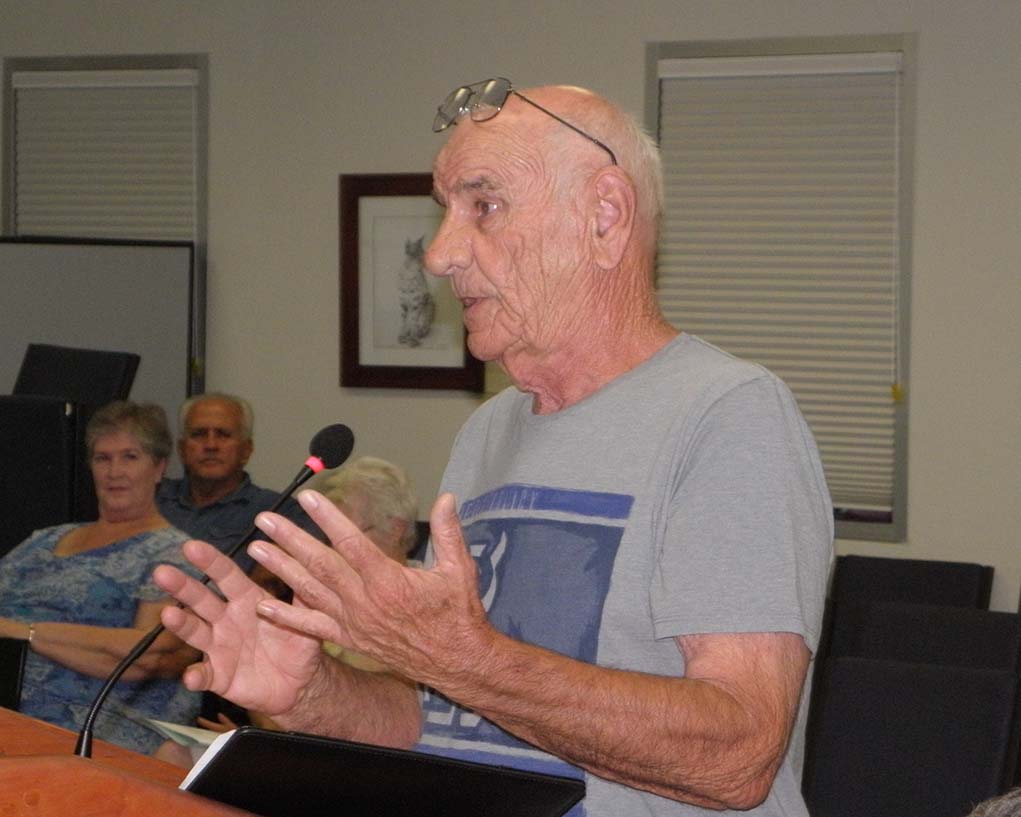 Puskar, who lives in the first home directly to the east, said the business operates 12 hours a day, seven days a week and he and his wife feel like prisoners in their own home.
Town Attorney Bill Sims said there are ordinances that address nuisances and it was being looked into.
McNeil went into detail about the products being used by Elwood, one of which is known to cause respiratory hazards and said he's been coughing non-stop since he came home in May.
Councilwoman Eileen Wright said she and Councilwoman Susan Clancy wanted to bring forward the town's drought management plan as a future agenda item.
Interim Town Manager Carrie Dyrek updated council on the status of Rare Earth Gallery's tent.
She said the tent passed its safety inspection and work is progressing on its permanent location across the street so the town has approved a one-month extension for the tent.
Wright asked to pull the first item on the consent agenda canceling the Aug. 21 meeting.
She said with all the work that needs to be done she wasn't sure why they would be "deleting the Aug. 21 meeting."
Bunch said it was traditional to cancel the second meeting in August to give everyone a chance to get in some vacation time.
Wright lamented the cancelation of the Aug. 21 meeting, which would be followed by canceling the first meeting in September due to the Labor Day holiday, was too long a span.
She asked if they could instead reschedule it.
Dyrek said the next Monday was Aug. 28 and council could choose to reschedule the Aug. 21 meeting to Aug. 28 if the wished.
With Councilman David Smith absent, council voted unanimously to move the Aug. 21 meeting to Aug. 28.
While discussing the next agenda item, the second reading of an ordinance reducing the number of planning commission members required to place an item on the agenda from four to two, Sims explained the change was necessary to prevent open meeting law violations.
Wright took issue with the change claiming elected officials shouldn't be held to the same lower standard as appointed ones.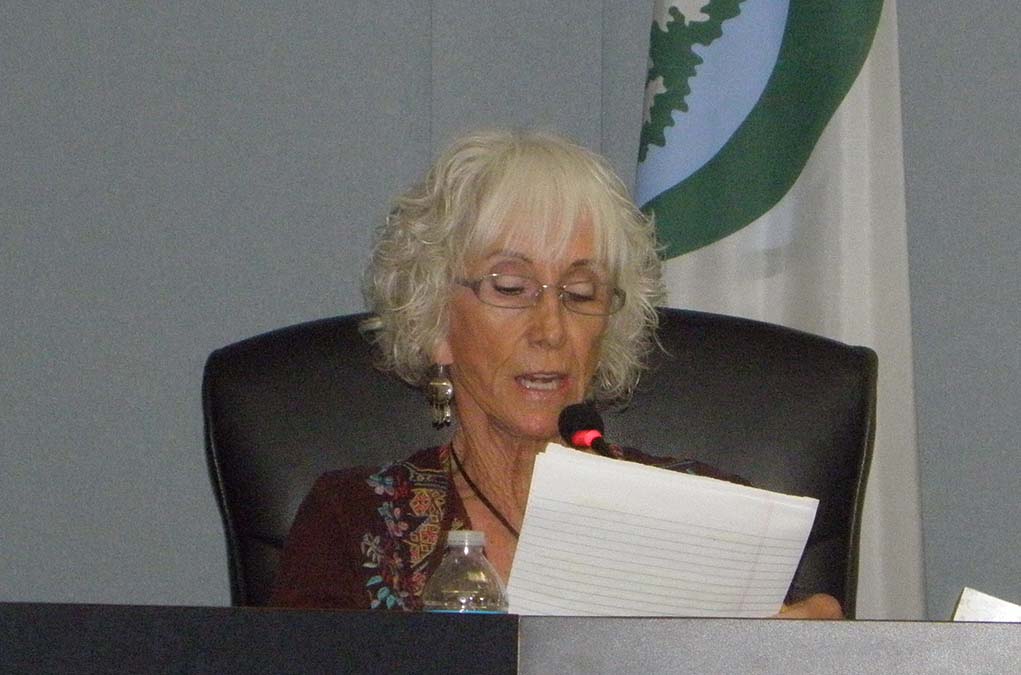 Council voted 5-1, with Wright dissenting, in favor of the second reading.
Council also voted 5-1, with Wright dissenting, to pass the second reading of an ordinance changing the number of council members required to place an item on the agenda from one to two.
Wright had a prepared statement she read into the record that stated, "Some of us are a little more proactive than others in serving the town."
She said now was not the time to limit council, claiming it "ties all of our hands."
Wright went on about "freedom, honor and respect," stated the change was a step in the wrong direction and urged council to vote no.
Vice Mayor Ron Sova said he was in favor of the change because it provided an opportunity for another council member's perspective.
He said, "In my opinion, this is better government … more streamlined."
Clancy stated, "You will always get my signature to place something on the agenda," whether she agreed with it or not.
Bunch commented if there weren't two council members who agree to place an item on the agenda, "why waste council's time?"
Council voted unanimously to approve the acceptance of a public utility easement and authorize payment of $10 to property owners Scott and Jacqui Russell.
Panning Director Ian Cordwell introduced agenda items four and five to abandon two easements across the Windmill Village parcels that were no longer required by the town.
Sova asked why the easements were established in the first place.
Cordwell said he didn't know as there were no records explaining them, one of which was established in 1937.
He said because that one was a 33-foot easement, he thought it might be a federal government patent easement but could not find a record of such.
Sims stated the town has liability for easements so it could be in its best interest to abandon them if they're not needed.
During public comment, a woman claimed one of the easements was not on the Windmill Village property.
Cordwell showed her the map of where the easements were located.
Wright stated, "I just think it's interesting he doesn't show these on the site plan," and said it was a valuable right they were giving someone and the town should receive more than $10.
Sims said council was welcome to ask for additional funds if it so chose.
Council voted 5-1, with Wright dissenting, to abandon both easements.
Fernando Maldonado's rezoning request from Multi-family Residential (MR) and Town Core Commercial (TCC) to Commercial Buffer (CB) and site plan application for his Escuela Mercado project at the northeast corner of Cave Creek and School House roads were met with unanimous approval with the condition if no permits are pulled within two years the case would come back to council to decide if it should revert back to the original zoning.
Associate Planner Luke Kautzman said the cases before council were for the 2.24 acres north of the northeast corner that served as the basketball court and playground for the old elementary school building.
He said the planning commission voted 5-0 to recommend approval.
McGuire asked why the applicant was requesting CB rather than TCC.
Kautzman said the applicant felt CB was more applicable to what he wants to do and explained what the differences were between the two categories.
During public comment a man asked how many extensions they could be granted if nothing is done after two years.
Sims stated it would be a vested right but if no permits were pulled after two years it would have to come back to council to decide in a public hearing if they want to extend it.
The man said the "tent deal was supposed to be a six month deal" but pointed out it is being extended.
He was looking for a more finite solution.
However, Sims explained state statute does not allow the town to revert the status without a public hearing.
During the site plan review, Maldonado said his vision for the site is a commercial marketplace along the lines of Tlaquepaque Arts & Crafts Village in Sedona but unique to Cave Creek as a destination.
He said they plan to do the remodeling of the old elementary school buildings first, which he likened to putting lipstick on a pig, and see how business goes, otherwise he said he might have to come back to council for an extension.
However, Maldonado said his Architect Greg Zimmerman was doing a great job with redesigning the buildings.
Sova asked if it was going to be all retail with no restaurants.
Maldonado said he definitely needs a restaurant and said he has some potential tenants tentatively lined up but at this point it just wishful thinking.
During public comment Betsy Wise stated School House Road was her main entry to and from her home and with people going to the post office asked if there were any traffic considerations being made for the intersection, such as traffic signal.
Bunch explained that would come later in the process.
Maldonado said he hopes his project will be so busy that they need a traffic signal.
Clancy was enthusiastic about the project and said the school has been an eyesore for a "very, very long time."
Councilwoman Mary Elrod also expressed support and agreed with Maldonado's vision for resurrecting that area of town.
Council voted unanimously to ratify an expenditure of $5,402.07 to the Pump Company for the purchase and installation of the Vermeersch Well pump, originally discounted by $1,950 due to the duration of well repairs with subsequent negotiations producing an additional reduction in cost of $1,500 for the emergency repairs.