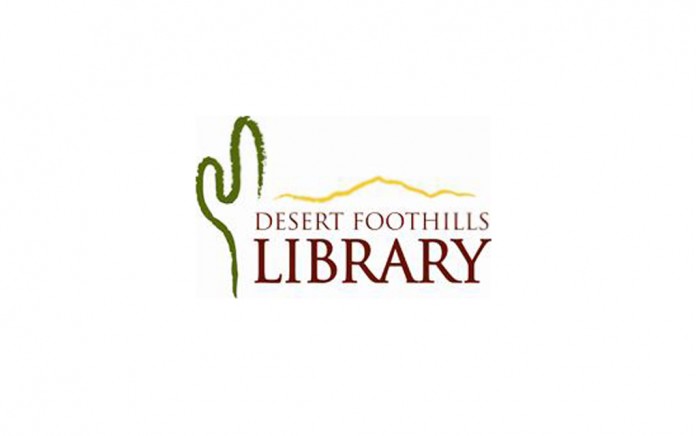 Information for all events: Contact Destiney Voita or David Court, Desert Foothills Library, 480-488-2286, dvoita@dfla.org or dcourt@dfla.org, www.desertfoothillslibrary.org http://www.desertfoothillslibrary.org
Where: All events below take place at Desert Foothills Library, 38443 North Schoolhouse Road, Cave Creek, 85331
Cost: All events are free, except where noted.
Library closed July 4th for Independence Day
LIBRARY FEATURE EVENT
Fridays, July 7 – August 25, 10:30 a.m. – 12:30 p.m. approximately
Desert Foothills Independent Film Festival
Free popcorn and soft drinks! Exceptional selections from film festivals around the world. No registration.
July 7: Elaine Stritch: Shoot Me. Director Chiemi Karasawa. 81 min. Life of Elaine Stritch. Documentary 2013
July 14: The People versus Fritz Bauer. Director Ismael Ferroukhi. 99 min. The man who brought Adolf Eichman to justice. Drama, Romance, War 2013
July 21: Paris. Director Cedric Klapisch. 150 min. An ill man watches the lives of others on the streets of Paris. French subtitles 2008
July 28: Trumbo. Director Jay Roach. 124 minutes. 1947 screen writers and artists are jailed and black listed due to political beliefs. Biography, Drama 2015
August 4: Free Men. Director Ismael Ferroukhi. 99 minutes. WWII – Algerian emigrant joins the French resistance due to a friendship with a Jewish man. French subtitles. Drama, Romance, War 2011
August 11: Searching for Sugar Man – Director Malik Bendjelloul 121 min. Search for 70's music icon Sixto Rodriquez. Documentary, Music 2012
August 18: Coming Home. Director Yimou Zhang. 109 min. Cultural revolution, political prisoner comes home to wife who doesn't recognize him. Mandarin subtitles. Drama 2014.
August 25: Waking Ned Devine. Director Kirk Jones. 91 min. When a lottery winner dies of shock, his fellow townsfolk attempt to claim the money. Comedy 1998.
Adult Summer Reading Program
The Adult Summer Reading Program continues. It's easy! Just track your time spent reading. You'll automatically be entered for the Nook drawing and/or 1 of 10 mystery prizes when you complete this year's summer reading program challenge. Other prizes to earn include: Chipotle coupon (while supplies last) and a free book you may choose online from an extensive list. Beginning June 1, register and track reading time online at www.maricopacountyreads.org, Nook winner will be notified by mid-August.
Saturday, July 8, 4:30 – 6 p.m.
2017 Desert Foothills Library Photography Contest Reception and Awards Ceremony
Exhibition dates: July 3 – 21 * library hours
Reception/Award Ceremony: July 8 * 4:30 – 6 p.m.
Pick up photographs: July 22 * Noon – 4 p.m.
Friday, July 7, 2 – 4 p.m.
Intuitive Self – Awareness
Educate yourself on the basics of mental, spiritual and physical awareness. Learn how metaphysics comes together and the many forms of self-healing available to you. Presenter, Rob Pikula, has been certified as a Reiki Master, artist, author and a metaphysical intuitive who helps others understand spirit guides, past lives and meditation. New ways to release unwanted emotions and feelings will also be introduced. Available to ages 13 and up (participants under the age of 18 must be accompanied by a parent and/or guardian).
Register: 480-488-2286
Cost: $12 per person
July 14, 15, & 16th and August 11, 12 & 13 (2nd weekend each month)
Chapter2Books Special Sale!
Biggest used bookstore in the North Valley! More than 15,000 books, as well as DVDs, CDs and audiobooks, starting at just 50 cents! Located inside Desert Foothills Library at 38443 N. Schoolhouse Rd., open 7 days a week, or check us out on Amazon. Donations are welcome, and help support the library! www.Chapter2BooksAZ.com. 480-488-2777.
Looking for a Fulfilling Volunteer Opportunity?
Join the Desert Foothills Library and make a real impact! Volunteers are needed at the Library and Chapter2 Books. Shifts are generally 3 to 4 hours and available for all days of the week; volunteers will be fully trained. To apply, contact Library Manager Terri Engebretson at tengebretson@dfla.org or 480-488-2286.
Friday, July 21, 11 a.m. – Noon
Mala Beads
Mala beads are a set of beads that have traditionally been used in prayer and meditation. You don't have to be religious or have any spiritual practice. Often, people are drawn to the mala beads for their believed healing qualities of calming the mind and providing inner peace. We will be making an 18 bead mala bracelet with the Guru bead and charm or tassel. The beads represent your intention and the Guru bead represents your teacher(s) in life and also the teacher within yourself. Adults and teens (ages 13 and up) are invited to join With Luvh presenter, Cathy, for a mindfulness exercise making a Mala-bead project. Class size limited to 12. Register: 480-488-2286.
Cost: $5
Saturday, July 15 & August 19, 10 a.m. – 2 p.m.
Teen Tech Help Desk
Having trouble understanding your smartphone or computer? Do you need help setting up accounts or using websites/apps? Let our tech-savvy teen volunteer help you with these and other technology-related questions. Just bring your device to our Special Collections room or use a library computer to get your question answered. Questions? Contact Brandon Holmes: 480-695-2638. No appointments needed; first-come, first-served.
July 6 & August 3, 2 – 5 p.m.
Music @ the Movies (1st Thursdays)
July 6: Annie: A little orphan girl catches the attention of a kind man named Mr. Warbucks, who wants to adopt her, but the cruel, strict orphanage owner has a scheme to keep Annie – and her reward money. Starring Cher and Albert Finney. 118 min. Hosted by Music enthusiast Annis Scott. No Registration.
August 3: Grease: Good girl Sandy and greaser Danny fell in love over the summer. When they unexpectedly discover they're now in the same high school, will they be able to rekindle their romance? Starring John Travolta and Olivia Newton-John. 112 min. Hosted by Music enthusiast Annis Scott. No Registration.
Tuesday, August 8, 11 a.m. – Noon
Genealogy: A Lasting Legacy
The research in your roots is exciting, challenging and a great puzzle to solve. There are magazines, websites and writing groups which are all avenues to do research. Join Educator, Victoria Withers, for this informative History talk to share the tools you need for your journey. Register: 480-488-2286.
Thursday, July 27, 4 – 5 p.m.
Lifelong Vitality Happy Hour
Mingle and meet new friends. Singles and couples welcome! Author of Release Your Pain, Expand Your Life! and developer of Kinessage® Self Care, Kathleen Gramzay, will briefly speak about the power of mindfulness and real time connection to enrich your life and the lives of others. Q & A to follow. Complimentary wine and cheese platter will be included in this delightful gathering. RSVP requested for planning; space is limited. RSVP: 480-488-2286.
LIBRARY FEATURE EVENT
Saturday, July 29, 10:30 a.m. – 12:30 p.m.
Soups from Around the World
From Albondigas to Zuppa, we'll explore the fundamentals of soup making and taste the world's greatest soups. Includes food demonstration and and tastings. Chef Larry P. Canepa is a Certified Culinary Educator with a dynamic, innovative and engaging style that incorporates food history, culinary arts, education and 'food-tainment' into every program. Each presentation is a fun experience, including analyses of the historical, social and cultural aspects of food and culture. Chef believes in the Farm-to-Table approach to food, education and dining and works closely with local farmers, growers, and food artisans to create a delicious and informative food experience. Limited seating. Register: 480-488-2286.
Saturday, August 19, 10:30 a.m. – Noon
Creative Writing: Collaboration Workshop
Prepare to engage in a deeply connective generative process for two or more people. Through their book, The Ordinary Glow of Life, authors Jonathan Brechner and Kristina Hakanson amaze and inspire with collaborative poems. Register: 480-488-2286.
July 24 & August 28, 1 – 3 p.m. (4th Mondays)
Craft N Chat
Do you knit, crochet, or practice another table craft? Join other local enthusiasts monthly for companionable creating and conversation. New crafters and all skill levels are always welcome!
No registration.
MAHJONG
Every Tuesday, 1:30 – 4:30 p.m.
Mahjong Club
Must have basic knowledge of the game. Limited space. Registration required: contact Club Director Andrea Korff at mandakorff@cox.net or 480-650-5199. Cost: $4 cash per session. Pay to Andrea Korff at class.
SPANISH OFFERINGS
Every Wednesday, 10:30 a.m. – Noon
Intermediate Conversational Spanish
Informal chat session using various books, flashcards, etc. Some weeks may feature a half-hour episode of the Destinos DVD series, followed by discussion in Spanish. No instructor. No registration.
Spanish Classes
Spanish Classes Level 1 – 5 will resume in September, 2017.
ONGOING HEALTH & FITNESS CLASSES
Every Sunday, 11 a.m. – Noon
Gentle Yoga
You are only one yoga class away from a good mood! Yoga for Every Body: through a slow flow of controlled poses you'll begin strengthening your heart and bones, improving balance, and sharpening the mind. Please bring a yoga mat. Registration Required: Contact instructor, Marina Kachur, at 480-510-6572 or mkachur01@hotmail.com. Cost: $8 cash, paid to instructor at each class.
Thursdays, Noon – 1 p.m. (No Class 7/6, 7/13, 7/20)
Restorative Yoga
Great for beginners! Improve your ease of movement, flexibility, breathing and meditation. Please bring a yoga mat. Registration Required: Contact instructor Elizabeth Boisson: 480-363-5275 or evboisson@yahoo.com.
Cost: $8 cash, pay to instructor at each class
July 6th & 20th, August 3rd & 17th 9:30 – 11 a.m. (1st & 3rd Thursdays)
Remembering our Stories – A Writing Group
Experience connection and get inspired in a writing group that will nurture your heart and spirit, as well as spark your creativity. Absolutely no writing experience needed! Questions? Contact Life and Wellness Coach, Sharon Spector, at (512) 460-9108. Register: 480-488-2286.
MONTHLY SUPPORT GROUPS
July 3rd & August 7th, 10 – 11:30 a.m. (1st Monday)
Caring for the Caregiver
Taking care of yourself is essential in being able to take care of your loved one. Join us for this opportunity to fellowship with other caregivers. Led by Hospice of the West facilitators. No registration.
July 10th & 24th, August 14th & 28th 9:30 – 11 a.m. (2nd & 4th Mondays)
"The Healing Pathway", After the Loss of a Spouse or Partner
Join us on this Journey that will guide you to find a "NEW NORMAL" as you process through your personal grief journey. Led by Hospice of the West facilitators. No registration.
Every Monday, 3 – 5 p.m.
Monday Movies at the Library
New Releases, with a Foreign Film once each month! Check our website www.dfla.org for titles.
Tuesday, July 11th & Thursday, August 10th, 10 a.m. – Noon
Library Book Club
July 11: Empty Mansions by Bill Dedman & Paul Clark Newell, Jr.
August 10: News of the World by Paulette Jiles
Everyone is welcome!
Information for all events: Contact Colleen Crowley, Desert Foothills Library, 480-488-2286, ccrowley@dfla.org, www.desertfoothillslibrary.org
Where: Almost all events are free & take place at Desert Foothills Library, 38443 North Schoolhouse Road, Cave Creek, AZ
BIRTH – AGE 6 EVENTS
Tuesdays, 9:45am, July 11 & 18
Story Kids – Preschool Storytime
Children ages 2½ to 5, or those who have not yet entered kindergarten, are encouraged to join us for a 30-minute storytime featuring music, movement & stories. Siblings are welcome. Registration is not required.
Thursdays, 9:45am July 6, 13, & 27
Little Ones – Family Lapsit
Geared to ages 1 to 4 years, join us for a fun 25-minute romp with music, books, rhymes, fingerplays, and felt stories. We reinforce concepts such as colors, shapes & counting to help your child build a strong foundation of literacy skills. Siblings are welcome. Registration is not required.
Tuesday, July 25 10am
Cowgirl Jan
Howdy Families! Come on down to the library where we will rustle up some stories and fun for kids ages 2 to 7. Entertainment provided by character visitor-Cowgirl Jan.
Thursday, July 20, 10:30-11:15am
Fuzzy Rainbows Sensory Playdate
The Desert Foothills Library offers preschoolers ages 2½ to 6 to come to this sensory playdate featuring art and sensory experiences. Fun activities featuring sand, water and more. Siblings are welcome to join us. This program is funded by a grant made possible through the Clck and Mike Woods Charitable Fund, a fund of central Indiana in cooperation with TEI Landmark. Registration is required.
KIDS
Tuesdays, 2-3:15pm, July 11 & 25
Coding Club for Youth ages 8-14
Have fun learning how to code using online tools and a self-guided training module. We have Chromebooks, laptops and PC's. Everyone learns at their own pace with the resources that our Code club provides. Bring earbuds. Parental sign-up is required at first session. No experience necessary. Registration is required for this free program.
Thursday, 1:30-3:30pm July 13
Emoji Fun for Kids & Tweens
Kids ages 8 to 11 will be sorted into teams to create poses and videos of emoji characters using masks. Parents must sign photo release. Prizes for the most creative scenes and/or videos.
Friday, 10:30-12:30am, July 14
Build a Better World with Clay Bowls
Kids ages 8 to 11 can join local artist Sylvia Fugman-Brongo to create two clay bowls. One they will take home, and one will be given to a local Empty Bowls event whose proceeds go to feed the hungry. Please call to register for this free program. Please call to register. All participants are asked to bring an unexpired canned good to this event.
Tuesday, 1-4pm, July 18
Tweens Cook
Two tweens will teach you how to make macaroons with a fruity filling, and layered yogurt parfaits. This program is for youth ages 9 to 12. Space is limited. Please call us for more information, or to register.
Thursday, 1-3:45pm, July 20
CreateSpace
Youth ages 6 to 12 are invited for a free 3 hour building session with a variety of building components and games. Registration is required.
Mondays, 11am-Noon, July 20, 17, & 24
Kids Yoga
Youth ages 8 to 12 will be lead through a series of warm-up stretches, deep breathing, and mindfulness practices as well as balancing poses. A healthy snack will provided after each class. These 3 classes taught by With Luvh Studio instructors. Spots are limited, so please call to register.
Wednesdays, 10:30-11:15am, July 12, 19 & 26
Play & Learn Spanish
Free program for youth going into grades K-2 who may be on a Spanish Immersion track or open to learning another language. Learn Spanish phrases and vocabulary during active play and engaged learning. For example, the games such as "Vamos a buscarlo!" repetitively reinforces the verbs we will learn.
Wednesdays, 11:30-12:30pm, July 12, 19 & 26
Lunch & Learn Spanish
Youth going into grades 3-6 can explore Spanish culture, food and basic conversation skills with educator Senora Sarah. Our focus on Spanish-speaking cultures will cross into both social studies and language arts. Food will be made with the students, based on the weekly theme and time constraints. We will explore Mexico, Guatemala, and Puerto Rico. Food is based on indigenous fruits and vegetables. $5 per child, per class. Pre-pay upon registration. Call for more information.
Thursday, 3-5pm, July 27
Summer Lego® Club
Children ages 4 to 11 are invited to build with plastic blocks using two different sizes. Our July theme is up, up & away but children may build whatever they want.
Saturday, 1-3pm, July 29
CreateSpace
Youth ages 6 to 12 are invited for a free 2-hour building session with a variety of building components and circuitry. Registration is required.
TEENS
Wednesday, 4-5:30pm, July 19
Robotics 4 Teens,
Robot kits will be lent to teens ages 12 & up for use during the free class. Limited spots, so please call to register.
Friday, 11am-Noon, July 21
Mala Beads
Teens and adults ages 12 and up will make a Mala bead project. We will be making an 18 bead mala bracelet with the guru bead & charm or tassel. The beads represent your life intentions and the guru bead represents your teachers in life, including yourself. $5 per person. Pay at time of registration.