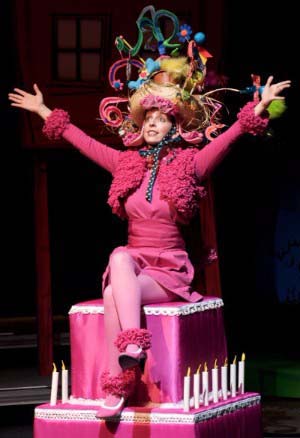 TEMPE – Characters from beloved books will soon jump from the page to the Tempe Center for the Arts stage during Childsplay's 41st season.
Flex tickets for the new season are currently on sale, giving families the best seats at the lowest price with ultimate flexibility. Flex tickets are $18 before July 7, with a minimum purchase of 6 tickets that can be used for any performance during the 2017-2018 Season. On July 7, prices will increase to $19 per Flex Ticket. Visit www.childsplayaz.org or call (480) 921-5700 to purchase.
Childsplay has been recognized by audiences and critics alike for its consistent high-level productions.

2017-2018 SEASON:
The Phantom Tollbooth
Sept. 17 – Oct. 15, 2017
Ages 6+
Through the eyes of Milo, everything is positively boring and nothing interests him at all. But when a phantom tollbooth magically appears in his room, Milo is thrust on a fantastical adventure in the Land of Wisdom! Knee-deep in excitement, language and math, Milo, The Humbug and Tock the Watchdog must bring Princesses Rhyme and Reason back to restore order to the kingdom. Along this magical journey, Milo discovers that life is the greatest adventure of all!
Tomás and the Library Lady
By José Cruz González, Music and Lyrics by José Cruz González, Music Arranged and Performed by Adam Jacobson, Adapted from the book by Pat Mora
Oct. 21 – Nov. 12, 2017
Ages 5+
Tomás loves stories and Papa Grande tells them to him todas las noches! One day while his family is in Iowa picking crops, Tomás meets the Library Lady and nothing is ever the same again. Soon his imagination takes off as he reads book after book, discovering a world filled with dinosaurs, tigers, and explorers! Based on the true story of Tomás Rivera and the book by Pat Mora, Childsplay brings back this favorite play with music celebrating reading, imagination and creativity.
Go, Dog. Go!
By Allison Gregory and Steven Dietz, Based on the book by P.D. Eastman, Music by Michael Koerner
Nov. 25 – Dec. 23, 2017
Ages 3+
The adventures of P.D. Eastman's book comes to life in a frolicking musical dog party! The cast of this beloved preschool favorite has gone to the dogs—with cars, hats, a moonlit boat ride, and even a wild game of ball—as this hilarious visual spectacle manages to sneak in some important lessons about life between innings. This musical romp is full of surprises, color, clowning, vaudeville, singing/barking, and of course, six lovable dogs!
A Christmas Carol with Katie McFadzen
Dec. 1 – Dec. 24, 2017
Ages 9+
Don't miss one of the Valley's most celebrated comedic actresses, Katie McFadzen, as she brings to vivid life Charles Dickens's famous A Christmas Carol – all by herself. Using Dickens's own immortal words, this one-woman tour-de-force will bring you the heartwarming story like you've never seen or heard it before. Dickens's famous Christmas message is sure to be just the sugarplum your family is looking for this holiday season.
The Snowy Day and Other Stories by Ezra Jack Keats
By Jerome Hairston, Based on the book by Ezra Jack Keats
Jan. 21 – March 11, 2018
Ages 3+
The Snowy Day celebrates the magic and boundless possibilities of the first snowfall! Follow Peter and his friends as they romp and play, starting snow ball fights and making snow angels in this imaginative musical play about the childhood joys and challenges of growing up. Using innovative shadow puppetry, Keats' treasured characters come to life in this humorous and fun adaptation of Whistle for Willie, Goggles!, A Letter to Amy, and The Snowy Day.
Maddi's Fridge
By Anne Negri, Based on the book by Lois Brandt
March 31 – April 8, 2018
Ages 5+
Maddi and Sofia are best friends. They play in their neighborhood park together. Maddi is really good at climbing the rock wall, while Sofia is a fast runner. One day Sofia discovers that Maddi has no food in her fridge at home. Sofia wants to help her friend, but Maddi makes her promise not to tell anyone. What should Sofia do? Based on the book by Lois Brandt, this play is a gentle, yet sometimes hilarious exploration of friendship, empathy, and doing the right thing.
Flora & Ulysses
By John Glore, Adapted from the book by Kate DiCamillo
April 22 – May 20, 2018
Ages 6+
Holy Baguma! After getting sucked up by a vacuum cleaner, a (now hairless) squirrel is rescued by Flora Belle Buckman, a 10-year-old self-proclaimed cynic. She names her new friend Ulysses and discovers he has been reborn with super powers of strength, flight and misspelled poetry. Bringing to life Kate DiCamillo's most recent Newberry-Award winning story, Flora and Ulysses embark on an adventure full of quirky characters and bursting with heart!
*play titles and dates are subject to change
For interviews or media appearances, please contact Samantha Johnstone at (480) 921-5703 or sjohnstone@childsplayaz.org. High resolution images are available for download from Childsplay's website at www.childsplayaz.org/press.
About Childsplay:
Childsplay, Inc. is a nonprofit theatre company of professional, adult artists who perform for and teach young audiences and their families. The mission of Childsplay is "to create theatre so strikingly original in form, content or both, that it instills in young people an enduring awe, love and respect for the medium, thus preserving imagination and wonder, the hallmarks of childhood which are keys to the future." For more information, visit www.childsplayaz.org.