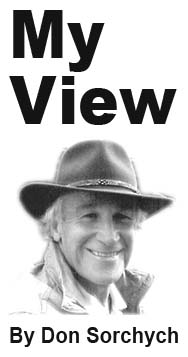 My father, Rudolph Oliver Sorchych, was born in 1901. His parents were both born in Yugoslavia, one in Zagreb and the other in Belgrade. My grandfather's name was Anton Zorcic and my grandmother was Mary. They had 14 children but two stayed in Yugoslavia. Anton was noted for helping Yugoslavians to immigrate.
Dad was educated in a Catholic school and when he was in the eighth grade a nun beat his hands with a ruler for something he did so he jumped out of the window. Dad went to his father's store and told his father what happened.
Anton told him, "Put on an apron, no more school."
Dad played football with a team called the Rockford Foam Blowers and he trained by carrying 100 lbs. of ice on a shoulder. His friends have told me he was a great runner and mostly played half back. He always said he was six-foot, one-half inch tall and had broad shoulders and strong arms. As you will see, I felt that strength many times.
Dad met Bessie Marie Clarence in Henry, Ill. and she became pregnant with my sister Jeane when she was 15, a common occurrence at that time. Jeane is 90 years old now and we have never had an unkind word between us. Next came my sister Betty, then me, then my sister Rickey. Betty was much like my mother, probably bi-polar, and died young.
Dad worked in the New Jersey Zinc Company as a foreman but most of his work was labor. He had a hair-trigger temper. When excited or emotional, he would stutter and then throw a punch.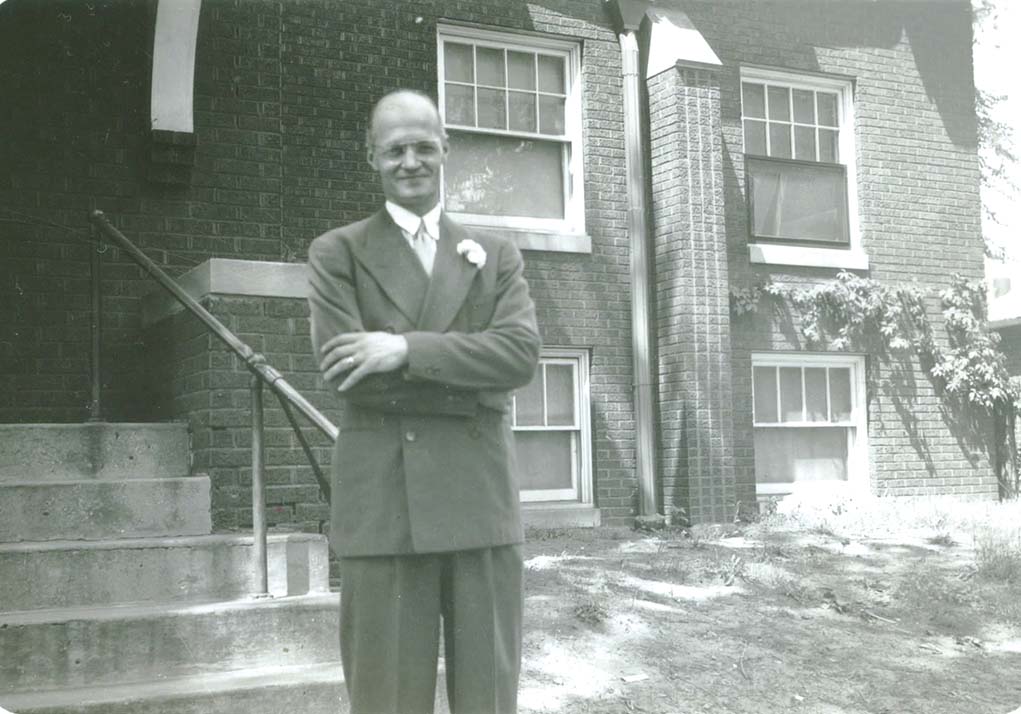 Once, when dad was doing part-time roof work, my mother convinced him the roofer was cheating him and owed my dad money. Dad called him and they met on the sidewalk in front of our house. Dad started to explain his dilemma, began stuttering and knocked the roofer down. The roofer stayed down while getting his wallet and paid dad as he pleaded to be let up to leave, which he did.
Once when I was at a movie with my buddy a Mexican started screaming that I had called him a "crow." The Mexican hit me with a barrage of blows and then I responded. When I went home my dad asked what happened then checked my knuckles to assure I had fought back. He led me to his Model A Ford, drove to the house of the attacker, knocked on the door and when the father opened the door dad knocked him down and then told him why.
The next day, sister Betty complained that the same guy threatened her. Dad returned to the same house but the owner locked the door.
My home situation was governed by: "Wait until your dad comes home." My mother would state her grievance and Dad would take me to the cellar, take off his belt and whip me.
He seemed to enjoy it and the more he beat the harder he struck me.
Dad also visited the high school principal and told him he better not use the spanking paddle but simply send me home with a note.
When Jeane was in high school, she worked part time for Tinker's Drug Store. When she turned 18 my parents bought Tinker's and converted it to a confectionary store and bus stop where they sold newspapers and magazines, ice cream, etc. Dad stayed at the zinc plant and the rest of us worked at Tinker's. I hated it for one reason. I had to get up at 4 a.m. to deliver newspapers to homes in the family's old Studebaker.
When Jeane married Wilber Stites, I hoped they would sell the business. They didn't so I had to work nights. Then Dad caught Mom having two affairs, divorced her and sold the store. Dad bought a tavern and I had to help cook fish and chicken and open the bar every Saturday morning.
I was pretty much on my own thereafter. I worked for a lumber company and a coal delivery company after school and on weekends. The only thing my dad bought me was a cheap suit for the prom.
When I was a high school freshman I was clipped playing football and had serious right knee damage. I had a cast from thigh to ankle.
My future wife brought me a basket of fruit. For some reason Betty hated her so she took my crutch and hit her on the head. She left crying and I threatened Betty. Betty said, "Wait until Dad comes home."
When Dad came home he said, "Get up." I did and he knocked me unconscious.
In my junior and senior years I did lots of drinking. I went to sleep on the steps one early morning. Dad never said he knew. Days later he said, "Why not take a walk downtown." I was on my guard about what he was up to. When we walked a few blocks we came upon Joe's neighborhood bar. Dad said, "Let's have a drink." We went in and when he asked what I wanted to drink I said "a coke." He said "C'mon, you drink heavier stuff than that." I was embarrassed and didn't reply. Dad turned to Joe and said, "If the kid comes in and has money to buy what he wants, sell it to him. If he gives you any trouble send him home and call me."
It was the only thing for which I could ever say "thank you" to Dad.
I graduated, painted bridges for two years, went in the Navy for four years and entered the University of Illinois. By that time Dad married a widow and opened a confectionary store in Peru, Illinois.
I visited there with my daughter Dawn. Dad checked to see what his wife was doing and when he saw her back was turned, he quickly gave Dawn an ice cream cone and told her in a whisper, "You can say your dad payed for it."
Still subservient at age 75.
Four years later when dad was in a rest home I talked to his doctor who told me, "If you come home he won't know you. I would suggest prayers from your home. I tried.