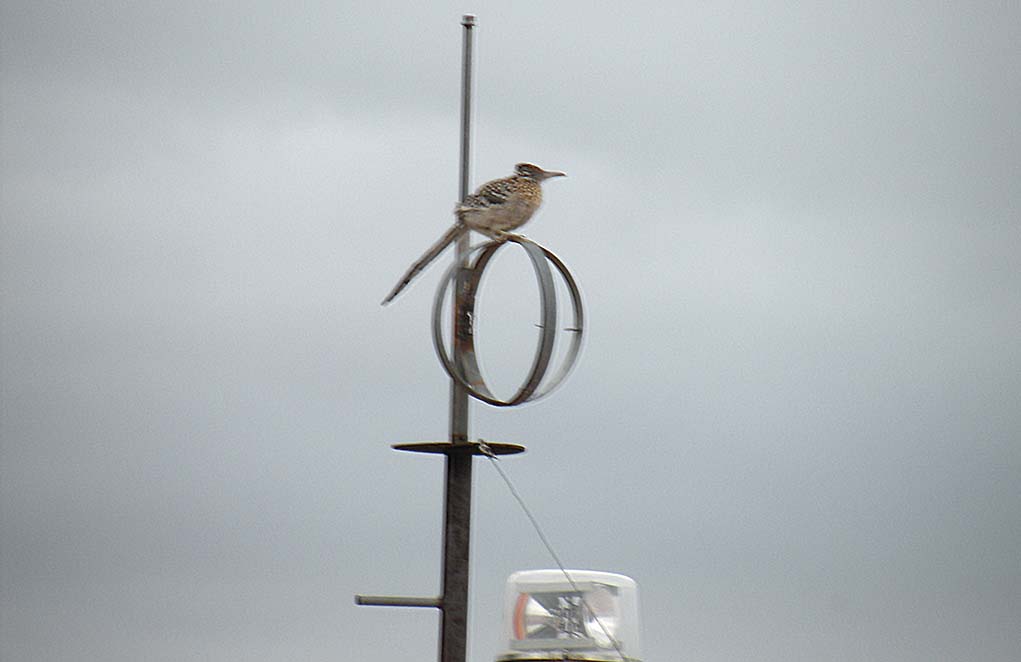 We encourage readers to send us local pictures and thankfully we receive excellent ones. In the print issues, the picture is positioned on the front page in color. In our weekly online version you can access the reader photos under "Features." You can view the current picture and earlier ones by swiping the directional arrows.
The May 18 picture was sent from Jerry and Bonnie Vicena, Carefree, Ariz. and quite a picture it is.
A doe deer is startled by a bobcat and seems to be unhappy about it while the bobcat is frozen in watch mode. It is one of the best wildlife pictures I have seen.
We live in northwest Cave Creek immediately west of the creek and as long as the creek is flowing wildlife gets its water there but absent rain or flowage we see more and more birds and animals. We don't feed desert animals but we have three oases which always have water.
There has been a recent exception however. About a year ago a bobcat took up residence somewhere on our property. Twice it climbed a full foliage tree by our kitchen window and hid waiting for roosting doves to arrive. We saw it three more times strolling around the house. Even our favorite birds, roadrunners, left as did quail, rabbits and deer.
Only couple of days ago a large doe came to drink. This morning a mama quail came to drink with a dozen babies. Rabbits are now abundant even though coyotes are leaving tracks when they visit the oases at night.
Roadrunners use our roof to broadcast their seven note mating call. The favorite roadrunner food, lizards, seem to be everywhere even in the presence of their enemy.
One rarely used oasis is on the north side of the house. A very skinny coyote came and drank this morning. It did not look healthy. I wonder whether it is a victim of foxtails that cover our yard and much of the raw land in and near Cave Creek Wash.
When I had my six wolf hybrids they would sleep in patches of foxtails and required many veterinarian visits. The sharp ends of foxtails enter animal bodies, worm the way into their system and cause organ damage. I asked a vet why they didn't seem to bother coyotes. Her answer was coyotes are in the same danger and foxtails have the same effect on them as on your wolves; you just don't see them as you do with your pets.
When I first moved into this house in 2000 it was awash with rattlesnakes. Dozens were caught and taken to the creek and released.
Even though the temperature has been sufficient for them to be on the hunt we have seen none on our property. Roadrunners are known to kill and eat rattlesnakes so perhaps that is why there are so few.
Modern cameras and phones with which you can capture photos and videos have made it easy to capture images. Now the internet is full of stories about how different species, normally enemies, have become more than friendly.
Yesterday, I saw a ten-minute video of an abandoned kitten that was visited by a crow. Slowly they became friends. They wrestled, played together and ate together. Who would have thought?
But it goes deeper than that. Elephants become buddies with predators, primates befriend various species, lions and bears with humans – the list goes on and on.
We are fortunate to have an abundance of wildlife here, which is why I preach about the speed limit and careful driving to avoid killing or injuring the road-crossing wildlife.
I am a life-long hunter and still support hunting but years of wildlife viewing have dampened my enthusiasm for the kill. I miss the hunt but not the kill.
Anyhow, check our reader photo library. There is much to see and maybe the wonderful photos that have been sent may stimulate sharing your wildlife pics with Sonoran News readers.