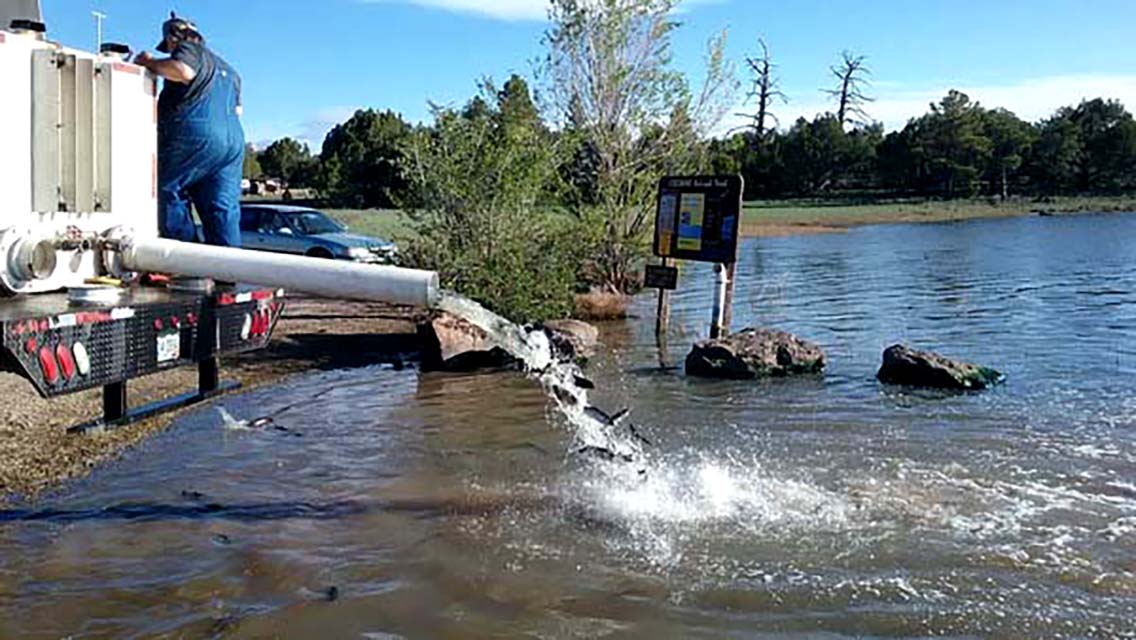 FLAGSTAFF – Now is the time to get the tackle box ready, grab the fishing rods, and explore northern Arizona for some spring fishing.
Here are some updates on fish stocking activities in this region:
– About 9,000 rainbow trout, or around 5,000 pounds, were recently stocked in Ashurst Lake. Folks fishing at Ashurst Lake started catching fish shortly after stocking. They were using small spinners such as rooster tails and small spoons.
– Kaibab Lake, north of Williams, will receive a similar load of fish. About 9,000 fish measuring up to 15 inches.
– Trout stocked in Lower Lake Mary during March and April were up to 15 inches long.
– Catfish were dropped recently into City Reservoir in Williams and Frances Short Pond in Flagstaff. Chunks of hot dogs make great catfish bait.
"We have so much water in northern Arizona this year, we are trying to get fish into as many lakes as we can," said Chuck Benedict, a fish biologist at AZGFD. "We want to encourage people to come up Memorial Day weekend, enjoy our great weather and fish. Typically Flagstaff and Williams are great for trout in the spring, and in reality, bass, pike, catfish, and crappie fishing are the best during the summer."
Some tips to remember before heading out to fish:
– Licenses now include trout and two-pole privileges (no separate stamps needed) and costs $37 for residents and $55 for nonresidents. The license is now valid for one year from the day you buy it — not just for the calendar year.
– Anyone 10 years and older will need a fishing license. Youth licenses only cost $5 and are available for youth ages 10-17.
– Review the 2017 Arizona Fishing Regulations — they are available online, or at most license dealers as a booklet that you can throw in your tackle box. The regulations have all the information you need to fish in Arizona.
– Some lakes have special restrictions or regulations: catch-and-release only, daily limits, or the type of bait allowed.
– Do not transport live fish or bait. Illegal stocking is a big problem and impacts the department's efforts to manage the state's fisheries. In some cases, fish like northern pike and bass have been illegally stocked and have had detrimental impacts to trout fishing and native fish populations.
Locations of these waters:
– Frances Short Pond is located just northwest of downtown Flagstaff and is a great place to walk or ride a bike and try your luck.
– Lower Lake Mary is about 8 miles from Flagstaff on Forest Road 3; Ashurst is about 12 miles down the road from Lower Mary.
– Kaibab Lake is near Williams and off Highway 64, just north of Interstate 40.
– City Reservoir is just south of Williams.