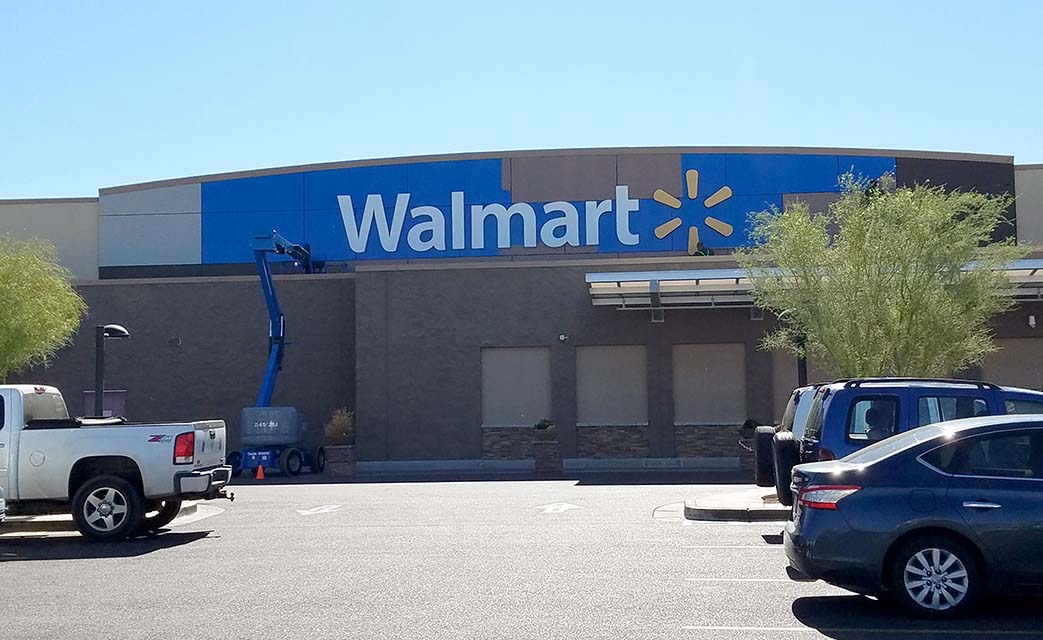 CAVE CREEK – Last month when the sign on the local Walmart store was repainted its hallmark bright blue, it didn't go unnoticed.
When originally approved, Attorney Sean Lake, who represented Walmart throughout the process, agreed to the stipulation that Walmart would not be painted its traditional blue color scheme and would be painted in earth tones to better blend into the desert.
After the Walmart sign was repainted blue, citizens not only took to Facebook to complain but contacted Mayor Ernie Bunch as well.
Bunch, who was on council at the time and recalled Walmart's agreement to the subdued color scheme as a condition of approval, contacted Lake and forwarded a picture of the bright blue sign.
Lake contacted Walmart's corporate headquarters to remind them of their agreement with the town and halted any further painting scheduled for the building.
On Tuesday morning, Walmart was keeping its commitment to the community by erasing the blue and repainting the building sign brown.
Bunch was informed the only change that will take place to the current color scheme will be a section painted orange to indicate where people can pick up their groceries utilizing Walmart's new free order online and pick up at store service.
However, now that Walmart is living up to its promises, a citizen posted a comment on Facebook stating, "What about ugly Burger King signs/lights and Auto Zone? HIDEOUS!!!!!!"