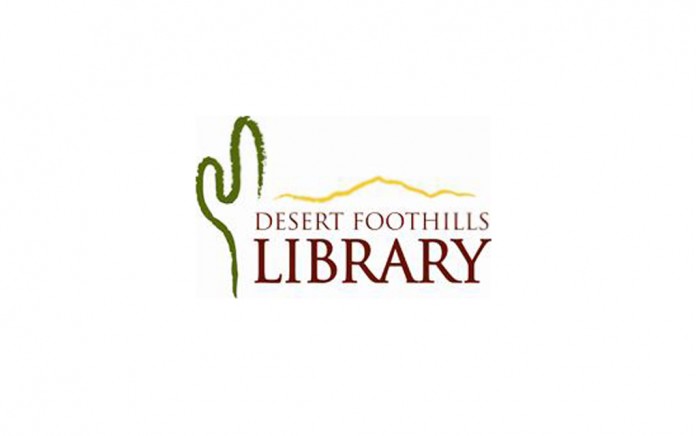 UPDATES – CANCELLATIONS – ADDITIONS
Library Closed: Monday, May 29th, Memorial Day
Crafty Card Making: May 27th event cancelled
Gentle Yoga: May 28th only cancelled
PLEASE NOTE
Programs may be subject to cancellation due to parking lot construction. We will endeavor to keep disruption to a minimum and you will be notified of any changes. During the construction period, ending May 2017, we ask that patrons car pool as much as possible.
Cornelia Parker – Monuments, Memories and Movies
Wednesday, May 3, 11 a.m. – Noon
Conceptual artist Cornelia Parker is one of the most creative and innovative artists working in Britain today. Her wide ranging practice, chiefly in installation art and sculpture, touches on the fragility of the human experience. Exploring everything from ghosts to gravity to relics and the subconscious, she transforms everyday objects into compelling works of art. We will be exploring how Monuments, Memories and Movies have given inspiration to Cornelia Parker. Presented by Eileen Crowley, docent of The Phoenix Art Museum. Register: 480-488-2286
Arizona Authors Showcase
Wednesday, May 10, 10:00 a.m. – 11:30 a.m.
Join four local authors as they briefly tell their stories and discuss their books, which will be available for sale and signing. Books range from $10 to $35. Please bring cash or checks. We will have cake and tea to celebrate our authors. Register: 480-488-2286
– 39 Bayshore by Donna J. Grisanti. Mystery, mayhem and suspense illustrate a unique, complicated quest for Carolyn Reynolds. Well received, well developed, fun fiction.
– T. H. Elkman by Eric Heisner. The journey of a Westerner, a boisterous Gambler and a young Cowboy as they escort horses from Colorado to the wilds of Montana while being plagued by Rustlers, Indians and Nature.
– Total Health Turnaround by Dr. Tricia Pingel. Discover the master key to health: adrenal glands! Reverse diabetes; fight heart disease; beat fatigue. A comprehensive, cutting-edge, all natural plan.
– Three Husbands and a Thousand Boyfriends by Patricia L Brooks. Poignant and moving. A dangerous journey through love addiction, domestic violence, and PTSD. Offers hope and inspiration.
Diabetes: The Right Foods to Balance Blood Sugar and How to Easily Prepare them
Thursday, May 18, 2 – 3 p.m.
Take the guesswork out of balancing blood sugar. Tips, recipes, and instructions on how to buy and easily prepare the right foods you can enjoy while managing your diabetes. Dr. Leisa-Marie Grgula, Chiropractic Physician and Acupuncturist, will help you have more energy and feel better when you learn what to eat, when to eat, and how to make it all taste great!
Register: 480-488-2286
New Technologies that Treat Chronic Pain
Saturday, May 20, 10:30 – 11:30 a.m.
If you are one of nearly 50 million American adults dealing with chronic or severe pain resulting from injury, the wear and tear of aging, or other causes, you're invited to learn more about cutting-edge, minimally-invasive treatment options. Learn about the keys to an accurate diagnose and the importance of steering clear from symptom-only treatments. Fellowship-trained, board certified pain medicine specialist Neil Thakkar, DO, practices locally at AZ Pain Doctors. An informal question and answer period will follow the presentation; refreshments will be served.
Register: 480-488-2286
Named "Best Library in the Valley" in 2014.
Support your community! The Library is a non-profit, funded by donations. Ask about the benefits of membership and volunteering.
Music @ the Movies
May 4, 2 – 5 p.m. (1st Thursdays)
Chicago: Nightclub sensation Velma (Catherine Zeta-Jones) murders her philandering husband, and Chicago's slickest lawyer, Billy Flynn (Richard Gere), is set to defend her. But when Roxie (Renée Zellweger) also winds up in prison, Billy takes on her case as well — turning her into a media circus of headlines. Neither woman will be outdone in their fight against each other and the public for fame and celebrity.113 min. Hosted by Music enthusiast Annis Scott. No Registration.
Singing in the Rain Workshop Series
Fridays, May 5 – June 23, 10 – 11:30 a.m.
(8 – weeks)
Workshop Series crafted to help older adults learn how to create happiness and well-being in the midst of all that life demands (including inevitable surprises). Scientifically proven strategies are used that will help you feel more grateful, creative and joyful. Learn new skills to create positive engagements in life and develop greater resilience. Facilitator, Dawna Allington, has been working with the Area Agency on Aging as the lead in their prevention program as well as in the Maricopa Elder Behavioral Health Advocacy Coalition (MEBHAC). Sign-ups will be taken through Friday, May 12th. Register: 480-488-2286
Literary Salon
Not Your Typical "Book Club"
May 11, 10:00 a.m. – Noon (2nd Thursdays)
May Topic: Treason, Revenge, and Resolution. What many novelists cannot resist is a story involving revenge, treason, duplicity or other treachery. War stories are replete with such themes. Think of authors such as John Jakes with his trilogy North and South, Love and War, Heaven and Hell; Harper Lee's To Kill a Mockingbird or The Bastard of Istanbul by Elif Shafak. No Registration.
Lifelong Vitality Happy Hour
Thursday, May 11, 4 – 5 p.m.
Mingle and meet new friends. Singles and couples welcome! Life Coach, Allison Clay, will briefly speak about decluttering and cleansing your life in all aspects to create space for good habits and what you really want. Q & A to follow. Complimentary wine and cheese platter will be included in this delightful gathering. RSVP requested for planning; space is limited. RSVP: 480-488-2286.
Biggest used bookstore in the North Valley!
More than 15,000 books as well as DVDs – CDs – AUDIOBOOKs
Starting at 50 cents! Located inside Desert Foothills Library
SPECIAL SALE!
May 12, 13, 14th
(2nd weekend each month)
Check us out on Amazon.
Donations are welcome anytime!
480-488-2777
2017 Desert Foothills Library Photography Contest
* Drop off photos: Friday, May 12, 3 – 6 p.m. and Saturday, May 13, Noon – 4 p.m.
* Exhibition dates: July 3 – 21, library hours
* Reception/Award Ceremony: July 8, 4:30 – 6 p.m.
* Pick up photographs: July 22, Noon – 4 p.m.
Entry fee: $5 per image, by cash or check only. Free for youth aged 17 and under. 1st, 2nd and 3rd Place Awards determined by 60, 30 and 10% division of the entry fee monies. Visit www.dfla.org for entry forms and rules. Please direct all questions to Jerry Sieve at sieveimages@gmail.com.
Cinematic Reflections on WWII
Little Known Stories of the War
May 19, 3 – 5 p.m. (3rd Fridays)
World War II is one of the best known and widely depicted conflicts in history. This film series will explore little known stories from that war — stories filled with daring, intrigue, and sometimes such improbability that they have to be seen to be believed. At the heart of each one are the men and women who made World War II modern history's seminal event. A post-film discussion, facilitated by Gary Zaro, faculty WWII expert from Paradise Valley Community College (PVCC), will follow. This month: Woman in Gold (109 min.). Register: 480-488-2286
Craft N Chat
May 22, 1 – 3 p.m. (4th Mondays)
Do you knit, crochet, or practice another table craft? Join other local enthusiasts monthly for companionable creating and conversation. New crafters and all skill levels are always welcome!
No registration.
Crafty Card Making CANCELLED
Saturday, May 27, 10:30 a.m. – 12:30 p.m.
We'll make cards for every season, every reason! Join in the fun with Card Maker Melissa Sunde, who will have all the supplies cut and ready, and will help guide you in making 3 greeting cards. You'll learn new stamping techniques and how to use all kinds of new supplies. Don't worry if you feel you are not creative – it's a class for everyone! Bring double-sided adhesive tape, or purchase at the class for $3. Registration Required by Wednesday, May 24, to allow time for preparing class supplies: 480-488-2286.
Cost: $15.00.
MAHJONG
Mahjong Club
NEW HOURS
Every Tuesday, 1:30 – 4:30 p.m.
Must have basic knowledge of the game. Limited space. Registration required: contact Club Director Andrea Korff at mandakorff@cox.net or 480-650-5199.
Cost: $4 cash per session. Pay to Andrea Korff at class.
FOR WRITERS j
Journaling Classes
May 8 & 22, 1 – 3 p.m.
(2nd & 4th Mondays)
May 8 Unsent Letter and Dialogue
May 22 Stepping Stones and Perspective
Learn and experience the power of these techniques, used by professionals in the field of therapeutic writing. Bring a journal or notebook and pen. No writing experience required. Mary Lee Simpson is a certified journal facilitator and has taught therapeutic writing for nearly 20 years. Register: 480-488-2286
SPANISH OFFERINGS
Intermediate Conversational Spanish
Every Wednesday, 10:30 a.m. – Noon
Informal chat session using various books, flashcards, etc. Some weeks may feature a half-hour episode of the Destinos DVD series, followed by discussion in Spanish. No instructor. No registration.
Spanish Classes
Spanish Classes Level 1 – 5 will resume in September, 2017.
ONGOING HEALTH & FITNESS CLASSES
Guided Meditation
May 16, 4:30 – 5:30 p.m.
(3rd Tuesday only this month)
In this practice, we lie on the floor with closed eyes and relax in the space just before sleep. Please bring a yoga mat or blanket. Registration required: Contact instructor Judith Zeiger 480-760-5645 or jazeiger@gmail.com
Cost: $6 cash, pay to instructor at each class.
Gentle Yoga
Every Sunday, 11 a.m. – Noon
May 28th Cancelled
Reduce stress, improve posture, increase coordination and renew energy with slow, controlled poses. Please bring a yoga mat. Registration Required: Contact instructor Tanya Kern: 623-465-0507 or tkmoon2@aol.com.
Cost: $8 cash, pay to instructor at each class
Restorative Yoga
Every Thursday, Noon – 1 p.m.
Great for beginners! Improve your ease of movement, flexibility, breathing and meditation. Please bring a yoga mat. Registration Required: Contact instructor Elizabeth Boisson: 480-363-5275 or evboisson@yahoo.com.
Cost: $8 cash, pay to instructor at each class
MONTHLY SUPPORT GROUPS
Writing Circle…Just for Caregivers
May 4 & 18, 9:30 – 11 a.m. (1st & 3rd Thursdays)
Join us on a bi-monthly writing journey that will nurture your heart and spirit; as we write, connect, heal and grow in a safe and supportive circle of like-hearted caregivers. Absolutely no writing experience needed! Life and Wellness Coach, Sharon Spector, specializes in caregiver resiliency. Register: 480-488-2286
"The Healing Pathway", After the Loss of a Spouse or Partner
May 8 & 22, 9:30 – 11 a.m. (2nd & 4th Mondays)
Join us on this Journey that will guide you to find a "NEW NORMAL" as you process through your personal grief journey. Led by Hospice of the West facilitators. No registration.
Monday Movies Movie Reel
Every Monday, 3 – 5 p.m.
New releases with a foreign film once each month!
We strive to bring you only the latest films.
* May 8 – "A Dog's Purpose" starring Britt Robertson & Dennis Quaid. Rated PG.
* May 15 – "A Street Cat Named Bob". Not rated.
* May 22 – "The Salesman". Academy Award Winner Best Foreign Language Film. In Farsi with subtitles.
* May 29 – library closed
Due to uncertainty about release dates, please check our website at www.dfla.org/calendar for current listings and updates.
Library Book Club
May 9, 10 a.m. – Noon (2nd Tuesdays)
Discussion of
The Sense of an Ending
by Julian Barnes
Everyone is welcome!
Questions? Email Jo Niemeyer at joniemeyer@yahoo.com
No registration.
Click here for a complete book list.