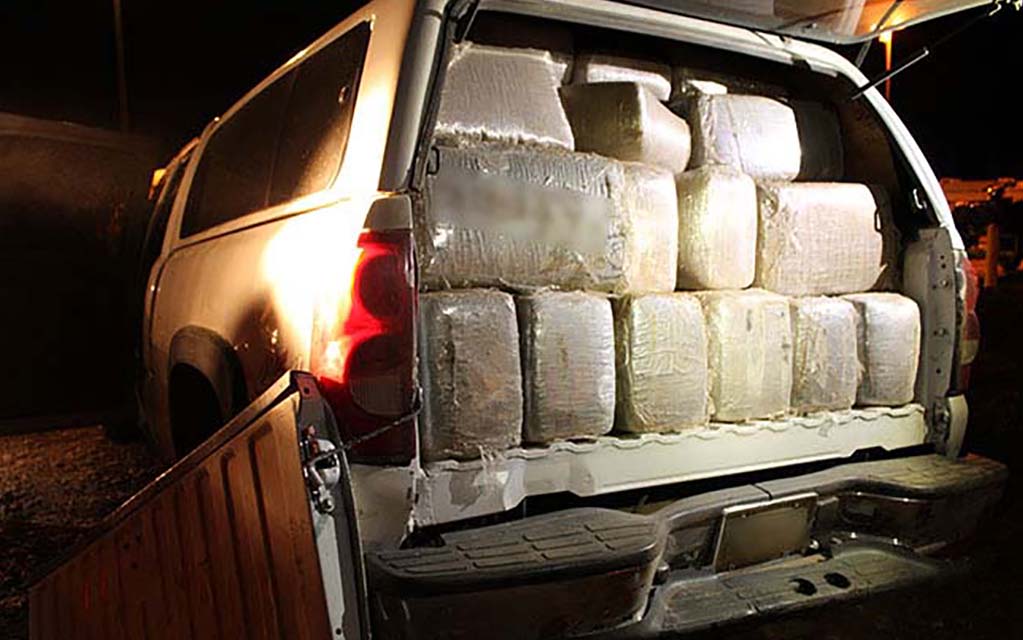 TUCSON – Tucson Sector Border Patrol agents working near Elgin initiated an immigration stop on a suspicious vehicle Tuesday afternoon, which led to a pursuit and eventual discovery of more than 2,000 pounds of marijuana worth in excess of $1 million.
When agents attempted to stop a 2003 Chevy pickup truck on Lower Elgin Road, northeast of State Route 83, the vehicle sped up. The truck then abruptly veered off road and collided with a chunk of concrete. Agents later identified the truck's occupants as two male Mexican nationals illegally present in the United States. Both men required medical treatment and were transported to a local hospital with non-life-threatening injuries.
Agents seized the truck and 97 bundles of marijuana found inside. Both men were arrested on drug smuggling charges and will be processed in accordance with Tucson Sector guidelines.
Federal law allows agents to charge individuals by complaint, a method that allows the filing of charges for criminal activity without inferring guilt. An individual is presumed innocent unless or until competent evidence is presented to a jury that establishes guilt beyond a reasonable doubt.
U.S. Customs & Border Protection welcomes assistance from the community. Citizens can report suspicious activity to the Border Patrol by calling 1-877-872-7435 toll free. All calls will be answered and remain anonymous.