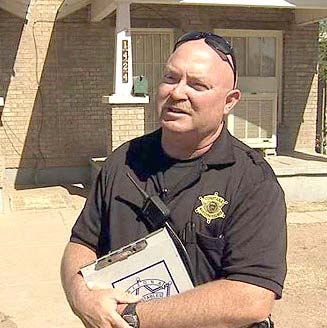 PHOENIX – According to Encarta Dictionary, a constable is an "officer below sheriff: in some towns or townships, a low-ranking law officer."
In the United Kingdom, Canada, Australia and New Zealand, a constable is "a police officer of the lowest rank."
In Arizona, constables are elected to a four-year term and, depending on the number of registered voters in their precincts, can earn as much as $61,208 per year.
A constable has the authority of a peace officer only in the performance of the constable's official duties, is prohibited from engaging in any act as a private process server outside of the constable's duties and is prohibited from owning an interest in any entity that operates a private process serving business.
Statute requires constables to attend a basic training course approved by the Arizona Peace Officers Standards and Training Board (AzPOST) covering topics that include civil and criminal process, conflict resolution and firearm safety within six months of the election.
In subsequent years, constables must attend at least 16 hours of additional training approved by AzPOST.
Certificates of completion of the constable training must be forwarded to the Constable Ethics Standards and Training Board (CESTB) within 30 days of completion.
Constable behavior seems to be monitored primarily by the public at large in a complaint-driven system.
However, when it comes to a constable's inappropriate behavior, it appears CESTB's hands are somewhat tied by statute or perhaps skewed by the fact that four constables serve on the board.
CESTB may remedy a constable's inappropriate behavior by:
"(a) Mediating.
"(b) Issuing warnings, reprimands or admonishments.
"(c) Instructing constables to take a particular action or to take educational classes.
"(d) Urging a constable to resign from office.
"(e) Placing a constable on probation for up to thirty days, except that after the initial thirty days of probation if the constable is making progress on probation but the constable's behavior is not yet compliant, the board may extend probation in additional thirty-day increments up to a total length of probation of one hundred eighty days.
"(f) Recommending to the board of supervisors that a constable who has previously been placed on probation be suspended from performing the constable's duties without pay for any specified length of time not to exceed the remainder of the constable's term."
Suspensions are almost never employed as a remedy and in the rare instances where the board has urged a constable to resign from office it is usually met with refusal.
In 2014, 11 complaints were filed with CESTB of which seven were dismissed. Because CESTB has no authority over deputy constables, per an opinion by the Arizona Attorney General, on complainant was encouraged to file a complaint with the appropriate local authority.
CESTB took disciplinary action in the remaining three cases.
In 2014, CESTB did not identify the constables in its report of disciplinary action.
The first case pertained to a constable from Maricopa County whereas an eviction order was issued on Jan. 16, 2014, but as of Feb. 3, 2014 the plaintiff had not heard from the constable about the eviction.
The plaintiff called and e-mailed the constable without results and said the constable was known to not show up when scheduled.
The constable claimed he received the eviction notice on Jan. 23 and served it the same day. However, he later advised the board he posted the notice on the door and had not actually served the tenant or evicted anyone.
He then claimed he called the plaintiff and never received a return call, which the constable stated meant to him that the occupants had left.
CESTB issued a written reprimand, which is two steps above the minimum punishment it can administer. The board also required the constable to attend mandatory training in January 2015 for newly elected constables as well as the required 16 hours of annual continuing education.
The second case was also filed against a constable from Maricopa County on Feb. 13, 2014, with a supplement filed on March 10, 2014.
The complainant alleged the constable was working off-duty as security for a local restaurant while dressed in a constable uniform and was not in performance of his duties.
According to CESTB, in order for a constable to work security, he/she must be Arizona Peace Officer Standards and Training Board certified, which this constable was not.
CESTB issued a written reprimand and stated the complaint was based on the same set of facts previously provided to the Arizona Department of Public Safety, which issued a cease and desist to the constable, to which he had complied prior to the filing of the CESTB complaint.
The third complaint was filed against a constable from Mohave County by the county attorney's office alleging the constable failed to obtain the required training and submit training records to CESTB and failed to file work logs as required with the clerk of the board of supervisors and with his chief clerk in the justice court.
The constable was issued a written reprimand, directed to attend the mandatory training for newly elected constables in January 2015 in addition to his required 16 hours of training.
Following the receipt of the reprimand, the constable chose to resign from office.
In 2015, CESTB received 36 complaints against constables for a variety of allegations, of which 23 were dismissed.
The remaining 13 complaints resulted in disciplinary action.
Constable Roger Curtis failed to complete any of his required training and failed to respond to the complaint.
As punishment, CESTB issued an admonishment, one step above the minimum it can administer.
Phil Freestone fell short of the required number of hours of training and failed to submit proof of training.
When given an opportunity to respond, he submitted certificates, which were not date verified, well past the deadline to respond.
Freestone was issued a reprimand.
Several other constables failed to complete their required training and were issued either admonishments or reprimands.
Constable Jimmie Munoz was found to have a pattern of behavior of not process serving in a timely manner.
CESTB issued a letter of reprimand and forwarded information to the chief presiding superior court judge for Maricopa County.
Although Munoz was reprimanded for actions that occurred in 2014 and was ordered to attend new constable training again, he failed to attend the required training.
The judge ordered Munoz to submit monthly activity logs to CESTB from July 2015 to December 2015. CESTB said it would review the logs for completeness, accuracy and timeliness of service and report any infractions to the judge.
In May 2015, CESTB received a complaint against John Acton alleging Acton was having difficulty performing his duties at the level required, even after being spoken to and provided with extra training.
The complainant noted numerous incidents where Acton made errors with his paperwork, did not follow procedures for receiving and executing process, issues with submission of accurate service logs, not serving documents in a timely manner and a claim that he altered a court document.
CESTB decided most of the incidences referenced clerical errors that additional training, more experience on the job and personal attention o the part of the constable regarding his duties could remedy.
However, CESTB was concerned about the allegation Acton altered a court document and hired an investigator to look into it further.
After conducting numerous interviews, the investigator could not find concrete evidence that Acton altered the document, an allegation Acton denied.
CESTB issued Acton a warning for failing to serve documents in a timely manner.
Constable Scott McManaway received a letter of warning after contacting the wrong person by phone and sharing personal, confidential information with someone who shouldn't have received it.
Apparently McManaway contacted the complainant's son, who has the same name, by mistake.
McManaway said the son never stopped him to let him know he had reached the wrong person and CESTB agreed McManaway made an honest mistake but should have apologized to the complainant, which he did not do.
In June 2015, Constable Jay Parkinson self-reported numerous accounting and reporting errors he made in carrying out his duties.
Parkinson failed to deposit funds he collected for several years. The funds were not stolen but just filed away and ignored.
Parkinson accepted all responsibility, including the possibility of having to repay any funds that were not recoverable.
The presiding judge ordered the suspension of Parkinson for nonfeasance.
However, after CESTB evaluated some conflicting statements made by Parkinson, it urged Parkinson to retire immediately.
Parkinson submitted his letter of resignation to the Yavapai County Board of Supervisors effective Jan. 15, 2016.
Acton was the recipient of another complaint in May 2015 filed by the city of Apache Junction surrounding a road rage incident.
In court, Acton was found guilty of two counts of disorderly conduct, a class 1 misdemeanor, fined and ordered to attend anger management classes.
The CESTB found Acton acted well outside the scope of his duties and in a manner unbecoming an officer of the court.
While running for reelection, allegations against Acton ranged from impersonating a police officer to claiming he served as a Chicago police officer, including 26 years as a homicide detective.
Arizona Department of Public Safety recommended Acton be charged with fraudulent schemes, a class 2 felony.
Because Acton paid his fines and attended the required courses, the board voted to issue a letter of warning.
In 2016, CESTB received 20 complaints of which 13 were dismissed. The remaining seven resulted in disciplinary action.
In September 2015, a complaint was filed against Cory Hazlett, who ran unopposed in 2012 to become constable for the Desert Ridge Justice Court, for failing to submit his logs as required by law since December 2014.
Hazlett also failed to respond to the complaint.
Because Hazlett had a history of not following the rules, training deficiencies, previous complaints and having to take new constable training a second time, the board referred the complaint to the presiding judge.
It's not clear what the outcome was of that referral. However, Hazlett did not run for reelection in 2016.
A complaint was filed against Doug Clark in December 2015 for his repeated incidences of excessive speed and violations of the county's policy controlling vehicles and equipment use.
Data from his county-issued vehicle revealed he traveled at speeds exceeding 100 MPH 26 times during the period of one year.
Because Clark had been previously reprimanded for the same actions, CESTB determined his behavior was not acceptable, unethical and a public safety issue, and urged Clark to retire from office.
The urging fell on deaf ears.
Although Clark is still the constable for the Downtown Phoenix Justice Court, earning more than $60,000 per year, he was spotted on Friday, April 21 during regular business hours working as a security guard at an apartment complex at 2121 W. Royal Palm Rd., Phoenix.
Many of the other complaints for Fiscal Year 2016 had to do with failure to complete required training.
CESTB issued warnings and required the constables to make up the deficient number of hours of training in addition to the 16-hour requirement for 2016.
Breanna Lee was one of those constables.
A new complaint was filed against Lee in March 2016 by the city of St. Johns alleging she was issued a warrant for her arrest for failure to respond to a citation issued against her.
It was also alleged that Lee attempted to have the warrant quashed.
CESTB voted to issue Lee a letter of warning for conduct unbecoming an officer of the court, citing her failure to appear in court and manipulation of the court system by attempting to have warrants against her quashed.
Lee continues to serve as a constable in the St. Johns district of Apache County.